---
A New Orleans Noel – Review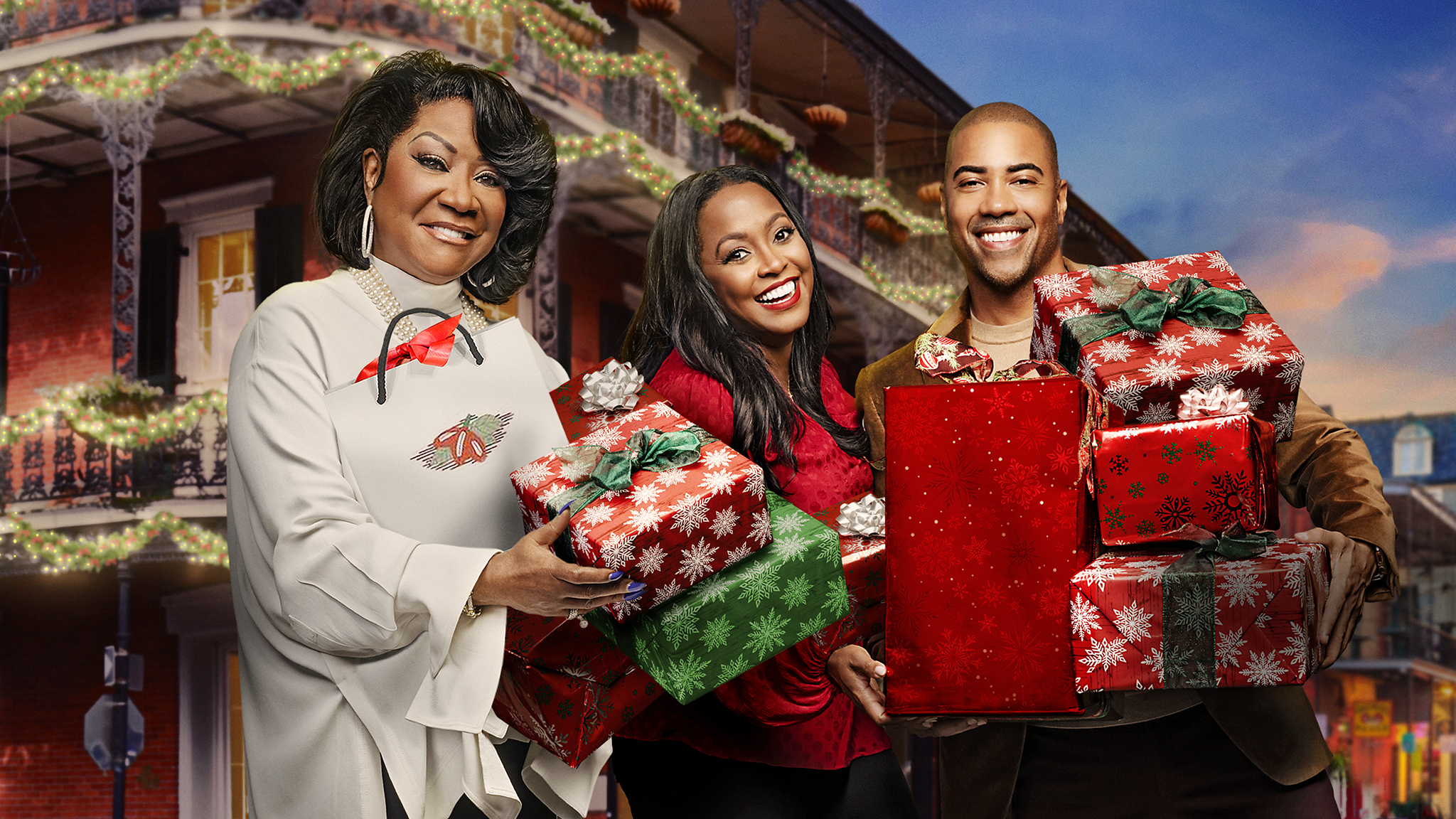 Grace is in town to remodel Loretta's home. Loretta is a New Orleans confectionary legend. On the way to Loretta's house, Grace spots a college classmate and hides. Grace's friend, Alexis, takes a quick peek at the man and wonders why Grace says in the shadows. Grace explains he's Anthony, her college rival and crush. They haven't seen each other for a decade. And when he leaves, she hopes not to see him again.
Grace and Anthony step onto Loretta's porch and realize they will work together on this project. Loretta tells them to get to work and make it magnificent. Anthony wants to take the lead because Loretta is his aunt. He plans to gut the home and make it modern. Grace is insulted by his idea. She wants to show respect for the classic architecture and work around it. Grace and Anthony leave with no solutions. Loretta's home isn't the only thing Anthony wants to modernize. He wants to update her business, but she doesn't trust him with the reins. His family tells Anthony to make Loretta's famous pralines to earn her trust.
Grace wants to learn more about New Orleans to incorporate it into Loretta's home. Anthony takes on the challenge and shows her the side of New Orleans that tourists never see. Grace never had a family or a place to call home. So seeing Anthony and Loretta together makes her take stock of her life. Grace wonders if she missed something magical by never staying still. Also, Anthony discovers that work isn't everything; it's family. Can celebrating the holidays bring these two together, or will Grace hit the ground running?
With star power, this movie brings a fun element using New Orleans as a character. A town with vibrant music, architecture, and dialect deserves a movie based on its traditions. It carries a lot of emotion for Grace, but the film doesn't stand out during the holiday season. This movie will get lost in the holiday shuffle with location-based films because each packs an emotional punch. While the acting is superb, you may scroll on your phone during the movie.
I give it 3.5 out of 5 stars
A Jewish person – Alexis
Everyone is not a social butterfly like her – Grace
Ever since I was born – Anthony
I'll be brief. Make the house look phenomenal – Loretta
Find, shop for, and watch Lifetime movies on Amazon TV (FTC Affiliate Disclaimer)

---
Christmas on the Slopes – Review
Chef Sophia addresses her staff after the first night in her new restaurant. Her other locations are successful, so she expects this one to do as well, if not better. Sophia uses this moment to thank her staff and propose to her boyfriend, Lou. Lou says no, and it goes viral. Lou invested in all of Sophia's restaurants, but the new location's opening night didn't have a great turnout. He wants to put the new place on hold, and she wants to break up. Lou tells Sophia not to mix business and personal, but it's too late. Sophia became a household name after winning a cooking competition and now worries the viral video will ruin her brand. Sophia decides to take a vacation and regroup to avoid the scrutiny.
Chef Ansel cooks at a resort on the slopes. He is demanding and refuses to look outside of his signature style. Ansel fires his sous chef after an argument and hopes to find a new one. However, time is running out because fashion designer, Emma, is having her wedding at the resort. And she wants a large reception with food from different ethnicities.
Sophia checks into the resort and looks for something to eat. She sneaks into the kitchen to prepare something, and Ansel assumes she is the sous chef. She attempts to correct him, but Ansel moves on to the next task. Ansel doesn't recognize Sophia because he doesn't watch reality TV. However, other people know, and she begs them to keep her secret. She likes working for Ansel because he has faith in her abilities. He enjoys working with her because it helps him think outside the box. She knows the truth will see the light of day, but she needs to figure out the right time and place for it because Ansel is falling in love with her.
While the plot tries to convey conflict, it doesn't have one. Sophia isn't lying about her cooking skills, only her job experience. So It won't ruin Ansel's reputation. Eventually, Lou returns, but he isn't a hurdle for the forthcoming couple. His second-act appearance is a nail in the coffin for his character but a moment of growth for Sophia. So many holiday movies are cooking-themed, causing this one to get lost in the shuffle. It's not memorable this holiday season.
I give it 2 out of 5 stars
I thrive on stress – Sophia
When its the right person, there's no pushing required – Taylor
Leave the pot – Ansel
Find, shop for, and watch UPtv movies on iTunes (FTC Affiliate Disclaimer)

---
Rolling into Christmas – Review
Deja would skate at the roller rink while her mother, Celeste, taught the neighborhood kids for free. Deja's grandmother, Grams, arrived at the rink to take Deja and her skating partner, Ian, home for Celeste. Before they left, Ian asked Deja to go steady, and Deja said yes. Later, they write a wish to be together forever and burn it. Grams gets a call on her phone that Celeste died in an accident. Deja's father, Joe, will bring Deja to live with him in Germany while Deja leaves Grams and her cousin, C.C., behind. Grams tells Deja to be happy and see the world with Joe.
Today, Deja runs a travel agency via social media to connect Gen-Z and Millennials to dream destinations. She travels worldwide, speaks different languages, and dates a handsome, successful man named Pierce. C.C. marvels at Deja's success but wishes Deja would come home and visit. Deja hasn't been home since her mother died and didn't plan on returning. Then, C.C. calls in tears because Grams had a heart attack and is in the hospital. Deja gets on the next flight home.
Grams's doctor wants her to move to a facility to get better, but she refuses. Deja believes Grams will get well faster at home, but C.C. admits she can't do it alone. So, Deja has no choice but to stay. After a few days, Deja sees Ian again, and he has an impressive social media following. He is dating Leilani, but they haven't put a label on their relationship. On Grams's first night home, Deja wants to stay in and take care of her, but Grams tells Deja to go to the skating rink and listen to C.C.'s D.J. skills. Deja says yes after a while. She feels out of step at the rink because she hasn't touched skates in years. Ian helps Deja get back into the groove and on wheels. And she puts everything on social media, which gets Pierce's and Leilani's attention. Deja is reconnecting with her loved ones and having a great time. All that changes when she finds out the skating rink will close. Can they save the rink Celeste loved so much?
This tale of returning to your roots offers a lot of emotion in 2.5 hours. Deja feels like her life is balanced until you mention her mother. She clams up and runs from the world. Also, this movie touches on the positive and negative aspects of social media. Deja uses it for business, but it controls Leilani's interactions. For Ian, social media can save the rink. But Pierce uses it for control. This movie could fit year-round because it doesn't reference Christmas or the holidays as much. But it's a fun movie that brings nostalgia to its audience with skating and music.
I give it 4 out of 5 stars
Actually, it's Carmen San Diego because your girl can rock a fedora and a trench coat – Deja
You haven't been home since your mom died – C.C.
I love you more – Grams
Well, that's what power couples do, baby. We look out for each other – Pierce
Growing up means giving up something that made you happy – Ian
Find, shop for, and watch BET movies on Amazon (FTC Affiliate Disclaimer)

---
It's Beginning to Look a Lot Like Murder – Review
After her boyfriend breaks up with her, Diana gets a phone call that her Aunt Tippy died falling down the steps. Diana doesn't believe it because Tippy was careful around her stairs and made sure others were careful too. Diana's friend, Riley, promises to look after Diana's business while Diana is out of town for Tippy's funeral.
Diana arrives at Tippy's home to find Tippy's housekeeper, Ms. Hobart, cleaning the basement. Diana believes this is a mistake because the basement is a crime scene. Diana goes upstairs and runs into Tippy's best friend, Brianna, in the kitchen. Brianna misses Tippy and explains that Mr. Hobart cleans because she found the body. And it traumatized her.
At the wake, Diana notices Tippy's ex-husband, Larry, is missing buttons on his shirt. She saw those buttons in Tippy's home before the funeral. So, Diana exchanges numbers with him to keep tabs on his whereabouts. Diana's in the backyard when she sees Detective Parker lurking around. She thinks he's there for the case, but Parker believes there is nothing to investigate, and he wants Diana to leave it alone. Diana tries to relax, but her old friend, Matt, scares her. Matt is Tippy's estate lawyer and has terrific news for Diana. Tippy left Diana her house, stuff, and money. Diana can't believe Tippy was so generous to her, but Diana feels guilty because she didn't visit Tippy after moving away.
Diana decides to sell Tippy's home because she can't care for it and reside in another state. The realtor tells Diana to decorate the house to attract buyers. Diana looks around for Tippy's Christmas Village and can't find it. Later, Diana discovers more items missing. Diana believes the missing items and Tippy's death are connected. Can she prove it before someone comes after her?
If you need a break from the holiday movies but want to stay in the holiday spirit, this is the movie for you. It's like living in a true-life podcast, and Diana uncovers a coded notebook, a safety deposit box, and shady deals. This film has plenty of mysterious characters to keep you watching and guessing. The clues and tactics are believable and fun to explore. And Riley is the supportive friend every amateur detective needs. So get your wine and take a break from the holiday slate.
I give it 4 out of 5 stars
Cleaning the basement? Isn't this a crime scene – Diana
You know what they say, 'never underestimate the help' – Riley
You're searching for answers where there aren't any. Sometimes life just isn't fair – Larry
I never kid about money, except for when I'm playing poker – Jerry
Well, they're more than welcome to file a complaint – Detective Parker
Find, shop for, and watch Lifetime movies on Amazon TV (FTC Affiliate Disclaimer)

---
Cloudy with a Chance of Christmas – Review
Bridget's forecast pulls in excellent ratings for the nightly news hour. Her boss, Lisa, wants Bridget to join the morning team for their Christmas episode in a small town. This opportunity could be a permanent position with more perks and fans. Bridget asks if the co-hosts of the morning show, Tatum and Drake, are coming with them, and Lisa responds no.
Bridget arrives in the quaint village with her videographer, Eddie, who is married to Lisa, and Lisa. Bridget checks into their hotel and discovers Drake's family owns it. Lisa told Bridget a half-truth because Drake and Tatum didn't arrive with them. But they are in town to host the show. Bridget is uneasy because Drake is the reason she is not on daytime TV. He didn't believe she would be a good fit for the morning and chose Tatum. It ended their business relationship and ruined any chance at a romantic relationship. Bridget wants a chance at daytime TV, so she pulls herself together and does the weather. However, someone wants to ice her out of the nighttime slot while Drake woos her.
This film is the typical holiday rom-com. It doesn't stand out, but it's watchable. It gives viewers a behind-the-scenes look at their favorite daytime news broadcast. They may not have their glam squad or enough content when the news goes on location. While others will make do with what they have, others will resort to lying, celebrities, or controversy to keep and gain ratings.
I give it 3 out of 5 stars
I said he wasn't coming with us. I didn't say he wasn't coming – Lisa
Maybe we can find some way to get along – Drake
The only explanation I needed, you just refused to give me – Bridget
This was not in the script – Tatum
Find, shop for, and watch Lifetime movies on Amazon TV (FTC Affiliate Disclaimer)

---
A Big Fat Family Christmas – Review
It's two weeks before Christmas Eve, and Liv dreads going to the Changtastic Christmas Party. For years, her parents hosted a party for the neighborhood and collected donations for a local charity. Each year, the party grows with more people and decorations. Liv finds the party embarrassing and prefers muted decorations over her parent's brightly-covered, culturally-inspired designs. Liv spots a new guy walking around the office and takes a photo. Henry is the new writer for the San Francisco Chronicle. Since this is Henry's first Christmas in America, their boss, Charles, wants him to write about the holiday from his perspective.
Liv spends time with her brother, Andrew, and sees Henry walking into a store. Andrew calls Henry over, and Liv introduces them. Andrew gives Henry proper instructions to find a restaurant, and they go their separate ways.
Henry sits with Charles and Liv to discuss article ideas in the morning. Henry learned about a massive Christmas party during his visit to the restaurant. He wants to learn about the people throwing the party and write about it while Liv takes pictures. Charles says their article could be the cover story if it's good. This article will be Liv's first cover story, but she doesn't want him to know her parents are the party host. So, Liv will steer the article away from her parents and help Henry get enough information to write.
The family and neighbors make this movie. Ivy and Jack can't contain their love for the holiday and use their culture to put a spin on it. For example, they have fire-breathing dragons pull the slay instead of reindeer. They hand out invitations in red envelopes, which invitees return with donations. From an outsider's view, this party is one for the ages. It's hard to understand why Liv is so embarrassed. However, Liv explains everything at the end, and it will break your heart. You will need to pay attention because parts of the movie have subtitles. And they are hilarious.
I give it 4 out of 5 stars
Tis this season to be independent – Liv
Oh, you think I'm beautiful – Henry
I feel like I'm in a fancy forest – Ivy
Find, shop for, and watch Hallmark movies on Amazon (FTC Affiliate Disclaimer)

---
Christmas in the Wilds – Review
After months of dating, Jess and Buck spend their first thanksgiving together with his family. Jess loves Buck's family, but Buck's mother, Janine, keeps Jess at arm's length. Buck wants Jess to give Janine more time to warm up to her. This Christmas will be the first without his dad, Walt, so Buck looks forward to the town's dedication to his father. Jess will leave to study underlying rock formations and wants to spend as much time as she can with Buck before she goes. Since her family doesn't celebrate the holidays, Jess will spend Christmas with Buck's family.
Buck gets a call because there is an avalanche in the area with two skiers trapped on the mountainside. The ground team needs his help to rescue the skiers. Buck promises Jess, his cousin, Amara, and Janine that he will be home for the service. Buck travels to the avalanche headquarters and meets with his fellow soldier, Meg. While the rescue happens without incident, getting home is not as easy. After all that Jess and Buck survived, they won't let the weather, dogs, and a bum shoulder keep them apart.
This Romance in the Wilds sequel creates a running clock to keep the suspense going throughout the film. Buck and Jess come to the same conclusion to bring Buck home. And everything possible goes wrong in their journeys. During their time apart, Buck helps other soldiers with their PTSD and gains a deeper connection to his sister, Roma. Jess mends her bond with Janine and accepts the dangerous conditions of Buck's job. While this version isn't as exciting as the first, it's funnier.
I give it 3.5 out of 5 stars
A true lady always preserves an air of mystery – Jess
What can I say? My family deserves the best – Janine
This isn't my first avalanche – Buck
Find, shop for, and watch UPtv movies on iTunes (FTC Affiliate Disclaimer)

---
Serving Up the Holidays – Review
Chef Scarlett runs a restaurant but her angel investor, Stetson, wants to pull his support because the business slumps continuously. Scarlett's manager, Claire, wants Scarlett to change the menu for the holiday season, but Scarlett thinks holiday dishes are too basic. And she doesn't have the necessary inspiration to create something new. Claire scours the internet and finds a beginner's holiday cooking class. Claire hopes getting back to basics will inspire Scarlett to get out of her shell and create something classic but fresh.
Scarlett settles into the Holly & Ivy Villa and meets the other guest. One older couple wants to spice things up, the engaged couple desires to impress in-laws, and the empty nester repeats the course for fun. Scarlett's instructor, James, shocks Scarlett. They went to cooking school together and were very competitive. Although Scarlett hates to admit it, James defeated her in the past. James loved to cook, but he hated the competition and the business requirements. So he left and started his cooking school. As James helps Scarlett rediscover her love for cooking, they find love in each other. But will Scarlett deter their romance when she pushes James to start a restaurant again?
Scarlett is a pretentious chef who scoffs at the family ties that introduced her to cooking. She refuses to listen to friends, customers, and investors, but it crushes her soul to hear students say they prefer gingerbread cookies over gingerbread tiramisu. It's acceptable to be fancy in the kitchen, but Scarlett has to learn that customers want simple food for the holiday that reminds them of home. She spends so much time elevating her food that she's never down to earth. While this movie is lovable, it's forgettable in the barrage of holiday movies.
I give it 3 out of 5 stars
How about you sing that song for me – James
I haven't been feeling inspired. It's not something you can force – Scarlett
Find, shop for, and watch Lifetime movies on Amazon TV (FTC Affiliate Disclaimer)

---
Hip Hop Family Christmas Wedding – Review
Jessica and Jason's wedding is around the corner, and they look forward to having their family and friends enjoy it. But the mothers, Tina and Nancy, still can't get along. Jessica's brother, Blare, met with the new VP, Jai, to discuss his label's finances. Jai reprimands Blare for spending money on personal expenses like jets, shoes, and drinks. Blare calls them business expenses to woo potential clients. Blare tells Jai he can't cut the spending because he agreed to sign Mega after Mega gets out of jail. Jai demands Blare break the deal or give Mega to another label under their umbrella. Blare needs to get on Jai's good side to continue doing business at the status quo. Jessica's sister, Kelsey, has another number 1 hit on the charts, but she hasn't found love. She thought her current boyfriend would make her happy, but now she's bored. Mega sounds like the perfect musical and romantic match for Kelsey. So, she will find a way to meet him. With everything going on with their children, Tina and Donnell have problems too. The criminal court found Donnell innocent of murder, but their accuser went to civil court to request a $5,000,000 settlement. Tina and Donnell need to get Jessica, Blare, and Kelsey to tighten their belts.
This sequel has endearing and funny moments, but there is no story. Once again, viewers have more questions than answers, and the only Christmas in the movie is a tree. Other than that, the holiday is an afterthought. This film would be perfect to start or end a season of TV series but not a stand-alone movie. As a whole, these movies would be great. But individually, they fall flat. Maybe part 3 will fix what part 1 and part 2 left behind.
I give it 2 out of 5 stars
You don't have to announce when LeBron takes the court – Blare
You people? You do realize you're black too – Tina
If you need some help, I can call my boy, Nick Cannon, and he can give you some tips – Darnell
There's no need to be crass – Nancy
Ok. I can make it drama free after I beat her ass – Kelsey
You are mad at me for hoes that ain't happen yet – Jason
Find, shop for, and watch VH1 movies on Amazon (FTC Affiliate Disclaimer)

---
Dognapped: Hounded for the Holidays – Review
Victoria called a press conference to show off her new puppy and encourage pet adoption for the holidays. Victoria's assistant, Emily, takes photos as news reporters ask questions. When one reporter asks Victoria about her recent scandal, Emily pulls Victoria away. Victoria's biggest fan, Terry, stops Emily to ask more questions, but Emily leaves. Victoria's competitor, Sandra, caught Victoria on security footage taking pictures of Sandra's newest home design line. Now, people call Victoria a thief. Victoria's manager, DD, thinks Victoria should lay low until everything blows over. DD thinks a tropical island would be best, but Victoria believes that is something an evil movie villain would do. She ponders a small town would be best like where Emily grew up. After realizing Victoria isn't joking, Emily calls her mother, Donna, and asks Donna to make room for Victoria. Emily planned on a relaxing vacation. However, Victoria treats Emily and Donna like servants.
Later, Victoria demands Emily take Victoria's new dog, Tiny, to the vet for his shots. Donna informs Emily that her old friend, Jonathan, will take over the vet clinic from his father. Emily meets Jonathan, and his assistant, Bernard. She introduces them to Tiny and gets the shot, but Emily faints when she sees the needle. Embarrassed, Emily wakes up and looks for Tiny but can't find him. Jonathan goes to the back to find Tiny's cage empty. They believe someone took him, but Emily doesn't want to call the police because she could lose her job. Emily wants to work with Jonathan to find the dognapper before Victoria discovers Tiny missing.
This film is a light-hearted mystery that hides the profound nature of this film. Emily needs to stand up for herself. Emily is an aspiring designer. When she asks Victoria to look at her design, Victoria demeans Emily's experience to keep Emily under her thumb. However, Victoria is using Emily's designs and not giving Emily credit for her work. Emily finds her voice and demands respect from Victoria after learning to ignore Victoria's manipulative, passive-aggressive comments. The mystery is compelling, but you chomp at the bit for Emily's take-charge attitude.
I give it 4 out of 5 stars
Well, it's the thought that counts – Emily
Jetting off to some fancy island is a total supervillain move – Victoria
Thanks, I'll be here all week – Jonathan
Sure you always pull through – DD
Find, shop for, and watch ION movies on iTunes (FTC Affiliate Disclaimer)

---
A Holiday Spectacular – Review
Thanksgiving 1957, Maggie watches the Thanksgiving Day Parade and becomes hypnotized by the Rockettes. By the fall of 1958, Maggie is engaged to Maxwell and takes dancing classes. Maggie is confident in her dancing shoes but less about her future marriage. She and Maxwell know little about each other, but her mother loves that he comes from a good family.
After dance class, Maggie's friend tells her the Rockettes will have an audition for three new dancers. Maggie throws caution to the wind, tries out, and gets the spot. The choreographer tells Maggie that she starts on November 1st and has to move to a home in New York. Maggie tells her mother that she wants to meet with a friend in New York and see an exclusive wedding dress designer. Her parents approve, and Maggie is on her way.
Outside the apartment, Maggie waits for the doorman to grab her obscene amount of luggage. Officer John, a navy man, offers to help, but Maggie declines. She inquires about his camera, and John explains he wants to attend NYU for a photojournalism degree. He hopes to take pictures to inspire the world. John leaves to work in his parents' store, and Maggie stands on the corner until Rose comes out of the apartment. Rose is the apartment manager and alerts Maggie that they don't have a doorman. She will need to carry her bags herself. The newer Rockettes share a bedroom and a bathroom. And they all have a 10 pm curfew. This arrangement is a drastic change from Maggie's posh lifestyle, but she is willing to sacrifice for her dream. However, she lies to her mom about why she is in New York. She omits that she comes from a wealthy family to her dance team. And she never tells John that she's engaged. Can Maggie manage her life on the kickline while walking a tightrope of lies?
Featuring the Radio City Rockettes, this period piece stands out with its elaborate costumes, attention to detail, and dancing. Maggie must deal with a time of strict gender and societal roles. The world expects her to drop her dreams and become a wife and mother to a man who doesn't know her favorite color. And her mother wants Maggie to marry a wealthy man to keep their status. As Maggie adjusts to life without creature comforts, she connects to the other dancers. John fights for who he should be versus who he wants to be. His parents want him to continue the family business because they don't see a future in photographs. However, it's the passion that burns deep within him. This film has something for everyone and pays homage to the Rockettes' past and present.
I give it 3.5 out of 5 stars
You can run out of hot water – Margaret
I really was just taking pictures – John
Is there a right way to take that – Sophia
We take care of each other. We're like sisters – Alice
Find, shop for, and watch Hallmark movies on Amazon (FTC Affiliate Disclaimer)

---
A Christmas Spark – Review
A Christmas Spark – Lifetime – 2 hours and 0 minutes
Molly's friend, Cassie, wants Molly to downsize her home and go out more. It's been years since Molly's husband, Greg, died, and Cassie worries that Molly isn't moving forward. Molly reminds Cassie that her daughter, Kristin, Kristin's husband, Steve, and their daughter will be at her house for the holidays. Satisfied, Cassie leaves so that Molly won't be alone. Then, Kristin calls Molly. Steve has to work over the holidays because he is the new guy at the job. So, Kristin asks Molly to come to their house for Christmas. Molly grits her teeth and accepts the invitation.
Molly arrives in New Hampshire and grabs some salt water taffy, but Marshall reaches for it too. They both defend their reason for wanting the candy. Molly gets the candy, and Marshall walks away with a delighted smile. Molly enters Kristin's home and prepares to work, but Kristin tells Molly to relax. However, Kristin sees that relaxing is impossible for Molly. So she tricks Molly into going to the community center. They are putting on a Christmas play but lost their director. Molly wants to do it, and Kristin encourages Molly to go for it. Molly gets high praise from the actors until someone wants to change the play. For years, the community did the same performance. Marshall wants to change it, but Molly isn't uncomfortable with that. Marshall finds Molly appealing but wants her to break out of her shell. It will take a motorcycle, taffy, and water damage to change Molly.
Welcome to the second half of your life. Your children are adults, and you retired. Now you have all the time in the world to fulfill your dream. Do you stick to your life, or do you change? It's unsure if Molly's grief or fear keeps her from moving forward. But Marshall helps Molly through it all. Molly can see the beauty in change and use it to help the play. This film is an endearing story about growth in the later stages of life.
I give it 3 out of 5 stars
What kind of person steals candy from a child – Molly
Strangers? After what we just experienced – Marshall
If you start reorganizing the garage, Steve may divorce me – Kristin
Find, shop for, and watch Lifetime movies on Amazon TV (FTC Affiliate Disclaimer)

---
An En Vogue Christmas – Review
Kendall worked in her father's club, The Opera House, every Christmas while En Vogue performed (FTC Affiliate Disclaimer). When Kendall sees En Vogue praising her Uncle Marty, she runs to her father, Kent. Kent assures Kendall that he doesn't need recognition. Ten years later, Kendall runs a P.R. firm and handles one of the biggest pop stars in the world. She plans to go on a trip until Marty calls. The Opera House will close its doors soon. Kendall blames Marty and his gambling problem for the mismanagement of the club and En Vogue's career. Years ago, he lost the group's advance, and they left Marty and the club. Kendall gets an idea. She can save The Opera House if she can convince En Vogue to get back together and perform one more show at the club. Kendall thinks it will be easy, but each member, Cindy, Terry, and Rhona, has internal struggles that pull them away from the stage. Also, they don't want to work with Marty. Can Kendall save the club?
This movie doesn't rely on a love interest to keep viewers invested. It uses strong family ties, tragedy, and En Vogue's music. The writers gave a superb mix of the group's classic and new songs to reel in fans and gain new ones. While this movie is a platform for new music, the story of people overcoming the past and standing in their truth holds strong. So, sit back, watch, and be ready to sing along.
I give it 3.5 out of 5 stars
She looks like she can sing, and that's all that matters – Kendall
That's me trying – Marty
There are two types of people in this world. This who do the work and those who take the credit – Kent
Kendall Thomas. When did you get to be so doggone grown up – Terry
Singing? In public? On Stage? – Cindy
Cindy said it would be impossible to say no to you – Rhona
Find, shop for, and watch TV One movies on iTunes (FTC Affiliate Disclaimer)

---
A Christmas Cookie Catastrophe – Review
Annie Cooper took over Cooper's Cookies after her grandmother, Rose, died. Since the takeover, sells slumped. So Annie stopped donations to Rose's favorite charities and canceled the annual Cooper Light Up. They would feed the town and light up the Christmas tree. Annie explains to the board that cutting unnecessary spending will increase profits. However, Miriam, a board member, keeps a close eye on Annie. She warns Annie that she will replace Annie if anything goes wrong.
Annie tries relating to the staff at Cooper Cookies' most boring Christmas party ever. Her assistant, Jillian, gives Annie words of encouragement before Annie gives her speech. She reminds the team of Rose, Rose's legacy, and Rose's dream for the store. Annie doesn't know that someone is breaking into the store and stealing the secret Christmas Cookie Recipe. Annie and Jillian notice it's gone in the morning, and Jillian wants to call the police. But Annie fears Miriam will use this to take her job. Annie pretends someone is cleaning the display, so they must move the recipe. Annie grabs a Bella's Bakery punch card off of the crime scene's floor and calls the IT guy, Calvin. Calvin says someone erased the digital security files for that night, but he will keep searching. Also, Rose never made a digital copy of the recipe. Annie talks to Rose's only confidant, Arthur, but he doesn't have the recipe, but he tells Annie that the ingredients list is on the box. She needs a baker who can reverse-engineer the cookie. He has a baker in mind.
Sam owns and operates Bella's bakery. His daughter, Bella, thinks Sam makes the best cookies in town. Sam prepares today's haul when the stove breaks. He can't afford to buy a new one but has to keep the business going. Then, Annie rudely walks into his shop and demands help to recreate the recipe. If Sam helps Annie make the Christmas cookies before anyone discovers it's missing, she will buy him a top-of-the-line stove. While Sam works on the recipe, Annie, Jillian, and Calvin will try to catch a thief.
This movie is worthy of HMM because it has several suspects with individual motives. However, the conclusion is Hallmark-worthy. Annie must learn that a company's profit isn't only on a spreadsheet. Companies can measure their profits by customer interactions, foundation work, and employee retention. Annie's fierce need to protect the bottom line will cost Rose's business. Sam helps Annie see that there is more to an organization than numbers. It's the love of the product, and Sam loves something other than his bakery. He loves Annie.
I give it 3.5 out of 5 stars
I wasn't joking – Sam
Don't worry, Rose. She'll find her way. In the end – Arthur
Are you done – Annie
Best Christmas ever – Belle
Find, shop for, and watch Hallmark movies on Amazon (FTC Affiliate Disclaimer)

---
Time for Him to Come Home for Christmas – Review
Elizabeth attends another boring Christmas party with her mother. Attendees bombard her with questions about her future until Elizabeth gets a call at the front desk. She leaves to check on the call and finds her friend, Josh, there. He is there to take her away from the party and to his parent's home. Elizabeth smiles when she sees their friend, Andy, back early. The three talk about their futures and friendship. They make a wish on a shooting star and take a picture.
Elizabeth works for her mom three years later, and Josh is a nomad. Since Andy died, they haven't been able to put the pieces of their friendship together. Elizabeth gets an unknown call and ignores it. She checks the voicemail later, and it's a man asking for a second chance with a woman named Maddie. Elizabeth attempts to call the man back but reaches a hotel switchboard. They can't give her the name of their guests, so she tries to find clues in the message to identify the man. So, Elizabeth goes to the hotel and begs for help. After several rejections, she writes a note and asks the concierge to display it. Elizabeth leaves and hears a man calling after her. It's Josh. When Elizabeth left, the concierge threw her note away. He reads it and decides to help her find the caller and Maddie. Elizabeth's not sure if she can trust Josh because Josh abandoned her after Andy died. He promises to stick by her side because he has something important to confess; his love for her.
This addition to the "Time for" saga adds a mystery to the mix. While they follow the clues, they get closer to the caller and Maddie. Along the way, Elizabeth makes peace with her mom, Josh, and the past. She blames herself for Andy's death and atones by working for her mother in a job she hates. Josh regrets not speaking up the night of the party. He planned to tell Elizabeth how he felt, but overhearing a conversation stopped him. Elizabeth can bring Josh home again by searching for Maddie and the caller.
I give it 3.5 out of 5 stars
I've come to rescue you – Josh
It's 10 am on a Monday. I'm not hiding – Elizabeth
Find, shop for, and watch Hallmark movies on Amazon (FTC Affiliate Disclaimer)

---
The 12 Days of Christmas Eve – Review
Brian's father owned an electronic repair shop and instilled in Brian to work hard and never expect handouts. Today, December 24th, Brian turned his father's repair company into one of the largest chains in the country. His assistant, Jeff, reminds Brian that the company's Christmas carnival fundraiser is tonight, and Brian rolls his eyes in exhaustion.
Brian enters the boardroom, and his staff informs him of the company's bleak outlook. Profits steadily decline, so Brian tells them to devise ideas to raise profits. And if they don't come up with something before the end of the meeting, they will have to work over the holidays. Jeff is in touch with an influencer, Nina, and she wants to invest. Brian believes Nina's investment will attract Gen-Z and Millennial customers to the brick-and-mortar stores. He tells Jeff to set up the appointment and leave the board room. He sees his granddaughter, Harken, and daughter, Michelle, in the lobby. Michelle asks Brian to watch Harken so she can perform brain surgery. But Michelle sees Brian about to make up an excuse and leaves with Harken before Brian can speak.
At the party, Brian introduces Michelle to a colleague but blows Michelle off to talk to Nina. Michelle leaves with Harken and vows to cut Brian off for good. Nina confesses that she doesn't want to invest in the company; she wants to buy it. Gleefully, Brian walks to the podium and tells the staff that he will donate their bonus on their behalf. Of course, this is an enormous tax write-off for Brian. Brian is at the top of the world until he crashes his car and dies.
Brian opens his eyes to see Santa staring at him. Santa tells Brian that he died, but Brian wants more time to get things right. Santa discovers Brian isn't on the naughty list, but Brian isn't on the nice list either. So, Santa will give Brian 12 chances to fix his life. If Brian doesn't fix it, his death will be permanent.
This remake is a mix of Groundhog Day and A Christmas Carol and is innovative and funny (FTC Affiliate Disclaimer). With each redo, Brian steps closer to repairing his relationship but makes another mistake. He uses money, jobs, and family to get ahead, but he misses the point. Some deaths happen accidentally and some on purpose, but each time it gets funnier. Also, Brian learns more about the people in his life before dying. He discovers more about Harken, Michelle, Nina, and even Jeff. In a hustle culture, everyone can see a bit of themselves in Brian.
I give it 4 out of 5 stars
That's a ray of sunshine – Brian
Of course, I always do what's expected of me – Michelle
What fun is being rich, if you don't spend it – Nina
I feel much better now – Harken
I don't want your money. I want a dad who doesn't have to ask me that question – Michelle
I was running out of ways to kill you – Santa
Find, shop for, and watch Lifetime movies on Amazon TV (FTC Affiliate Disclaimer)
Click here for more information
---
Haul out the Holly – Review
After breaking up with her boyfriend, Dan, Emily calls her parents, Gal and Everett. She wants to come home to figure out her living situation. Gal and Everett are happy to have her return home in time for the Christmas Carnival. When Emily was a child, her parents invented and hosted the Christmas Carnival and all its events. Often they sacrificed Emily's holiday for the celebrations because Everett was the HOA president.
Emily arrives to see her parents in Hawaiian shirts, with bags packed and a cab waiting for them. They decided to move to Florida but had no one to cover them for the Christmas carnival events. Emily stands stunned as they leave her the house keys and drive away. They promise to return on New Year's for a visit. Emily doesn't have time to unwind before she gets a knock at the door. It's the new HOA president, Jared. He and Emily were best friends growing up. She didn't know he was back in the community. Jared gives Emily a citation for not having her decorations up and asks her to attend the next HOA meeting at 8 am.
Emily discovers that Jared is under immense pressure because this is his first year as president and handling the carnival. He wants to live up to Everett's example and please the town. Emily decides to roll up her sleeves and help, but she has to get the rest of the community to stop seeing her as an outsider. Emily and Jared will work with the town to create the best Christmas carnival they have ever had.
Let's be honest. This town takes Christmas way too far. It's no wonder why Emily laughs in Jared's face and rips up his citations. Emily doesn't hate the holiday. She has terrible memories because her parents put the carnival ahead of their time together. Emily still goes overboard on gifts. For her, the holiday is for family, not the outside world. This movie isn't about renewing her Christmas spirit. It's about regaining her love for the community. And the love story is in the background because her connection to the neighborhood is the focus.
I give it 3.5 out of 5 stars
Last time you laughed like that, I found out you got rid of all my beanie babies – Emily
You win, welcome home – Jared
And we wonder why we're single – Pamela
Find, shop for, and watch Hallmark movies on Amazon (FTC Affiliate Disclaimer)

---
Categories: A Big Fat Family Christmas, A Christmas Cookie Catastrophe, A Christmas Spark, A Holiday Spectacular, A New Orleans Noel, An En Vogue Christmas, Angelie Simone, Ann-Margret, BET, BET Her, BET Her TV, BET Holiday Kickback, BET+, Brad James, Brandee Evans, Brandon Quinn, Britt Irvin, Cassie, christmas, Christmas in the Wilds, Christmas on the Slopes, Cindy Herron, Cloudy with a Chance of Christmas, Countdown to Christmas, Cristine Prosperi, david alan grier, Derek Klena, Dognapped: Hounded for the Holidays, Donny Carrington, Elaine Partnow, Ellen Travolta, Erin Gray, Gary Dourdan, Genelle Williams, Ginna Claire Mason, hallmark, Hallmark Movies and Mysteries, Haul out the Holly, Hip Hop Family Christmas Wedding, HMM, holiday, Holland Roden, ion, It's Beginning to Look a Lot Like Murder, Its A Wonderful Lifetime, Jack Wagner, jane seymour, Joe Lando, Kaitlyn Leeb, Kate Vernon, Kelsey Grammer, Keri Hilson, Keshia Knight Pulliam, Kimberly Dawn Guerrero, lacey chabert, Laura Vandervoort, lifetime, lifetime movie network, lmn, Made for TV, MC Lyte, Melinda Shankar, Melissa Peterman, Merry Movie Christmas, Miracles of Christmas, movie, Naughty or Nice, ne-yo, Nicole Bilderback, Noah Fearnley, Olivier Renaud, Patti LaBelle, Rachel Boston, Redman, review, Rhona Bennett, Rhyon Nicole Brown, Rolling into Christmas, Sara Ball, Serayah, Serving Up the Holidays, Shad Moss, Shannon Chan-Kent, Shannon Kook, Slay Bells, Soma Chhaya, Spencer Grammer, Stephen Tobolowsky, Tamara Duarte, Tenille Townes, Terrence J, Terry Ellis, The 12 Days of Christmas Eve, Tia Carrere, Time for Him to Come Home for Christmas, toni braxton, Travis Burns, TV One, tv review, Tyler Hynes, UPtv, Valarie Pettiford, Valery Ortiz, vh1, Victor Webster, Victor Zinck Jr., Vivica A. Fox, Wes Brown, Your Home for the Holidays, Zach Roerig