BET
---
Her Boyfriend's Secret – Review
Melissa was recommended by her friend Travis (a contractor) to decorate John's home.  She prepared several design options and he loves her work.  And her.   After flirtation exchanges, the two start to date.  Melissa thinks her new adventure loving, horse-riding, pilot boyfriend is a dream come true.  They are quickly falling for each other.  But when Carey, John's ex, visits, she warns Melissa that John is obsessive and attacked her.  Also, he lied about his job and his name.  Carey informs Melissa that he is smart and dangerous.  Melissa blows off Carey's warning until Travis warns her that John can be a little weird.  She decides to investigate John's home, car, and past.  This "great" boyfriend has more than one secret.
Seriously, how many warnings do you need!! As Melissa gets more clues to John's dark side, she continues to stay in the relationship.  While she tells Travis it's to investigate, she tells Carey she still believes him.  Melissa makes so many dumb decisions while attempting to be a smart investigator.  It's hard to care about Melissa taking John down because you are too busy yelling at the screen.  You just want to shake her.  Even though this movie leaves you wanting more from its protagonist, John can't be ignored.  His charm is infectious and his lies will leave you up at night.  He is the perfect sociopath.
I give it 3 out of 5 stars
I'm not ready – Travis
I want you to know I'm not going anywhere – John
I'm gonna post something – Ashley
You still haven't told me who you are – Melissa
Find, shop for, and watch Lifetime movies on Amazon TV (FTC Affiliate Disclaimer)

---
House of Darkness: New Blood – Review
After her husband left her a 'Dear John' letter and never came back, Brooke and her son Dylan are left to pick up the pieces.  With Judd's proposal, she feels almost whole again.  She starts to fantasize about the perfect wedding when Judd's mother Elaine's nurse abruptly quits.  He wants to go back to his family home, find a nursing home for Elaine, and sell her house.  Alison feels this is too much for him to handle alone, so she asks Judd to bring her and Dylan.  Judd is happy to have the help.  On her first night, she hears and sees things in the night.  She explains it as a side effect of her medication.  But she decides to stay because her son loves being there.  However, the longer she stays the worse her delusions get until she can't take it anymore.  Just as she is about to leave a picture, film negatives, and a file will expose the truth about the house.  And the truth doesn't care about what you believe.
This movie has a very slow build to tell the back story of both Judd and Alison while creating a connection between then and Elaine.  The movie even sets up a reason for Alison's delusions with her heavy sleeping medication.  So you start to wonder if she is having a mental breakdown.  To get in a few scares, this movie uses creepy figures, a sleeping child calling for its mother, and scary voices.  For seasoned thriller/horror pros, this movie is laughable.  The fainter at heart may jump once or twice.  But it's the truth that will leave you with more questions than answers.
I give it 3 out of 5 stars
It's ok. It's been a while since there were kids in this house – Dylan
It was Judd's favorite and Michael loved it – Elaine
There's no shame in being sensitive – Doris
Well, you better figure it out – Brooke
Find, shop for, and watch Lifetime movies on Amazon TV (FTC Affiliate Disclaimer)

---
The Bobby Brown Story – Review
The Bobby Brown Story – BET – 4 hours and 0 minutes (divided over 2 days, 2 hours each day)
Part 1
In 1980, Bobby Brown rode bikes with a friend, within minutes that friend was stabbed to death in front of him.  When he comes home after being fired from New Edition, he walks past the foyer where his friend died.  He enters a state of depression and decides to get money any way he can.  When his mother Carol sees him looking for her gun, she calls Jheryl Busby to set him straight.  He gives Bobby hope by reminding him the company is obligated to give him a solo album.  With his brother Tommy as his manager, Bobby starts a solo career.   When his first album King of Stage gets mediocre responses, Busby convinces Motown to give Bobby Brown another chance with L.A. Reid and Babyface (FTC Affiliate Disclaimer).  Motown agrees.  Bobby is happy with the second chance but he must be able to do this album his way.  That decision leads Bobby Brown to become the King of R&B.
This movie gives you 5 minutes of pre-New Edition Bobby Brown and the rest is after New Edition.  So, it's a good idea to see The New Edition Movie first.  It showcases Bobby's strong family ties and determination to make it as a solo artist.  However, he always did it with New Edtion in mind.  He always wanted to top them to prove he was needed.  That is the way Bobby handled everything in life. He was constantly proving himself to doubters.  While the first half will feel like a long music video with Girlfriend, Rock With'cha, and My Prerogative, it's a testament to the career and talent of Bobby Brown.  In case you are watching for Whitney, the couple meets, gets engaged, and gets married in this part.  But their story was never a fairytale with drugs, infidelity, and two pregnancies before they even said 'I do'.
You know if you take that thing out of here, you probably gonna have to use it – Carol
For this to work, you need to get the right producer – Ralph
So fellas, who're your stylist – Tommy
Y'all gotta let me be me – Bobby
Your son's got a real head for business – Brian
I don't know which show is better – Whitney
Oh, is that all I am? I was here before you and I will be here after you – Robyn
Part 2
Deep into his addiction, Bobby Brown is consistently on the wrong side of the law.  Drug use has made him paranoid, get in car accidents, and have a stroke.  As he lies in a hospital bed, Whitney and Bobbi Kristina, his daughter, are by his side.  They decide to stop using all drugs and get their lives back on track.  The first step, go on a vacation to the Bahamas.  The second step was to go to rehab but when the family lands, Bobby is arrested for a parole violation in Florida.  He is sentenced to a stint in jail.  It's there that he sobers up for the first time and resist the temptation of drugs.  Meanwhile, Tommy has been working on a way to rehab Bobby's image to get him back on top.  A reality show starring him and with his family.  This show solidified what their fans feared.  The world of the Browns was falling apart, no one was at the helm, and Bobbi Kristina was there for it all.  Bobby has to put his life back on track before he loses his life.
The second half of this movie is filled with so much pain and sadness, it's hard not to cry.  This movie pulls no punch but doesn't cast complete blame.  While Carol Brown refused to see her son's faults, he saw them within himself.  The same drive he put into the growth of his career, he put that same drive into the downfall of his career.  The hardest revelation in this movie is the truth all addicts bare: just as they are getting themselves together, everything around them falls apart.  As Bobby finds love, a career, and sobriety, he loses four family members in 3 years.  The movie ends on one positive note: The real reason Bobby Brown is standing today.
I give it 4.5 out of 5 stars
I'm a start without you – Whitney
We need to rehab your image – Tommy
It feels desperate – Bobby
Do I look like Whitney to you – Alicia
Find, shop for, and watch BET movies on iTunes (FTC Affiliate Disclaimer)

---
His Perfect Obsession – Review
Allison and her daughter Abigail enjoy their time together while talking on the phone with their Aunt Charlotte.  Then they hear a sickening sound.  Charlotte was hit by a car and died.  At Charlotte's funeral, Allison, Abigail, and Allison's husband Wyatt meet Bart.  Bart was Charlotte's accountant and want to help get her affairs in order as quickly and painlessly as possible.  Wyatt on the other hands sees something else, he believes Bart was hitting on Allison and wants him to stay away.   Wyatt's possessiveness leaves Allison shocked because Wyatt is having an affair.   She and Abigail overhear him talking to his mistress, so she ends their relationship and kicks him out.  Wyatt goes to drown his sorrows at a bar and runs into Bart.  After they exchange words, Bart leaves.  Wyatt believes he has won but he doesn't know that Bart has been quietly stalking Allison on social media and he feels now is his chance to make his move.   He will do anything to have Allison and Abigail all to himself.  Even kill.
With the era of social media, this story rings too true.  It's easy for a stalker to watch your page, post, or tweets for years and you never know.  Quietly creating an obsession without you knowing they exist.  And with Bart being a quiet unassuming guy, Allison would have no need to worry about her or her family's safety.  As things start to turn for the worse, Allison must count on her greatest strength: Abigail.  Being recently blinded to medication, most movies would have her be a hindrance.  But this movie shows Abigail as ABLED not disabled.  This is the most beautiful quality of this movie.
I give it 4 out of 5 stars
She cries sarcasm instead of tears – Allison
Are we all going to pretend he wasn't hitting on you right in front of me – Wyatt
I want you to leave – Alice
I may be many things but I am not clueless – Bart
Why did you park in the street – Abigail
Find, shop for, and watch Lifetime movies on Amazon TV (FTC Affiliate Disclaimer)
Click here for more information
---
Dinner For Two – Review
Dinner For Two – TVOne – 2 hours and 0 minutes
Chris prepares a soul food meal, pours a glass of wine, and plays a mix CD.  Then he hears a knock at the door.  It's his ex Angie.  She knows Chris needed her so she came by to help.  While he cooks Angie's favorite meal, the two talk about how they meet at Pierson University in 1992.  Chris was awestruck by Angie's singing voice and beautiful looks.  While they eat, they discuss their first breakup over infidelity and how they got back on track.  Angie continues to talk hoping it will help Chris stop drinking and get his life back on track.  Chris continues to talk because he hopes they will get back together and have his family again.  Angie wants him to stop looking at the past and focus on the future.  Chris doesn't see a future anymore and wants to end it all.
This is the serious talk all couples should have before they decide to break up.  This couple doesn't get loud, talk down to each other, or throw things.  They have a true heartfelt conversation.  Both have messed up in the past and married for a brighter future.  As they look back using objects, food, words, they see unfulfilled promises and multiple warning signs.  Each college scene is emphasized with wardrobe and technology to put you back in that time period.  While each is at fault, they have a hard time accepting those faults.  This movie should be used as an instructional video on how to correctly argue.  Sit back and watch with your significant other.  Have the conversation you have been too proud, too hurt, or too angry to have.
I give it 5 out of 5 stars
It's alright. People make mistakes – Chris
You know how we do. Whenever you need me, I'll be there – Angie
You know you are a good guy Chris – Jay
Find, shop for, and watch TVOne movies on iTunes (FTC Affiliate Disclaimer)

---
He's Watching – Review
He's Watching – Lifetime – 2 hours and 0 minutes
After a few FaceTime calls, Angela is worried her boyfriend Michael is cheating and she just isn't sure what to do without proof.  Then she looks up from her desk and sees Kyle., her old college boyfriend and famed photographer.  He wants help with his financial portfolio and has hired Angela's company.  But only if he can work with Angela.  The business meeting evolves into a dinner out and drinks.  The two talk about the past and talk about continuing their friendship.  However, after Kyle's art exhibit sparks fly and the two end up in bed.  The next morning Angela wakes up to breakfast by Kyle and a voicemail from Michael.  Michael's voicemail is a "first date" anniversary message for Angela that leaves her in tears.  She regrets her night with Kyle and breaks it off with the hopes they can just be friends.  She is ready to trust Michael and make their relationship work.  Kyle won't ever let that happen.
The story of Kyle and Angela is old and boring.  However, Kyle's backstory holds more promise.  He is the Bad Seed all grown up.  His ability to weasel his way into Angela's life is believable and eerie.  With just a smile and a camera, he can charm himself into anyone's life.  Another saving grace is Laurie. The comic relief, best friend says all the right things at the right time.  Plus she his handy with a gun and a computer.  DVR this one and watch it for a rainy day.
I give it 2.5 out of 5 stars
It wasn't luck, Michael – Angela
I only care what we have now – Michael
Kyle, I only do elevators on the second date – Laurie
I'm glad we can have a different kind of future now – Kyle
Find, shop for, and watch Lifetime movies on Amazon TV (FTC Affiliate Disclaimer)

---
---
I Am Elizabeth Smart – Review
God offers hope in the darkest places – Elizabeth Smart
On June 5, 2002, Elizabeth Smart vanished from her home and left little trace.  A manhunt ensued for the 14-year-old girl, but no one had any idea what she was going through.  She was kidnapped by Brian David Mitchell and held captive in the woods with the help of Wanda Barzee for 9 months.  She was raped every day, sometimes twice a day, starved, beaten, and restrained into submission.  Brian attempted to rename Elizabeth, but she renamed herself, Ester.  Ester was the 2nd wife who tricked the king without a weapon.   Since she could not overpower her captors, she had to outsmart them.  Winning their trust by doing chores and listening, Elizabeth waited for the first chance of manipulation and escape.  She was there as Brian and Wanda's relationship deteriorated and jealousy took hold.  But her tenacity, patience, and faith made her rescue possible.
Based on the autobiography My Story by Elizabeth A. Smart, this is a painful yet necessary story (FTC Affiliate Disclaimer).  The most painful scenes are cut just in time for the real Elizabeth to narrate her own terror.  The pain she endured while hearing people search for her, withstanding the holidays without family, and screaming silently for help was unbearable.  This story will hopefully put an end to victim blaming and start perpetrator shaming.  This movie speaks of survival and finding hope in the smallest thing.  Elizabeth found hope in a cup of water, rain, and a safety pin.  Elizabeth's story should be seen by everyone and she hopes you will never understand.  Because understanding only comes from experience.
I give it 5 out of 5 stars
You must be cleansed for the celestial marriage – Wanda
Do you want it to stop? So did I – Elizabeth Smart (narrator)
No man will want you now – Brian "Emmanuel" Mitchell
You are truly strong – Elizabeth
Find, shop for, and watch Lifetime movies on Amazon TV (FTC Affiliate Disclaimer)

---
The Preacher's Son – Review
Dante is the son of a Bishop T.K. Wilson and First Lady Charlene Wilson and brother to his younger sister Donna.  He dreams of being a lawyer even though his mother has him on a preacher's path.  So much so, she secretly applied for him to go to Howard University Divinity school and he got in.  But he hasn't told his mom he got into law school too.  After calling off his affair with a married woman named Anita, Dante meets Tanisha; down on her luck with a little brother and drug-addicted mother.  Dante helps her in 2 separate acts of kindness and he asks her out on a date.  After two dates, they are smitten with each other, but Tanisha is holding back a secret from the preacher's son, she is a stripper.  But Tanisha is not the only one with secrets.  Donna is pregnant but refuses to tell her parents whom father the child.   And the father of her baby is a wolf in sheep's clothing.  During a wedding, everything comes to the surface causing everyone's secrets and lies are exposed.
Based on The Preacher's Son by Carl Weber, this movie will leave you speechless (FTC Affiliate Disclaimer).  You will want to watch this more than once so get your DVRs ready.  During the wedding and church meeting, so much is revealed your head will spin.  OMG and WTF are understatements.  This movie could have been a soap opera with everything happening.  On the downside,  it was difficult to understand somethings being said because the backing track was drowning out the actors.  Also, some of the camera work was too shaky.  Otherwise, the actors created extraordinary performances and the screenplay was well adapted.  Get your wine ready and be sure not to spill it.
I give it 4.5 out of 5 stars
Yes, you can and you will – Anita
Not gonna happen – Dante
Girl, are you swirling – shorty
So, stop worry about my social life because I will not stop being a man – James
Now I don't owe you nothing. Go have fun with Anita – Tanisha
Get this fool out of here before he makes a bigger fool of you – Elena
How do I know if a guy really likes me – Donna
Now, that's the first intelligent thing I heard all night – Charlene
Let he without sin cast the first stone – TK
Who might be the lucky guy – Terrence
Find, shop for, and watch BET movies on iTunes (FTC Affiliate Disclaimer)

---
Maternal Instinct – Review
After witnessing a crime, Sarah is completely in shock. Her mother is now in the hospital fighting for her life and Sarah needs a place to stay until she can testify against a dangerous hitman. While waiting for arrangements to be made, Sarah becomes comfortable with Heather. Heather is a tough cop who was born into her job. And she doesn't like kids. So, when Sarah ask for Heather to be her police detail, Heather is at a loss for words. Heather's boss explains that if witness protection goes well, she can get a promotion. Heather is on board. But with a dangerous killer stalking Sarah and Sarah missing her mother, something's got to give. Will it be the killer's freedom or Sarah's life?
Slow and uninspired are the 2 words needed to describe this movie.   Shocking moments were predictable and fight scenes were not well executed.   The movie is missing a wow factor to keep you tuned in.  So DVR his movie to use fast forward or make it background noise.
I give it 2 out of 5 stars
Sarah, I'll protect you – Heather
I'll never stop thinking about her – Sarah
You trying to fool me – Travis
Find, shop for, and watch Lifetime movies on Amazon TV (FTC Affiliate Disclaimer)
Click here for more information
---
Engaging Father Christmas – Review
It's been over 7 weeks since Ian and Miranda have seen each other and a year since Miranda has seen the Whitcombs.  She is looking forward to going to Carlton Heath and seeing everyone again.  While at the airport waiting for Ian, she runs into her old boyfriend Josh.  After a brief discussion, Miranda tells Josh her secret: the actor James Whitcomb is her father.  Josh is shocked but promised to keep her secret.  Once Miranda is back in Boston she starts getting "unknown" phone calls and text.  She ignores them and focuses on Ian and her family.  It difficult to be a "family friend" instead of a sister but she doesn't to lose her connection to her father.  So she keeps the family secret.  With everything going on, Miranda's love for Ian deepens when he pops the question.  She is ready to start a life with him in Boston, but she keeps getting texts.  But the latest one shakes her faith in family, grace, and truth.  Can the Whitcombs handle the exposure? Will Miranda lose the only connection to her father?
Based on the book Engaging Father Christmas by Robin Jones Gunn, this movie is just as intriguing as the first (FTC Affiliate Disclaimer).  The first was about finding her father, but the second is about engaging with her new found family.  However, in order to keep James Whitcomb's public persona, she is asked to keep quiet or play the "family friend" in interviews.  As a viewer, it's hard to watch or feels like a rejection.  This conflict makes a good movie great.  While they all love each other, the elephant in the room is hard to ignore.  Even her nephew has an opinion.  However, the mystery lies in who is sending the text messages to Miranda.  Is it Josh (the ex), Josh's brother, or the Rachel (the Whitcomb's reporter)?  Experienced Hallmark watchers will see the culprit a mile away but that's not the end.  It's only the beginning.  This movie is a wonderful addition to the series.
I give it 4 out of 5 stars
If all goes well, she may not want to leave again – Catherine
Your secret is safe with me – Josh
It seems you misplace your trust – Margret Whitcomb
I was prepared to challenge him to a duel if he persisted – Ian
It's about time – Peter
I get the feeling that they are leaving something out – Rachel
Ian someone put this up here for a reason. I don't think we should cover it up ever again – Miranda
Find, shop for, and watch Hallmark movies on Amazon (FTC Affiliate Disclaimer)

---
Enchanted Christmas – Review
Laura is ready to settle down for the holidays with her daughter Nikki.  But her boss Oliver has an announcement.  He has purchased a new hotel called the Enchanted Lodge and with 8 weeks of work needed, she has 4 weeks to get it done.  It needs to be done before the town's Enchanted Christmas Show.  This show has always been hosted at the hotel, which Laura knows all too well.  She grew up in Rosemont, Utah and danced in the show every year with her partner Ricardo.  She doesn't want to go back to Utah and the old memories but she must in order to keep her job.  She is encouraged by her boyfriend Scott to go and hopes the job can be completed quickly.  But Laura doesn't know that Ricardo is back in Utah to help with the show.  It's only a matter of time before the two run into each other.  Will this be their last dance or will the two tango again?
Sweet yet predictable.  This movie falls into the same plot as most Hallmark movies so the journey must be new and intriguing.  This one just falls flat.  There was a moment when Eddie, Scott, and Ricardo were all in the same room surrounding Laura asking questions.  This was a prime opportunity to have back and forth comments (not fighting, but slide comments), but this never happened.  This movie is background noise, nothing more.  You know how it starts, climaxes, and ends.
I give it 2 out of 5 stars
I can't go back to Utah – Laura
Memory lane can be nice – Scott
Grandpa, I'm your only granddaughter – Nikki
Longtime partner – Taylor
Doing good works makes you feel good. Remember that – Manuel
We keep missing each other – Ricardo
I'm pretty eloquent, aren't I – Alicia
Find, shop for, and watch Hallmark movies on Amazon (FTC Affiliate Disclaimer)

---
A Song for Christmas – Review
Country music star Adelaide feels like a puppet for her manager Russell.  Russell wants her to sing songs she hates, lie about dating another star, and eat what he wants her to eat.  Adelaide wants to write her own songs but her first album flopped.  So Russell wants her to continue on the path he has worked out for her rising career.  After a night in a B&B, Adelaide is overlooked and accidentally left behind.  She gets help for a local girl named Hailey who offers her a phone call and a place to sit.  But when Adelaide is stuck for several days, Hailey and her family offer Adelaide (now being called Addy) a place to stay.  Addy learns that Hailey's brother Dillon dreams of singing but can't get over his fears.  While his family supports him singing, he doesn't want to leave because the family farm is about to be foreclosed.  The family hasn't given up hope but they only have to the end of the month to turn things around.  Addy wants to help Dillian and the family farm but she knows their pride will stop her.  She must do everything she can to help the family without offering money.
"A Farm for Christmas" feels like a better title for this film.  The song itself feels like a subplot for this movie, not the main storyline.  You will find yourself more concerned about this nice family and how they will keep their farm.  This is a story that is affecting so many farmers today that you focus that and not the love story.  While the song is not your focus, it is a good song that was sung by both the actors.  They are just as amazing acting as they are singing.  DVR and watch this movie when you have a moment.
I give it 3 out of 5 stars
There is a place in my heart for something other than music – Adelaide
This is everything you've always wanted and you are so close – Russell
Don't tell Russell – Sandra
Seems a bit manufactured – Dillon
Selfless is saying you don't like pie when there isn't enough to go around – Hailey
Find, shop for, and watch Hallmark movies on Amazon (FTC Affiliate Disclaimer)

---
The Sweetest Christmas – Review
Kylie is having a rough year. She lost her job as a pastry chef, can't find work at another restaurant, was turned down for a business loan, and moved in with her sister Tina. Kylie hopes that things will get better because her boyfriend Alex is preparing a special dinner. When what she believes to be an engagement dinner turns into a promotion dinner, she breaks up with Alex. Then Kylie gets good news, she is a semifinalist in the American Ginger Bread competition. The grand prize is $25,000. This will cover her student loan debt and help start her online baking company. However, when her sister's oven burns out, with resistance, she asks the one person she believes can help; her ex-boyfriend Nick. Still carrying a torch for her, he agrees. If Kylie thought the competition would be her single biggest source of stress, she has no idea what's to come.
"This time is going to be different" is a very important phrase in this movie. And for Hallmark, this movie is different. She doesn't go to the restaurant to get dumped, she dumps the inattentive boyfriend. She doesn't hate Nick at first, she has always loved him. Also, her final gingerbread entry isn't perfect "for TV". It looks like a real entry made by a real person. With a lot of heart-warming moments, you will be given plenty of laughs with Ralphie and Bobby's banter. No one can match their quick and honest quips. Just to warn you, have gingerbread and hot cocoa close by.
I give it 4 out of 5 stars
I know with your help, we can "sleigh" it – Alex
Just distract me – Kylie
The girls decided to bake. Long story endless, the oven is ruined – Tina
Because my dad worked late and your wife wanted to sleep in – Bobby
Two dudes decorating alone. Are you trying to depress me? – Nick
What? Hey. You talking about me – Ralphie
Find, shop for, and watch Hallmark movies on Amazon (FTC Affiliate Disclaimer)
Click here for more information
---
---
Ten: Murder Island – Review
Meg and 9 other students from 3 different school all meet up at a vacation home at the request of their mutual friend Jennifer.  Meg's ex-love interest TJ and her best friend Minnie are at odds about what happened the night before the dance.  Meg is doing everything she can to avoid TJ and keep her friendship with Minnie strong.  On their first night, they find an unmarked DVD and watch it.  It has a countdown, random images and clips, and the final words "Vengence is Mine".  A little freaked out they all go to bed.  Meg finds a diary page that details a girl being betrayed for a singing solo.  In the middle of the night, Meg wakes up to find one of the students hanging with a suicide note and a "1" in red paint on the wall.  While everyone thinks this is a sad coincidence, Meg notices the suicide note was written on the back of song lyrics.  The same song lyrics mentioned on the diary page.  Meg has to convince everyone that a killer is on the loose, keep everyone from going nuts, and find a killer.  And all before she's next.
Based on the novel, Ten by Gretchen McNeil, this is a really good thriller (FTC Affiliate Disclaimer). You are left to believe everyone is a killer, even a ghost.  As each person dies, you cross off another name on your suspect list.  And with Minnie off her meds, Kamiko losing it, and Ben pointing fingers, everyone is a suspect.  Also, everyone has a reason to be killed since they all bullied a girl who committed suicide a few months earlier.  You might believe you have the killer figured out but 90% will be wrong.  Sit back and enjoy a good teen thriller.
I give it 4 out of 5 stars
Anything you can't do? – Meg
You think too much girl – TJ
Everyone knows what you did Vivian – Laurie
I'm still in love with him – Minnie
I think I can help – Vivian
Some might say that's the same thing, Meg – Ben
What I saw was someone who was off her meds – Kamiko
Find, shop for, and watch Lifetime movies on Amazon TV (FTC Affiliate Disclaimer)
Click here for more information
---
Secrets – Review
Secrets – BET – 2 hours and 1 minute
Tarron believes he is a loyal husband to his wife Secret but he knows he's not faithful.  He prides himself on being a provider but he is bored with married life.  He believes he married too earlier and should be allowed to have a little fun.  After breaking off his affair with Monica, he is trying hard to stay on the straight and narrow.   Just as his career is on a hot streak, the boss invites Victoria to join the team.  Soon, Tarron and Victoria are spending lunches together and Secret is getting suspicious.  After a huge fight about trust, Tarron leaves Secret and get his own place.  In time, his family, job, and health are in shambles.  And the only way to bring everything back is for everyone to tell the truth.  Including is Tarron, his brother Jay, Secret, Victoria, and his mother.
Based on the novel, Secrets of a Housewife by J Tremble, this movie is what happens when the can of worms is opened wide poured all over the table (FTC Affiliate Disclaimer).  The story starts off as a simple cheating story but leads to blackmail, drugs, and a blood test.  It gets complicated quick.  Be prepared because the 1st hour is a boring setup and the last hour is a great finisher.   So hang in there.   The biggest problem is due to the backing track often drowning out the dialogue.  It makes it hard to hear the best and most profound parts.  Also, Tarron plays the victim too much and it comes off as whining.  However, his mobile stalker will take him and you by surprise.
I give it 3 out of 5 stars
Don't bother cleaning up – Tarron
So what about that new bike – Terrance
You can keep your son and his crusty draws – Secret
Answers to our problems isn't out there, it's in there – Steven
Nobody wears tennis bracelets anymore – Monica
My career comes first, always – Victoria
Find, shop for, and watch BET movies on iTunes (FTC Affiliate Disclaimer)
Click here for more information
---
Downsized – Review
Downsized – TVOne – 2 hours and 0 minutes
In 1991, 14-year-old Ebony and Michael got pregnant.  Their family quickly lay down their lives.  Ebony is to go cosmetology school and start doing hair.  Michael is to go to ROTC and enlist.  When they both graduate, they should get married and raise their child as a family.  Three more kids and 25 years later,  Ebony owes a salon and does makeup & hair for the stars.  Michael finished his tours of duty and completed his first book.  But years ago, the two agreed that when their oldest child finished law school, they would get a divorce and live their lives.  With the date looming, Michael is having second thoughts.  So he decides to take his family to the cabin and remove most of the technology so they can bond.  He hopes this will change Ebony's mind and save his family.
This movie covers topics of forced commitments, infidelity, communication, parental expectations, and love.  However, the saddest impact is the effect the divorce is having on the children.  Ebony and Michael attempt to keep the divorce a secret as long as possible, but the children are crushed to know the truth.  The kids try everything possible to keep their parents together.  But they will realize that they are not the problem.  So, they can't fix the issue.  Being in this cabin forces the entire family to communicate and put everything out in the open, but can the marriage last?
I give it 3.5 out of 5 stars
Capital D-I-V-A. She almost made me lose faith in humanity – Ebony
We did it – Michael
Is he blackmailing you or something – Malaysia
I have no bars, no reception. This is bad – Michelle
By wonderful, I mean terrible, horrible, excruciating – Madison
That's how it's gonna be. You got favorites now – Jr
---
Illicit – Review
Illicit – BET – 2 hours and 0 minutes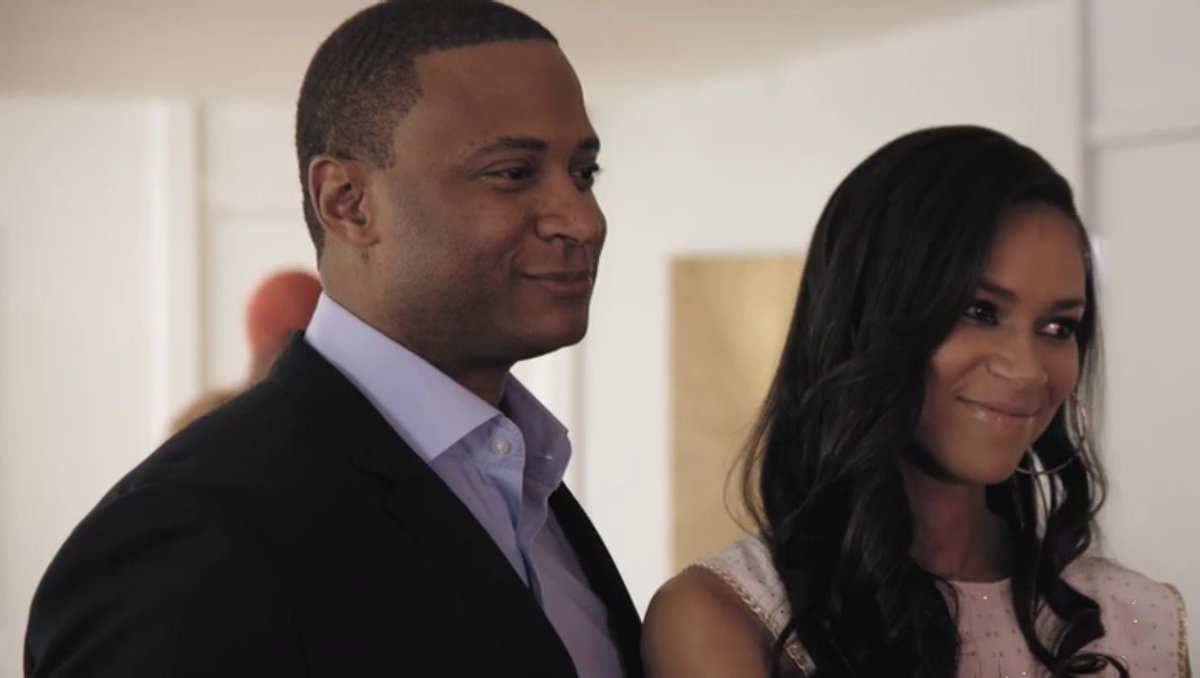 Guy, a parole officer, has worked hard to give his wife the house, car, and life she has always wanted.  Also, he is a dedicated father to his daughter.  He hopes his wife knows he is a "good one".  Sasha, a former model and jewelry designer, has sacrificed everything for her family.  She has breakfast ready in the morning and dinner by 7 every night.  She hopes her husband appreciates it.  But when she tells her husband she wants to model again, he tells her she needs to focus on their child and give up her hobby.  She lets it go until she meets a Cruise (like Uber) driver named Lance.  After a few rides, she learns he is a photographer and she agrees to take some pictures.  On the other side of the marriage, Guy has taken on a new parolee Farrah.  If he can get Farrah on the right path, he will get a promotion.  Farrah attacked her abusive boyfriend, got arrested, and put on probation.  She fears her ex-boyfriend is stalking her again and ask Guy to take her home.  Guy agrees to keep her safe and check out her apartment.  Agreeing to Lance and Farrah will turn their lives upside down and lead them into a tangled web of lies and the most uncomfortable dinner party ever.
Talk about a tangled web.  Sasha gets mixed up in a stalker with an orgy and auntie fetish.  Guy gets mixed up in a stalker with blackmail issues and a gun.  It's all crazy from beginning to end.  While the resolution is not believable, it's the best way to have this movie conclude without ending in violence.  As a viewer, it's hard to believe that this couple doesn't see the writing on the wall before the crazy stuff starts; because it's all there in black and white.  You will be yelling at the TV for them to see the writing on the wall.  But it will come too little too late.
I give it 4 out of 5 stars
Who is going to be taking care of our little girl while you are out gallivanting the world – Guy
You sacrifice for the people you love – Sasha
If I wanted excuses, I would have hired my ex – Linda
Aww hell no – Ty
You left something at my house and I thought you would need it to play husband – Farrah
Find, shop for, and watch BET movies on iTunes (FTC Affiliate Disclaimer)

---
Drink, Slay, Love – Review
Drink, Slay, Love – Lifetime – 2 hours and 0 minutes
Pearl and Jadrian go out for a date night and something to drink.  Blood.  They are teen vampires who love the hunt and believe humans are worthless creatures.  During a late night snack, Pearl is staked and wakes up at home.  Her family does not believe she was staked but her mother puts her on punishment.  She is not allowed to hunt alone and must mind herself before the Vampire king comes to town for the festival.  Her family was given the prestigious honor of hosting the event and they want to be at their best.  But Pearl, being a teen, sneaks out to hunt.  She is made as a vampire and a group of boys leaves her to burn in the sun.  However, she doesn't burn.  She walks around in the daytime shocked by how boring it all is.  Later, she comes home and shares the news with her family.  Her mother decides to use her daughter's gifts to their advantage.   Since the King will be there for the festival, they must stock up on blood.  And she wants Pearl to hunt in the daytime by going to high school and getting close to all the kids.  During her time in high school, Pearl has noticed a side effect with her new gift, she is growing a conscience and worries about her classmates' lives.  Can she help them and keep her family happy?
Based on the novel, Drink, Slay, Love by Sarah Beth Durst, this is a new twist to the vampire teen romance phenomenon (FTC Affiliate Disclaimer). The girl is the dangerous vampire and "fitting in" is nothing she wants.  Nor does she try to pretend.  She quickly puts Queen Bee on notice with a broken window and an emergency brake.  While it does have vampires and love, it also discusses responsibility and loyalty.  Pearl wants to honor her parents but she doesn't want her new friends to be hurt.  It's a lot for a teen to grasp.  This is an adventurous movie for teens and adults; it's not afraid to make fun of itself.
I give it 3.5 out of 5 stars
Don't worry. I'll leave it somewhere safe – Pearl
Kill or be killed – Bethany
A bit plain for my taste but if this is what's on the menu – Jadrian
I look really good in a tux – Evan
You always get what you want – Antoinette
Find, shop for, and watch Lifetime movies on Amazon TV (FTC Affiliate Disclaimer)
Click here for more information
---
---
High School Lover – Review
High School Lover – Lifetime – 2 hours and 2 minutes
Kelly is a free spirit teen and loves spending time with her friends, Allison and Larry. She doesn't get along with her step mother, Sam, but loves her dad, Rick. One day, Allison gets access to an exclusive party for the "Box Brothers"; and tells Kelly and Larry to come. At the party, Kelly catches the eye of Christian Booth, a famous actor. He quickly approaches her and ask her for her number. She is smitten and obliges. Christian wants to know everything about her and send time with her, but runs into an obstacle when she is grounded for 2 weeks. Kelly sneaks out and goes for a helicopter ride that is captured forever. But when Kelly's step-mother warns her father about Christian, Rick puts the breaks on Kelly's relationship. Christian agrees to Rick, but ask Kelly to sneak out again. With love on the brain, Kelly doesn't heed the warnings or the signals for a love that is sure to turn.
This movie is a mix of 50 Shades of Grey and the first Mother May I Sleep with Danger (FTC Affiliate Disclaimer). Franco does a good job of playing a strong protective, albeit slightly clueless, dad. And the women aren't completely weak, if not naive, to Christian. If you are a Lifetimer, you will see the hints of who Christian will become, but it's still fun to watch. You can't be distracted while watching, because some of the dialog is in text. So if you can't give this movie your full attention, don't bother or you will be lost. The best parts of this movie are the confrontations. Your mouth will be left open. Don't cancel plans but DVR or On-Demand it.
I give it 3.5 out of 5 stars
Can you not call him dad. Just because you're young enough to be his daughter, doesn't mean you have to act like it – Kelly
I look super good today, so I want you to keep up – Allison
For someone who doesn't like me very much, you sure do like my taste in clothing – Samantha
I mean, I'm not a quitter – Larry
I don't like it either – Christian
This could nice. A little father-daughter bonding time – Rick
Find, shop for, and watch Lifetime movies on Amazon TV (FTC Affiliate Disclaimer)
Click here to watch a preview
---
Madiba – Review
Madiba – BET – 6 hours and 0 minutes (2 hours over 3 nights)
Part 1
Born with the first name Rolihlahla, a young Nelson Mandela learned adversity, strength, and change after his father died. On his deathbed, his father requested that he live with another family to receive a good education.  In his first day of school, his teacher said he needed a Christian name; and chose to call him Nelson. Later, Nelson used his education to attend law school and fled an arranged marriage to do something to help his people. He and his brother, Justice, went to Johannesburg and learned the only jobs for them were in the coal mines. But one day, the injustice he saw inflicted on another miner changed the course of his life forever.
This 1st part of a three part series will leave you stunned. This part focuses on his childhood and his time in the ANC before having to flee. Seeing his passion for justice while working with a system, which didn't want to work with him is powerful. He is strengthen by those around him and hopes to get fearful people to stand up. Nelson "Madiba" Mandela is one force that will not be moved, bent, or broken. It's hard to watch this movie and not draw a parallel to the things going on in today's society. It's easy to forget how much South Africa has been through and how far it has to go. While the cinematography and costume designs are amazing, the accents phase in and out at times. This can be distraction in the movie.
I'm a man – Madiba
I suppose that's it then – Justice
As I walked among the dead bodies, I knew there was no turning back – Madiba
The people want to see change.  They want action – Winnie
I think this is going to take a bit of adjustment – Oliver
There is the cause and there is family. Your duty is to both – Walter
God bless the Republic of South Africa– Dr. H.F. Verwoerd
Part 2
After Madiba runs, he is hiding from safe house to safe house. He knows he can't keep running forever, so he must fight. However, he makes a bold and risky move by changing one of the core values of the ANC: non-violence to violence. After watching peaceful protestors get shot, Madiba tells them to start a bombing campaign. It's not long before Madiba and his associates are captured and put on trial. They are charged with treason and other crimes. For the crimes they are charged, they are given the possibility of the death penalty. With the help of his wife, Winnie, he makes a statement in court that cannot be ignored. Once the trial is over, Madiba and his associates are sentence to life. Once in prison, he his given the highest security ward with the least amount of privileges. But even behind bars, the strength the ANC will move on, but at what cost?
This part of the 3 part series is a look into the mind of those behind the scenes. Verwoerd and Nelson both understood the ripple effect of what they were doing. Not just the immediate impact but the overall outcome for years. Verwoerd wants to stop Madiba, but doesn't want to make him a martyr. Madiba wants to fight against apartheid, but doesn't want to lose his purpose or family. Both know they have to create a stronghold of supporters to continue success. This is the part you will believe you know … but you are wrong.
What ever else he is doing, he makes us look foolish … worst incompetent – Dr. H.F. Verwoerd
You say violence begets violence. But in South Africa, non violence begets violence – Walter
You are not the only one in this family who believes in this struggle. I want to fight too – Winnie
I will no longer hide from this. We have to face it head on – Madiba
Part 3
After 18 years in prison, South Africa is still going through horrific struggles between Black South Africans and the Government. During the Soweto Uprising, several children are killed by police officers as they attempted to protest learning Afrikaan. After seeing tragic violence, Winnie doesn't feel content just organizing protest. She wants to lead the fight and speak up. This has some in the ANC worried that she cannot be controlled or contained. Madiba, on the other hand, is worried about her safety and blames himself for everything she is going through. The government resolve is starting to weaken due the "Free Nelson Mandela" movement, Winnie's speeches, and financial pressures. This will not be an easy change and Madiba will have to work with a pragmatic man to get it done.
The news clips of protest, burials, and change drives this movie home. The final installment of the series focuses on what lead to Madiba's freedom and change for all South Africans – black and white. Also, this movie doesn't end with Madiba getting out of jail. It discusses the changes in Madiba and his wife, Winnie, as they try to adjust to freedom and continuing the fight. Madiba and Winnie know more work is needed. Never give up the fight!
I am off to work but I am with you in spirit – Winnie
To understand one's opponent is a good thing – Madiba
Black consciousness leads to black power – Steve Biko
Ruth wouldn't let you get away with talking about Winnie like that – Oliver
Don't worry about the tea Winnie. Don't get up. I will let myself out – Walter
I give it 4.5 out of 5 stars
Find, shop for, and watch BET movies on iTunes (FTC Affiliate Disclaimer)

---
Stage Fright – Review
Stage Fright – LMN – 2 hours and 0 minutes
Sarah, a soprano opera singer, had a nervous breakdown after being attached by a crazed fan with a knife.  It is believed that her stalker is dead, but no body was ever found.  She cannot perform on stage and has nightmares within nightmares about the attacker.  But when a rival opera singer backs out of a charity performance, Mark (Sarah's old manager), asks Sarah to perform.  At first Sarah says no, but she is persuaded to come back to the stage.  Once that decision is made, Sarah gets creepy phone calls, gifts with no sender, and a few dead bodies. Sarah must convince the police, her therapist, and her manager that she is being stalked again.
Bring a pillow.  This movie is not a mystery because you know the killer within the first 10 minutes.  You will be annoyed with the main characters lack of security and surrounding awareness when she seems to be terrified of everything.  Its easy to lose interest because the story is nothing new: dumb cops, absentminded friends and family, and "let's investigate the creepy noise in the dark corner".  This movie feels like deja'vu and it can be skipped.
I give it 1 out of 5 stars
I don't want to be afraid – Sarah
Ok manager, but then I want out of there and it's gonna cost you lunch – Melissa
She's a tough cookie but I think she'll come around – Mark
That doesn't look good – Ryan
Yeah, unless you want to get inside – Hailey
Find, shop for, and watch Lifetime movies on Amazon TV (FTC Affiliate Disclaimer)
Click here for more information
---
Love Locks – Review
Love Locks – HMM – 2 hours and 0 minutes
Lindsay and Jack's time together was coming to an end, so they decided to put a Love Lock on a bridge in Paris to cement their bond and vow to meet again in a few months. But the lock falls in the water and their relationship is doomed. 20 years later, Lindsay's daughter, Alexa, was accepted to an art school in Paris; and they go to get her registered and moved in. To deal with the stress of a big career decision and empty nest syndrome, Lindsay goes to the hotel's bar for a drink. Guess who is the bartender? That's right, Jack. The two are shocked, at first, but believe Lindsay's old and Alexa's new art teacher, Hugo, set it up. The two know there is a connection but Lindsay is trying to hide it. Will there Love Lock get a second chance?
This movies is about 3 different Love Locks:
Lindsay's with Jack's or Trent (the new love interest)
Alexa and JP, who just met in Paris
Hugo and Kathryn, who re-connect after Kathryn's husband dies
While each story nicely weaves into and influences each other, the story is slow and doesn't captivate the watcher. You know how it will end, the jokes are average, and the main couple isn't interesting to watch. This movie can be skipped or used as background noise. Note: If you have an Amazon Echo or Dot, this movie will turn it on a few times (FTC Affiliate Disclaimer).
I give it 1.5 out of 5 stars
Don't you have something to do – Lindsay
Oh yeah, that too – Trent
Throw in something sexy – Maggie
Just because you were right about the tooth fairy, doesn't mean you're right about this – Alexa
Well, I'm like a fine wine – Hugo
If you want extra towels, I'm your guy – Jack
Find, shop for, and watch Hallmark movies on Amazon (FTC Affiliate Disclaimer)

---
---
Love By The 10th Date – Review
Gabby is a struggling artist who has been unlucky in love. However, while out with friends she learns that a relationship isn't real until you reach 10 dates. She and her friend, Nell, decide to give it a try. Her friends, Billie and Margot, tell her to present the idea to their boss, Maureen. Maureen begrudgingly agrees to do the article, but she has 2 months to get to 10 dates with the same guy. If she does, she will get her article published and $5,000. Otherwise she gets nothing. This dating trip will take her on a path to superheroes, ministers, triple dates, inappropriate pictures, and a room full of feathers. But is the man she seeks, a man she knows … or a man knows? (Believe … that will make since when you watch the movie).
Too much fun. Get ready to say OMG more times than you can count. It is fun seeing Gabby go on each disastrous date, because we have all been on one. You may struggle with the fact that she is investing too much in one date, but that's the point. If you invest too much, too early, it can lead to disappointment. You need to be strong and hold on to the love you have … friends, family, and faith. This movie is fun. So get your wine, friends, and chat.  And be ready for part 2.  The only annoy part was the bleeping.
I give it 4.5 out of 5 stars
It lived once. And if it lived, it's real – Gabby
He could tell from the internet that your vagina is magical – Nell
I like what you did with your hair, it's nice – Dante
I can't do it. Someone else can do the interview. I can't do it – Margot
Not a hope in hell – Maureen
We should sit her and let our hearts break – Billie
Find, shop for, and watch Lifetime movies on Amazon TV (FTC Affiliate Disclaimer)

---
The New Edition Story – Review
The New Edition Story – BET – 6 hours and 0 minutes (2 hours over 3 nights)
Part 1
In 1978, Mike Bivins and Ricky "Slick" Bell stood in the back of a club as their friend, Bobby "King of R&B" Brown, took the stage and froze. The next day, Bobby explained that he wasn't ready for that crowd, but he could do better if they were with him. Mike and Ricky agreed, but only if they got to sing too. Bobby made the "promise". However, they knew they needed another member. Ricky had they best guy in mind, Ralph Tresvant. Ralph was a shy Kung-Fu kid with a powerful voice. The foursome impressed Brooke Payne with a headlight performance and got a tryout. After seeing them again, he decided to be their manager and they started working the talent contest circuit. When Brooke thought they were ready, he had the perform for Maurice Starr's competition. They lost by the judges' vote, but won by the crowds'. Maurice gives them a chance, but tells them they need a 5th member. Brooke knows his nephew Ronnie DeVoe is perfect. Ronnie is constantly practicing with the hope that he can join the group someday. After a dance rehearsal, the group accepts Ronnie as a member. Once in the booth, Maurice has his eye only on Ralph. So much, he offers Ralph a side deal: Leave the group and become a solo act. Of course Ralph says no and the group continues on. But after a whirlwind tour, the boys come back to the Orchard Park Projects with a harsh dose of reality in the form of $1.87. Their next move is up to their mothers, Gary Evans, and MCA.
This part one leaves you on edge for part two. The young boys, who play New Edition for 3/4 of the movie, embody every move and nuance of New Edition. At their young age, these young actors will be a force to reckon with in the industry. Like a lot of music biopics, you will quickly see the normal downfalls (i.e. not understanding contracts, pointing blame, etc), however you never see how those in charge start tearing the group apart. A single word … LEAD … can have a ripple effect on a group. And, a visual change that can only be described as beautiful, the young boys morphed into young men. With this seamless change, you know which young man represents each member and you haven't lost that connection you gained in the beginning. And the icing on the cake … the actors really sing. The did a great job matching their voices to the iconic New Edition sound. To all other stations, please take notes. This is how you do a biography. Get ready to dance, sing, laugh, and get mad. Don't miss a second of this movie, DVR it, watch it again until part 2.
I didn't stutter – Mike
As long as we all get to sing – Ricky
Naw, man it's not the right time – Ralph
It's because I gotta earn my spot – Ronnie
Yo, what the hell you doing – Bobby
Alright, alright, alright, enough with the pillow talk. Especially since ya'll don't know what y'all are talking about – Rick Payne
Just think about it – Maurice
Flo, this is a business decision – Gary Evans
Part 2
As the group prepares for their next album and tour, they start to turn on each other and act out.  However, the group, and their mothers, are plagued bad contracts and no money while still living in the projects.  With pregnancies, arrest, showboating, and fighting off stage, Gary questions if Michael Bivins should be a part of a group.  The group, especially Bobby, decided to keep him.  On the other side, when a fight happened on stage, in front of a crowd, Gary gives the group a choice: The Group or Bobby Brown.  With tears in their eyes, they chose the Group.  Bobby starts to spiral into drugs, while the group continues as a foursome.  However, later Bobby learns about a clause in his contract that will give him a leg up.  Now, Mike starts to ask questions about the business, contracts, and production deals after seeing "Fast Break Productions" on their album.  Mike is determined to learn the business and make a decision for the group's future in a "professional Orchard Park" way over prime rib to go.  With the group finally standing up for themselves, Ralph introduces his solo work to the group.  The group is instantly pissed.  Ralph feels he has been carrying the group and deserves this, but the group feels like he has deceived and is abandoning them.  Ralph wants out, but Jheryl explains he has to do one more New Edition album, before he can get a solo deal.  With this news, Ralph meets up with the group, Jimmy Jam, and Terry Lewis; and gets the biggest shock of his life … Johnny Gill.  Ralph wants to walk out and Johnny is just confused.  But, the two talk privately and realize they have more in common than they ever knew.  Also, Ralph learns that Johnny isn't the new Bobby, but Mike wanted Johnny to be the new Ralph.  Ralph and Johnny realize that working together is best and record Can You Stand The Rain (FTC Affiliate Disclaimer).  The group is set to go on a world tour, with money and a hit single, but they are about to get hit with a surprise.
WOW … just wow.  This is a real true story.  No one was glamorized or disparaged.  This is what happens when everyone (artists, writers, producers, etc) sign off on a biopic.  Part two focuses on the group transition from young men of bubble gum pop to grown men of R&B.  Although their record and production company tried to keep them children by keeping them clean shaving, hiding relationships, hiding children, and controlling the music, New Edition was determined to take control over their future.  With Michael Bivins being to New Edition what Otis Williams was to the Temptations, every member learned that no one man was bigger than the group.  Although these men will continue to change with separate careers and success, what will it take to bring them back together and tear them apart.  Let's sit back and get ready for part 3.
What you saying?  We can't live our lives – Ralph
I know he tried to kill me, but did he? – Bobby
Now, who's the b***h – Mike
Gary I think you should go – Ronnie
Yeah, calm down – Johnny
That's my job. I slide up in anything – Ricky
Man ya look so soft – Brooke
Mr. Michael bivins, welcome to the music business – Jheryl
You got a girl pregnant – Gary
Congrats, you're gonna be a daddy – Jeff
Part 3
The group prepares for the NE Heartbreak tour with Bobby Brown and Al. B. Sure (FTC Affiliate Disclaimer).  Bobby is not happy to being an opening act and wants to change the set.  This way he could sing with the group for the classic songs.  The group says no because Johnny is sing his part, so Bobby leaves disgruntled.  At the end of the tour, New Edition and Bobby Brown are at the peak of their careers, but they all want more.  Bobby wants to feel connected to New Edition, Johnny wants a solo career with MCA – not Motown, Ralph feels pressured to live up to Bobby, and Mike, Ricky, and Ronnie are urged to make their own group.  Later the group is on BET's Video Soul to introduced their non New Edition projects (Poison, Sensitivity, My My My, and Don't Be Cruel) but give hope for another New Edition Record (FTC Affiliate Disclaimer).  Six years later, they deliver and put together a tour.  Brooke knows this tour is a mistake because they are only doing it for the money and are not fully committed.  They must do 13 shows before they get paid.  However, Ricky is doing drugs, Bobby is not showing up, and everyone is showing off money they don't have.   With only a half the shows done, the tour implodes with an on and off stage fight that leaves Brooke's heart literally broken.  The group decides New Edition is officially over.   Each guy has to find his own way.  Some with drug addiction, another job path, or a new group.  But what will it take for all 6 come together as, 1st, brothers and, 2nd, a group.  Well, the answer is … "The Glue".
The only disappointment in part 3 is that it had to end.  You will be on-line buying this movie and the songs.  Each member was 100% honest about their downfall and their insecurities.  Fame can lead to egos but real men will always work it out.  It's wonderful to see a group come back together at a time of joy, instead of a time of pain (i.e. a member's funeral).  With a finally performance at the BET 25th Anniversary, the group sings a medley of their loyal fans that have sat for 6 hours of 3 days.  The medley includes Candy Girl, Can You Stand The Rain, Cool It Now, Mr. Telephone Man, and more (FTC Affiliate Disclaimer). During the performance, you are taken back through pivotal moments in their lives.  Trust and believe you will cry and beg for more.  BET better put this on DVD and Blu-Ray soon and please add bonus content.
I give it 5 out of 5 stars
Man, what the hell? Man you got me looking like Gumby – Bobby
Bob want the whole show to hisself – Ralph
Everything is mental – Slick
Just say the word and I got you.  In front to all these people – Mike
Man why do ya'll keep babying this asshole – Ronnie
What have I always said? He may not come when you want, but he is always on time – Johnny
Exactly, and they were more professional then than they are now – Brooke
Click here for New Edition music on Amazon (FTC Affiliate Disclaimer)
Find, shop for, and watch BET movies on iTunes (FTC Affiliate Disclaimer)

---
Girls Night Out – Review
Reese has a great surprise for his bride-to-be, McKenzie. He invited her best friends and sorority sisters to have a surprise bachelorette party. Joelle, Rebecca,and Sadie have not seen McKenzie since she started dating Reese and moved away. McKenzie feels bad about leaving them, but she didn't feel safe at school after she was attacked by her boyfriend, Brandon. She later got a restraining order against him but the statue of limitations will run out in a year. Determined to forget all their past issues, they vow to have a night that would put their college days to shame. While at a strip club, the ladies dance while leaving their phones and wallets behind. That's when Brandon shows up and grabs McKenzie's phone. When McKenzie comes back, she sees pictures of her and her friends dancing. She wonder who took them when she gets a call. Brandon tells the girls they have to break up into two teams, complete a scavenger hunt, and complete all 8 task without informing anyone … or he will kill Reese. And Brandon makes sure these women understand that Reese life is truly in danger. Even though the women are on two teams (McKenzie and Joelle, Sadie and Rebecca), they are steadfast to get though this alive, save Reese, and get Brandon out of their lives.
This is a fun thriller with a "Saw"-like scavenger hunt that will take them to the scariest, coldest, and darkest parts of the city (FTC Affiliate Disclaimer). As each task becomes more heartbreaking and sickening, you feel for these women. You hope that they will stay strong and fight against Brandon once they are face to face. For a while, you'll be wondering why is he doing this, but more of his motives are reveal with each challenge. You will be shocked and amazed at the lengths these women will go through to help McKenzie get her fiance back. With a good body count, sit and watch from beginning to end with no interruptions. I you miss anything, you will be lost.
I give it 4 out of 5 stars
Oh, so you're a baker – Reese
I love you like crazy – Mackenzie
That's kinda weird and kinda awesome – Brandon
I could never let you go – Joelle
It is now – Brandon
I am sure he wants us to end up on the 6 o'clock rule – Sadie
If we all stick together, we will be just fine – rebeccater
Find, shop for, and watch Lifetime movies on Amazon TV (FTC Affiliate Disclaimer)
Click here for more information
---
The Birthday Wish – Review
The Birthday Wish – Hallmark – 2 hours and 0 minutes
Gwen planned her life when she was a child; so she'll never feel out of control like she did when her dad died.  While directing a commercial, she is once again paired up with Dave, a creative director.  They work well together, but Gwen is focusing on her 30th birthday bash.  On New Year's Eve, Gwen and her boyfriend, Alex, go to a party and Gwen is hilariously hunting for a ring.  Alex tells her she must wait for the right time. And according to her plan, the right time is on her 30th birthday, which is 7 days away.  She is certain she will get a ring from Alex, but when he fails to produce a it, she is hurt.  As a joke Dave brings her a big cookie, she makes a wish and blows out the candle.  She wishes to see herself in 10 years.  The next morning she wakes up with bad eyesight and goes to see the doctor.  With a few drops, she sees the unexpected.  She sees Dave as her loving husband, kids, a dog, and an SUV.  She is shocked at the revelation.  Gwen tries to create distance between her and Dave while trying to reconnect with Alex.  But when Alex leaves town for an interview in LA, Gwen is given ample time to get to know the real Dave while learning something new about herself.
The Birthday Wish is fun and offers not 1, not 2, but 3 engagements. This movie is filled with comedy and heartfelt moments Hallmark fans loves.  Now, understand that this movie does not go back in time.  Gwen has more of a premonition of the future and has the option to change.  This movie teaches that the most well made plan is none at all.  Just live life to the fullest and fun.  The score for the movie is a bit repetitive at times and aren't needed in scenes.  Because of her plan, Gwen focused so munch on the destination, that she is not enjoying the journey.  So don't make Gwen's mistake and enjoy this journey now.
I give it 4 out of 5 stars
You ask a lot of questions for a guy I barely even know – Gwen
Funny, talented, and gorgeous. How did I ever get so lucky? – Alex
It is hard to remember. It was technically last year – Mia
Wow, you're evil – Dave
You need to sit him down and talk to him Gwen.  You need to know where you stand – Katherine
You're not gonna argue about it. That's a new one – Bruce
Find, shop for, and watch Hallmark movies on Amazon (FTC Affiliate Disclaimer)

---
Only For One Night – BET – 1 hour 45 minutes
William, a campaign manager, and Chloe are loving life with a great home, beautiful son, Timmy, and strong marriage. Their world is shaken up when Chloe's brother-in-law, Richard, dies; and leaves Chloe's big sister, Caroline, a widow. Concerned about her sister, Chloe, with William's approval, invites Caroline (a.k.a Cara) to stay with them for a while. After a scheduling mix-up, Chloe has to go to Timmy's basketball game instead of William's event. But William doesn't want to go alone. So, Chloe suggest he takes Cara. After some convincing, William and Cara attend the fundraiser. Cara then puts her plan into place by spiking William's drink and sleeping with him. The next morning William is regretting his decision, but Cara wants to make amends and hang out until Chloe comes home. While William and Cara spend time together, they have sex again. That's when Cara snaps. She wants William to leave her sister, get married, and raise their unborn child. And that's only the beginning of this tale of crazy.
Any Lifetime fan would roll their eyes as soon as Chloe said, "You should take my sister". You know nothing good is coming after this statement. It's everyone's reaction after that makes this movie good. Cara's, William's, and Chloe's level of crazy all collide. And it's fun to watch. You need to catch every part of this movie to understand what's going on, but watch with friends. You can "OMG" and laugh together. The movie did play Only for One Night by Luther Vandross a bit too much and made questionable cinematography choices, but that aside, it was a good movie (FTC Affiliate Disclaimer). If you can't watch now, DVR.
I give this 4 out of 5 stars
I'm lit. I'm a little lit – Scott
Listen don't worry. You're with family now – Chloe
But how are we suppose to be together. This is all your fault – Cara
Earth to caroline! There are rules to life. Get real! – William
Aunt Cara told me I'm going to be a big brother soon – Timmy
Find, shop for, and watch BET movies on iTunes (FTC Affiliate Disclaimer)