VivicaAFox
---
Alex & Me – Review
Alex & Me – Nickelodeon – 1 hour and 30 minutes
Reagan just moved to a new town and wants to join the championship girl soccer team.  When the coach is watching, she gives a less than stellar performance.   Reagan tries to reason with the coach by mentioning that she is in the same position as her favorite player, Alex Morgan, was in at her age.  The coach sees this as a "dog and pony" show that all newcomers try to use.  He dismisses Reagan and she leaves her with crushed dreams.  She goes home and rips all the posters and memorabilia off her walls.  As she tries to take down her Alex Morgan poster, she slips and bumps her head.  She is awakened by Alex.  Reagan believes she has lost her mind due to the fall and calls her mother.  Alex tells Reagan is very real and here to help her.  Of course, no one else can see Alex.  But Alex gives Reagan the confidence to try out for another team, train harder, and try new techniques.  With a guiding force by her side, Reagan will be unstoppable.
For the kids and soccer fans alike, this is a fun and wholesome movie about true perseverance and strength.  When everyone is doubting Reagan, she uses her "guardian angel" to be her guiding force.  While her inspiration is magic, her skill development is not.  She trains harder, more often, and increase her skill set every day.  She even keeps track with a goal chart, which inspires her brother, Logan.   An interesting dynamic is the family relationship.  Her parents are so focused on Logan's scholarship, that they ignore Reagan.  It's an overheard conversation with Amy that makes them see that Reagan and Logan need their attention.  This is a good movie for the whole family.
For Kids: I give it 4 out of 5 stars
Everyone else: I give it 3 out of 5 stars
Are you really doing all this stuff – Logan
Sometimes I wish my dad would pay more attention to me – Reagan
Do I know you – Alex
Find, shop for, and watch Nickelodeon movies on Amazon (FTC Affiliate Disclaimer)

---
The Wrong Friend – Review
Riley confronts her boyfriend Matt with evidence of cheating.  When he doesn't take responsibility, she shows him the door and goes back to the pool party.  Again she meets Chris.  New-to-town Chris asked Riley and her best friend Kim to put the word out about his pool party.  He gives Riley a drink and it's not long before Kim notices she is drunk.  Kim tries to convince Riley to leave but she wants to stay with Chris.  The next morning Riley wakes up in bed with no memory of what happened.  She goes to school to find a furious Matt.  Someone sent him pictures of she and Chris together.  Riley can't believe it and goes to Chris for answers.  Chris laughs at her threats and goes on the warpath.  Riley doesn't know that Chris is a man on a revenge mission and she is just a pawn in his game.
Riley doesn't take long to realize who is harassing her and she doesn't point blame at anyone else.  But this movie isn't a cautionary tale about date rape but more about slut shaming.  When they delve into Chris's past they see he left a trail of bullying behind him that lead to a girls death.  Chris isn't just insane, he is also manipulative and charming.  It doesn't take time for that charm to melt away because he has the wildest crazy eyes ever on Lifetime.  As he takes a scene from A Thin Line Between Love and Hate, he turns up the nutty with an evil villain laugh (FTC Affiliate Disclaimer).  So if you enjoy your evil villains with a smile, this is the movie for you.
I give it 3.5 out of 5 stars
Could you lower your voice just a tad, please? People are staring. You don't want to make a spectacle out of yourself – Chris
It's a promise – Matt
Its messed up he can do this to us – Kim
I hope I never see him again – Riley
I thought I told you to run – Jaclyn
Find, shop for, and watch Lifetime movies on Amazon TV (FTC Affiliate Disclaimer)
Click here for more information
---
The Bad Seed – Review
The Bad Seed – Lifetime – 2 hours and 0 minutes
Emma confidently waits to hear her name called for the Citizens award.  She has been working hard all year to earn that medallion.  It would look great next to all her other awards.  Until Milo's name is called.  She is floored to hear he beat her but she keeps a calm, cool, and collected look on her face.  She believes his medallion is hers and she gets it back.  And Milo is found dead in a river at the bottom of a cliff.  Emma can't understand why people are so sad about Milo dying because everyone dies.  Emma is happy to have her medallion but now she has to deal with a new babysitter Chloe.  Emma knows Chloe is sneaking pills and Chloe knows Emma is a killer.  Even though Chloe keeps her secret, she constantly taunts Emma about her teacher Ms. Ellis, her dad Mr. Grossman, jail, a little pink electric chair.  Emma must gain control of everyone around her before she loses the love of her dad.
A remake of 1965's classic The Bad Seed, which was based upon the book by William March, this movie lives up to the hype (FTC Affiliate Disclaimer).  While it does modernize itself, gone are the sweet angelic face of a little girl.  Instead, you get a devilish grin that practices being kind and sweet in the mirror.   You will be taken back each time this girl switches from kind to manipulative to pure evil.   As her father slowly sees signs of his daughter's dark nature, he is left with a heartbreaking decision that separates this movie from the original.  And fans of the classic movie, keep your eyes open for Patty McCormack: the original Bad Seed.  She and Emma share a joke only they will understand.  Watch this movie with the lights on and know where your kids are.
I give it 4.5 out of 5 stars
Emma is very focused. She's a normal girl but she can be very focused – Mr. Grossman
We should go back now – Milo
You little bitch – Chloe
Bring me a couple of cookies while you're at it – Emma
Emma I'm gonna tell you a secret, I did the exact same things as you when I was your age – Dr. March
Find, shop for, and watch Lifetime movies on Amazon TV (FTC Affiliate Disclaimer)

---
Wedding of Dreams – Review
Wedding of Dreams – Hallmark – 2 hours and 0 minutes
Debbie Taylor is a former teen sensation turned music teacher.  She released a new song a year ago but fans want more.  Her manager Ray is trying his best to get her to do more music but he wants her to start with a remote interview first.  During the interview, Debbie's student's interrupted her with questions.  While answering them, she accidentally accepts a guest appearance on a TV show.  She starts to worry because her boyfriend Noah just proposed.  Even though they wanted the wedding in July, it had to be moved to June so they can get the room they wanted for the reception.   So in one week, Debbie has a guest appearance, a TV guest appearance, and a wedding.  Noah offers to help with all the planning but have both took on too much? And how will obligations affect their future?
Adding another movie to the "Of Dreams" series, the characters grow and have a real conflict.  While both are making a sacrifice, they have reservations.  This couples biggest issue is communication.  They are trying so hard to keep the peace, they don't talk.  This leads to an embarrassing moment on live TV.  It's not the best movie Hallmark has produced, it does feature original songs by Debbie Gibson and a funny Tiffany joke.  DVR and watch on a rainy day.
I give it 3 out of 5 stars
I'll take that as a compliment – Debbie
I'm not sure what those are but I am sure they won't travel – Noah
Find, shop for, and watch Hallmark movies on Amazon (FTC Affiliate Disclaimer)

---
---
Killer Night Shift – Review
Nurse Irene is furious at her shift manager for cutting her hours.  She bumps a 37-week pregnant Trisha, to get answers from her shift manager.  The manager tells Irene that drugs have gone missing during her hours and they believe she is the culprit.  Irene makes a dramatic exit that ends with a one-week suspension.  She goes back to Adele and begs for a job until her suspension is up.   Adele worries but offers her a job as a home care nurse for Trisha.  Trisha was put on bed rest due to placenta previa.  With bed rest, Trisha will deliver a healthy baby.  But if she exerts herself, she will need a C-section.  With a solemn look, Irene agrees.  On her first day, Irene lays down the law.  She is not a maid, she is a nurse.  She will cook, do dishes, and attend to medical needs.  Nothing more.  Then, there is a knock at the door.  It's Kate.  A maternity nurse Trisha met earlier that week; she barges in and takes over.  Soon, Kate is there every day and edging Irene out.  Irene knows something just isn't right about Kate.  She is too involved.  But when Kate learns that Trisha was given the wrong prescription and some of her drugs are missing, Irene is fired.  But Irene won't go away quietly.  She knows something is wrong with Kate.  And she will find out.  Come hell or high water.
This is one to watch and keep saved.  With two potential bad guys, you have to consider both a suspect.  With Irene's bad past and Kate's neediness, it's easy to see how Trisha is confused.  And this movie really picks up where other's end.  Usually, when the husband comes home, it's to police vehicles, a coroner, and a dead body being wheeled out.  But when David comes home, everything looks peaceful.  He had no clue Trisha is tied up and begging for her life and the life of her baby from a crazy nurse.  This has everything you want and more.  While it is a crazy nurse movie (which has been done a million times before) it sparks new interest in the Lifetime genre.  This is one to watch.  And believe that you will never look at tulips the same way again.
I give it 5 out of 5 stars
No, but this is as sure as I'm gonna be – Trish
I am always nice – Irene
Wow, she's a real ray of sunshine – Katie
What are we gonna tell her when she asks about the day she was born – David
Find, shop for, and watch Lifetime movies on Amazon TV (FTC Affiliate Disclaimer)
Click here for more information
---
Deadly Shores – Review
Deadly Shores – LMN – 2 hours and 0 minutes
Anna is happy to walk away from her psychiatrist Dr. Shaw and into her arms of her new husband Richard Palmer.  Dr. Shaw believes that Anna is being taken advantage of because she has only known Richard for 3 months and for her sizable inheritance.  But Anna believes the good doctor has been taking advantage of her too.  So, she gets on a boat to meet Richard at the dock but he is very late picking her up.  Once in her new home, Anna learns some interesting things.  First, Richard does not like to be disturbed in his office while working.  Second, the housekeeper Ms. Argyle is a stickler to the former Mrs. Palmer's schedule.  And the first Mrs. Palmer committed suicide but her body wasn't found.  Only her cane.  With this information, strange things start happening around the house.  Anna hears knocking, sees shadowy figures, and Richard is starting to become short tempered.  She feels like she is losing it.  But that is all part of the plan.  However, messing with Anna may be the wrong move.
Stick with this film.  So are so many characters with questionable motives, you don't know who to trust.  The housekeeper uses jewelry to start an argument between Anna and Richard.  Beth is having an affair with Richard.  Richard is working with Beth on a disturbing plan.  And the townspeople seem to know more than they say.  While it takes time for the story to build, it's worth it for the last 7 minutes.  Those few minutes redeem this movie and make it something you need to see.
I give it 4 out of 5 stars
Thanks for your concern but I am not your patient anymore -Anna
No, I hate it. Who wants the same thing every day – Richard
Surprised to see you're still hanging around here. Very surprised – Beth
I hope your right – Carrie
I have a lot of explaining to do – Ms. Argyle
Find, shop for, and watch Lifetime movies on Amazon TV (FTC Affiliate Disclaimer)
Click here for more information
---
Hidden Intentions – Review
After his wife's death, David Caldwell is shocked to see her estranged sister Jordyn at his door.  He lets her and introduces her to her niece Sophie and nephew Noah.  Even though Jordyn and her sister haven't spoken in 20 years, she wishes they have made up before she died.  While Noah is quick to welcome her, Sophie gives her the cold shoulder.  Sophie remains this way until her boyfriend Luke breaks up with her with no warning.  Jordyn is there for her and counsels her on the breakup.  But Sophie still feels something is off about Jordyn.  And she is right.  The real Jordyn is dead.  She was killed by the fake Jordyn who will do anything to get a family.
In the age of social media, DNA testing, and online background check, you will roll your eyes at all the mistakes this family makes the moment they let Jordyn in the door.  With so may ignored warnings sign, you want to change the channel to ignore this family's stupidity.  It's only when Sophie starts to ask questions, you will say "Finally, what took so long". This one can be skipped because it falls into the Lifetime trap.
I give it 2 out of 5 stars
Family, you never know how much you're gonna miss it until it's gone – Jordyn
Thanks for coming, I'm sure mom would be touched – Sophie
Having you hear, reminds me of her – David
Find, shop for, and watch Lifetime movies on Amazon TV (FTC Affiliate Disclaimer)
Click here for more information
---
Garage Sale Mysteries: Picture a Murder – Review
Jen and Dani are asked to price and sell the late Larry's camera collection.  Jen and Dani were recommended by Tony (Larry's nephew).   While looking at the collection, Dani accidentally takes a picture of Jen.  So, Jen goes to get the film developed to remove her picture from the roll.  When Jen speaks to Tony, he lets her know that he doesn't believe his uncle's death was natural causes.  Larry was healthy and passed his physical earlier.  Jen believes him as soon as the photos are developed.  One image has a hand on Larry's chest with a syringe in the other hand.  Jen takes the photo to Detective Frank and gets Larry's case reopened.  With bad business dealings, an affair, and a jealous family member, Jen has a host of characters from which to choose.  Of course, she will have to investigate.
Based on the novel series, misdirects, curiosity, and fun are what we watch this series for and you get everything you want plus more (FTC Affiliate Disclaimer).  Fans should be prepared to get your dose of Dr. Trammel, Frank, and Jason.  The three love of Jen's detective life.  Plus it has all the comedy you need hiding within a gem of a mystery for you to solve.  Now dedicated fans will be able to see the bad guy coming but don't ruin it for the newbies.  Get the popcorn, wine, and your magnifying glass ready for this next installment in the Garage Sale Mysteries.
I give it 5 out of 5 stars
My bridge collapsed – Dani
I hope you got my good side – Jen
I say any camera with a picture of you in it, is worth double – Jason
Don't tell Jen – Jason
Find, shop for, and watch Hallmark movies on Amazon (FTC Affiliate Disclaimer)

---
My Husband's Secret Wife – Review
Avery happily watched her son Jack play but loses sight of him.  When she finally sees him, a person is walking away with him.  She chases after him but is stopped by a security officer.  When she explained that her child being kidnapped, she sees Alex stopping the kidnapper and saving her son.  The kidnapper gets away but Avery finds her Prince Charming.  They quickly get married and by a house, much to the chagrin of her sister Kat.  Kat believes that Alex is just too perfect especially when he discusses adopting Jack.  Kat's intuition is proven right when Avery sees a text message on Alex's phone.  He is not leaving on a business trip for 2 weeks, he is meeting another woman.  After following Alex, she discovers that the other woman is Melanie.  A woman who came into her gallery and bought her art a few days ago.  Melanie reveals that she is not only Alex's first wife but she is still his wife.  She did leave Alex but they are on the verge of getting back together.  The only roadblock is Avery.   She tells Avery to step aside or she will move her.  Avery comes home to confront Alex.  Alex explains that he didn't divorce Melanie because she is unstable but the marriage is over.  Now Avery is in the fight of her life, but who is really on her side?
Keep your eyes open.  You have no idea which way is up with this movie.  This is one of the few Lifetime movies with multi-dimensional characters.  It will leave you wondering who is lying to whom.  And you are right.  Everyone is lying to everyone.  But it's the long-term planning and the real victim that will leave you saying OMG.  Watch when you can devote all your attention to this movie.  Missing 5 minutes will leave you lost.
I give it 4.5 out of 5 stars
There's enough room in this world for us to love everyone babe – Alex
I'm a huge fan of your work. Now – Melanie
We'll see about that – Avery
Did you? – Kat
Find, shop for, and watch Lifetime movies on Amazon TV (FTC Affiliate Disclaimer)
Click here for more information
---
Pearl in Paradise – Review
Pearl in Paradise – Hallmark – 2 hours and 0 minutes
Alex is a brilliant photographer with great ideas but she often misses deadlines.  She wants the Creative Director promotion but her boss tells her she has to wow them and be on time.  Or someone else will get the job.  Alex decides to use the 30th anniversary of the magazine to pitch an idea.  The 30th anniversary is represented by pearls.  When she looks up pearls, she finds the most famous is a blue pearl in Fiji created by a clam instead of an oyster.  She knows of one writer who said he saw it and wrote a book about it.  Her boss loves the idea and says if she can get a picture of the blue pearl in time, she is a shoe in for the promotion.  Colin was a best-selling writer, years ago.  His publisher's assistant Derrick meets him for coffee.  He warns Colin, 'Write something that sales or we will drop you'.  When Derrick learns about the opportunity to work with Alex in Fiji to find the blue pearl, he knows it's a great marketing strategy for Colin.  However, Colin has been keeping a big secret from everyone.  He has never been to Fiji or seen the blue pearl.  As they go around Fiji and get closer, Colin knows he must confess to Alex.  But will his confession make him lose her for good?
This treasure hunt wrapped in a love story is a slight change from the Hallmark brand but not completely.  However, it's a predictable ending that doesn't require much attention for the leading couple.  It's the people of Fiji with the legends of the blue pearl that truly draw you in.  Through their stories and the land, you will be engrossed in the hunt for the blue pearl.  So, DVR this movie and save it for a rainy day.
I give it 3 out of 5 stars
List of all the deadlines I missed – Alex
That is confidential. I can't reveal my sources – Colin
Find, shop for, and watch Hallmark movies on Amazon (FTC Affiliate Disclaimer)

---
The Last Sharknado: It's About Time – Review
Fin lands and looks around for his son Gil.  Only to realize he is alone.  His son left him a message.  They have time traveled to the first Sharknado.  However, since you could only go back to a time period once, Gil could not go with his dad.  Fin has to use the flux capacitor in Gil's wings pin and travel at 88 MPH to jump home when he is successful.  When he gets out of the car, Fin sees he sees he is surrounded by dinosaurs.  As the dodges one, Fin encounters Nova, Brian, and April.  A non-robot April but human April.  They explain that just as they were about to die, Gil jumped in time and pull them out.  They have been waiting for a year for Fin to meet up with them.  Now they wait for the next Sharknado with the hope that ending this one will end them all.
So, this review isn't really about good or bad.  Sharknado has gotten a cult following because of its over-the-top nature and being good at being bad.  So this review will be based on consistency.  While time-traveling makes this over the top, it just didn't hold the viewers' interest long enough.  The pace of the movie was slow and becomes boring quickly as they entered each time period.  While it felt that the time periods should have been more focused on Fin than Nora, they try to make them all relevant to the overall all plot and character development.  Even though it comes to a good conclusion for the series and included all the cast members, it just felt dragged out and repeat of the same storyline in each timeline.  The final movie should have gotten a lot better but will leave fans disappointed.  But pay attention to the homage to Back to the Future and The Princess Bride (FTC Affiliate Disclaimer).
I give it 2 out of 5 stars
You came back for me – April
I know you have been eaten by a lot of sharks and you've survived. But I've actually been eaten and pooped out by a lot of dinosaurs because they couldn't digest me. its been rough – Brian
I'm gonna need a bigger chainsaw – Fin
Look here, you emotionally derange easy back oven – Skye
Find, shop for, and watch Syfy movies on Amazon TV (FTC Affiliate Disclaimer)

---
Web Cam Girls – Review
Web Cam Girls – Lifetime – 2 hours and 2 minutes
When Alex discovers her cousin is a webcam girl, she is horrified and concerned for Carolyn's safety.  She worries Carolyn will be hurt, stalked, and taken advantaged of by the men who pay to see her.  Within 24 hours, Alex is right.   Someone paid to see Carolyn in person; after saying no repeatedly, she finally gives in to the request.  Carolyn is sprayed in the face and wakes up chained to a couch.  Alex, realizing her cousin was missing, try to alert Carolyn's parents, her mother, and the police that Carolyn is gone but they all give excuses for why she is missing.  Sick of not getting any results, Alex decides to become a webcam girl and lure Carolyn's attacker into her web.  Can Alex save her cousin before its too late?
Be ready to be on the edge of your seat for this mystery/drama movie.  Within moments of seeing Carolyn's parents, you don't wonder why she is a webcam girl.  You wonder why she didn't do it sooner.  This movie displays how Carolyn was failed by the adults around her before and after her abduction.  It's Alex that rallies everyone to continue to fight and take the matter seriously.  So sit back and enjoy this movie.
I give it 5 out of 5 stars
Nikki's a stripper – Alex
Good afternoon Alexandria. I was starting to think I lost you – Mr. Darrs
I have been a very bad girl – Carolyn
Find, shop for, and watch Lifetime movies on Amazon TV (FTC Affiliate Disclaimer)
Click here for more information
---
The Wrong Man – Review
The Wrong Man – LMN – 2 hours and 0 minutes
While getting reprimanded by her editor Jen, Kim gets news that her grandmother has died. Kim goes to her grandmother's funeral and is saddened to see Fred's, her grandfather, Alzheimer's has gotten worse.  Fred has no idea who she is but his nurse Joey does what he can to help.  Joey tells Kim he is living in the guest house in the back of Fred's home and he wants to continue working for him.  Kim agrees even though Nick (Fred's neighbor) warns her there is something wrong with Joey.  By the end of the night, Kim and Joey are flirting, all while being watched.  With a few moments of clarity, Kim will learn that Fred knows more about how his wife died and you won't guess who is behind it.  You are right and you are wrong.
This a 'What Else Can Go Wrong' type of movie.  Just when Kim thinks she has a handle on things, the audience is given a glimpse of how she is truly lost.  The levels of deceit are at an all-time high.  You are left guessing until the end.  But Kim has a real friend by her side to keep her on the right path.  So have fun unraveling this movie and try to stay a step ahead.
I give it 4.5 out of 5 stars
To be honest, I like it better. Less drama – Joey
Soul-sucking – Kim
And the bloom is off the rose – Jen
Find, shop for, and watch Lifetime movies on Amazon TV (FTC Affiliate Disclaimer)
Click here for more information
---
The Wrong Nanny – Review
Blake finally got information on her biological mother Stella.  Stella gave her up for adoption when she was born and Blake wants to see her.  Blake discovers that Stella is looking for a nanny and applies for the position with fake references.  When Blake gets the nanny position for Stella's twin boys (Blake's half-brothers), Blake keeps her identity a secret.  She is happy playing the 'god sent' for Stella until she sees Stella acting as a mother to another teenage girl.  When Blake facade cracks a cop will be down, children will be lost, and a shot will be taken.
Oh, this one is just too good.  Watch it with the lights on and double check your nanny.  You will jump and yelp doing certain parts of the movie.  And watch until the end for an extra creepy moment.   Any Lifetime movie that has a death within the first 2 minutes, has a great chance of being a watchable movie.  And this one takes the cake.  Seeing Blake go from sweet to 'bat crap' crazy is oddly satisfying.  This is definitely one to watch, DVR, and keep.
I give it 5 out of 5 stars
Stella Armstrong's not a stranger – Blake
This may sound crazy but do I know you from somewhere – Stella
I wish I could – Merideth
Remind me not to get on your bad side – Tanner
Find, shop for, and watch Lifetime movies on Amazon TV (FTC Affiliate Disclaimer)
Click here for more information
---
Psycho Brother-In-Law – Review
With her husband Eric working long hours, Kate is starting to feel lonely and overlooked.  She is supportive of Eric's ambitions, she just misses her attentive husband.  She is not sure what to do.  One day Kate opens the door and sees David, her brother in law.  She is stunned by his appearance but happy to see him.  Eric, on the other hand, is not.  The brothers have unresolved issues, so when Eric learns that Kate has asked David to stay, he is upset.  The brothers attempt to patch things up for Kate's sake.  Soon, David is going on Kate and Eric's date nights as Eric's stand-in.  The two are seen around town so often that people are wondering if they are having an affair.  But when Kate and her daughter Laura start noticing David's weird behavior, they wonder if he is truly dangerous.
Inspired by actual events, you can summarize what will happen just by the title.  You know the brother-in-law will be crazy, it's a matter of how much.  You will find yourself wondering 3 things:
When will David snap
How many will be killed
Is this really the end
This movie really doesn't break any ground on Lifetime.  While an Oscar-worthy performance isn't required, it needs a good script in order to create a good movie.  The script was subpar and the actors did their best.  This movie can be skipped.
I give it 2 out of 5 stars
Why are you mad babe – Kate
You're right. I'm sorry. You married a jerk – Eric
It's a hella nice family you go there, man. You got it all – David
I shouldn't have worn that stupid dress – Laura
Don't do that – Ron
Find, shop for, and watch Lifetime movies on Amazon TV (FTC Affiliate Disclaimer)
Click here for more information
---
Deadly Exchange – Review
To help her family cope with a huge loss, Sam is considering getting an exchange student.  And Sam's daughter Blake believes this is a great idea.   Soon, Sam meets Chloe, a student from England.   On her first day with the family, Chloe is having a major effect on Blake.  Blake is dressing more risque, hanging out with a different group, ditching her boyfriend Jake, and joining the cheerleader team.  The more Blake changes, the more Jake feels edge out.  Then he makes his feelings for Chloe known to Blake and all of her new friends.  He believes Chloe is a bad influence and Blake should walk away.  The next morning Jake is dead in Sam's pool.  Jake's mother suspects Chloe but the police suspect Blake.  Now Sam must find the who and why to save her daughter's freedom.  But will Chloe allow it?
Watching Chloe slowly break down this family is a guilty pleasure.  You see her set traps and plant ideas to drive wedges in relationships while bringing people closer to her.  At times you will wonder why she is doing something or what she is doing.  Once the answer is revealed, you will find yourself laughing at her clever plan.  Now her reasons for going after this family is a bit far stretched but it's still a great movie.
I give it 4 out of 5 stars
I'm sure things were great but do you think she was really living up to her full potential – Chloe
Get away from me – Jake
There's nothing to talk about – Blake
And to think, I let you near my child – Sam
I don't know how those got there – Scott
Find, shop for, and watch Lifetime movies on Amazon TV (FTC Affiliate Disclaimer)
Click here for more information
---
Fatherly Obsession – Review
Alyssa has moved into her new apartment and the superintendent Robert his happy to help with all her needs.  She starts to make friends in the building, working on her comedy routine, and even meets a guy.  Everything is going well but she starts to get strange text messages and Robert has entered her home without her consent.   Being a past stalking victim, Alyssa puts Robert on notice about her issues with privacy.  He apologizes and smoothes things over, she accepts his apology.  As the days go on, Alyssa learns Robert has been telling a lot of lies and she cuts him off.  But when her friend says it was a misunderstanding, Alyssa agrees to meet with Robert.  This is the worst mistake she will ever make.
Super creepy is the only way to describe this movie.  Seeing that Robert's infatuation with Alyssa isn't sexual but fatherly is extremely unnerving.  But it does shine a light on different forms of stalking.  Some forms of stalking have little to no sexual component.  Also, this movie kicks it up a notch by using virtual reality glasses.  All movies have shown the killer looking at a monitor to stalk their victims but with the VR Glasses Robert can sit down next to her on the couch.  It is just the right touch of creepy to make this movie exciting.
I give it 3.5 out of 5 stars
Don't worried I would never go into your bedroom – Robert
Oh, that's exactly what I'm gonna do – Helen
I thought we were taking it slow – Oliver
Would you like me to throw a drink in your face to make this completely ironic – Alyssa
Find, shop for, and watch Lifetime movies on Amazon TV (FTC Affiliate Disclaimer)
Click here for more information
---
Ex-Wife Killer – Review
Ex-Wife Killer – LMN – 2 hours and 0 minutes
Josie finally has her flower shop running smoothly and is considering expanding.  She doesn't know how she will do it until her ex-husband Michael walk into her store.  She is uneasy about his unwelcome visit but agrees to have a work lunch with him.  As a silent partner, Michael states he wants to franchise her business.  She agrees but worries his wife will have an issue.  Michael explains that he and Laura are separated and close to a divorce but she is not taking it well and attacked him.  When Josie suggests calling the police, Michael won't consider it.  He believes she needs help, not handcuffs.  However as the days go on Michael is poisoned, Laura is stalked, and someone is shot.   For Josie, this will end with a bang, but not the one she thought.
With an opening scene of a crazy wife with a golf club, you can understand Michael's unease with this his estranged wife Laura.   This is how your roller coaster ride will start.  And this is definitely a roller coaster in the best way.  You go up and down while second-guessing yourself along the way.  This confusion makes this movie a good watch even though the storyline isn't the most original.
I give it 4.5 out of 5 stars
While I appreciate your optimism, people don't change like that – Jose
Some old Josie, always worried about something – Michael
Honey, why would I settle for half when I can have it all – Laura
Find, shop for, and watch Lifetime movies on Amazon TV (FTC Affiliate Disclaimer)
Click here for more information
---
When Calls the Heart: The Christmas Wishing Tree – Review
Jack has been away for 6 months and Elizabeth is missing him every second of the day; she teaches her students about a wishing tree.  Each person puts a wish on the tree and another person tries to grant it.  If the wish cannot be granted, then the tree's magic powers will grant the wish.  Rosemary and Abigail do everything the can to convince Elizabeth to put a wish on the tree.  She believes it's selfish to wish for Jack while he is doing important work.  And like Elizabeth, the town will expose some pain while asking for a wish.  Now Hope Valley will have to come together to help heal each other for the holiday season.
Based on the novel When Calls the Heart by Janette Oke, this movie is a great start to the new season.  And you don't have to be a "Heatie" to watch.  You learn enough about each character to get you invested and watch the regular program.  The standout is definitely Rosemary.  She is a flower in a hurricane; beautiful and strong.  But when her husband takes off time from the mill for the holidays, she meets her match.  Watch this movie with the whole family.
I give it 5 out of 5 stars
Like your eggnog, this Christmas tree has an extra kick – Abigail
There's no such thing as fine or tuning this group – Bill
Is it really that rough – Elizabeth
Depends. Am I the one star – rosemary
I really hope my name's on that thing – Jack
Find, shop for, and watch Hallmark movies on Amazon (FTC Affiliate Disclaimer)
Click here for more information
---
---
Christmas Getaway – Review
Christmas Getaway – Hallmark – 2 hours and 0 minutes
Scott was set on a hotel Christmas but his daughter Katy wants the traditional one she remembers when her mother was alive.  He rents a cabin and Katy writes a Christmas bucket list with every traditional thing she wants to do before Christmas.  Emory has traveled all her life and never settled down.  Her job as a travel writer has worked wonders for her career but not her relationship.  She ended her recent relationship and is ready to hit the road again.  Her editor asks Emory to write about a traditional Christmas and even booked a cabin.  Emory calls her dad and is surprised to learn she has spent Christmas there as a child.  When Scott arrives at the cabin, he is met with a Krav Maga welcome from Emory.  They learn that the cabin was double booked and they will have to share.  Emory tries to leave but her car, the roads, and the weather won't let her.   Sharing this traditional Christmas will bring the magic for the two.
While this provides a predictable Hallmark love story, it gives the viewer so many laughs.  Seeing them scratch items off  Katy's list will bring back holiday memories for you as well.  While there is a second woman vying for Scott's heart, she never poses much of a threat to the main couple.  She is just a way to make Scott and Emory's relationship grow closer faster.   Sit back and enjoy this Hallmark tale but don't cancel plans.
I give it 3 out of 5 stars
You're not – Scott
I've been to Pine Grove? – Emory
It's our new tradition – Katy
Find, shop for, and watch Hallmark movies on Amazon (FTC Affiliate Disclaimer)

---
Rocky Mountain Christmas – Review
Sarah just felt the burn of dating and being dumped by a celebrity in the public eye.  She just wants to keep moving to forget her pain.  Her new promotion will help that happen.  But her boss tells her to take some time off and start after the new year.   She decides to go to her Uncle's ranch and relax.   She knows it will be her last time to visit before he gives it up.  Graham is an actor who is trying to prepare for a huge role.  His problem is that he doesn't have small town ranching experience.  He wants to go to a ranch and rough it out before he goes on his audition.  He is quickly drawn to Sarah but she gives him the brush off.  Will she let her guard down and see that Graham is different from her last celebrity boyfriend?
Based on the novel Unbridled Love by Jennifer Shirley, this movie has everything but just doesn't hold the viewers' attention.  There isn't much compelling in this story.  Saying that Hallmark Movies are predictable is, well, predictable.  There needs to be more to the story the heartbroken girl meets a guy and falls in love at a place in danger of being closed or sold.  This falls into the trap and doesn't pull itself out.   This one can be skipped during this holiday season.
I give it 1 out of 5 stars
Somebody who doesn't like my movies, apparently – Graham
Excuse me, are you about to give my horse a cookie – Sarah
Find, shop for, and watch Hallmark movies on Amazon (FTC Affiliate Disclaimer)

---
Romance at Reindeer Lodge – Review
With 2 weeks off with pay, workaholic Molly has no idea what to do with her time.  She hears a radio contest for a trip to Jamaica, calls in, and wins.  So elated to leave Chicago for sun and rum punch, she tells everyone she sees.  After telling Jared, he tries to warn her but she is to busy to receive his message.   Once they are on the plane, Jared tells her that they are headed to Jamaica but not the island.   They are going to Jamaica, Vermont.  Molly believes its a mistake when she heads to the Reindeer Lodge but the owner Penny tells her its right.  She decides to make the most of it until she contacts the airport and goes home.  Of course, Jared is staying in the same place but for another reason.  While Molly is a Scrooge, she softens into the Christmas spirit at the Reindeer Lodge.  But when she learns the owners' secrets along with Jared's, her heart is crushed.
There are 3 major secrets in this movie.  While 2 are foreseen and intertwined, the other comes out of left field and leaves you confused and saddened for the Reindeer Lodge.  As the connection between Molly and Jared is a slow and complicated build but such is life.  And that makes the movie watchable.   Also the secondary couple, Kayla and Greg, show the ups and downs of a newlywed marriage.  It's not just sunshine and reindeer.   Couples have issues but the strong ones work them out.  This is a great movie about love, tradition, and hope.
I give it 4 out of 5 stars
Yeah, I'm engaged to Manchester software. We are spending the holidays together, here in the office – Molly
I tried to but you seemed a little busy – Jared
Find, shop for, and watch Hallmark movies on Amazon (FTC Affiliate Disclaimer)
Click here for more information
---
Christmas Connection – Review
Sydney is overseeing an unaccompanied minor named Leah before she goes on her winter break.  When Leah's father Jonathan is late picking her up from the airport, Sydney chooses to miss her flight to Bali to say with Leah.  Soon Leah's father is there but later due to a mix-up at the airport, Sydney is on Johnathan's doorstep.  Jonathan is a Christmas loving columnist that is desperate for his next story.   While talking to Sydney, he gets an idea.  Sydney is a hometown girl who has heard that her parents met on Christmas but never knew the whole story.  Jonathan vows to learn the story, not just for this article but to put Sydney back into the Christmas spirit.  Finding this love story may bring them one of their own.
This is a good love story wrapped around a great mystery.   The thought of finding someone's past through the memory of others is wonderful.  While the love story between the two main characters is considered the main plot, it takes a back seat to the overall mystery.  That's fine because it's all woven together in a nice package.  This is one to watch and remember.
I give it 4.5 out of 5 stars
Oh, we don't do Christmas halfway in this family – Jonathan
Oh, what did I just agree to – Sydney
Find, shop for, and watch Hallmark movies on Amazon (FTC Affiliate Disclaimer)
Click here for more information
---
A Christmas Cruise – Review
Pam is a staff writer for the New York Minute.  She dreams of writing her own book but has put it and her love life on hold.  Her friend Becky thinks Pam should take a break from work and live her life.  Becky has booked a one week cruise to Christmas Island.  The island is open one month a year and revolves around Christmas.   Pam is quick to decline the offer.  But when her boss Arlo says her articles aren't 'sexy' enough and she needs something new and fresh, she mentions the cruise.   Arlo tells her to go on the cruise, take notes, and write an article.  If she does well, she will get the managing editor position.   Pam is ecstatic. Unbeknownst to Becky, Pam goes on the cruise to work.  But before the boat docks, Pam will go on a cruise of self-discovery and love.
This movie is as sweet as it is funny.  The ship's resident hypochondriac is a load of laughs as he talks about his feet, hips, and other ailments at just the right (yet wrong) moments.  The love story between Pam and Jake happens easily and organically.   Since both characters are working through issues in an adult manner it's easy to see the two as a couple.  If you want to bring in the holidays with a love story, this is the one.
I give it 3.5 out of 5 stars
I don't have time for Christmas just yet – Pam
Don't do it – Jake
Oh, maybe we're looking in the wrong direction – Becky
Find, shop for, and watch ION movies on iTunes (FTC Affiliate Disclaimer)
Click here for more information
---
Christmas Next Door – Review
Eric is an author and confirmed bachelor.  He writes books telling men how to make the most out of being single.  His neighbors notice he has no decorations in or outside of his home.  Especially April, his across the street neighbor.  April plays and teaches violin.  She loves Christmas and her home is living proof.  April's sister wishes April had two things: a violin audition and a date.  Eric's mother wishes he would grow up and get over his past.  So his mother feigns an illness and asks him to pick up his niece and nephew, Chelsea and Liam.  She has no idea when his sister will be back from overseas to get them, but she is "too sick" to take care of the two.  And with kids as sneaky as their grandma, Eric's take on holiday traditions will change.  And April is the first to take notice.
This is surprisingly funny and very charming romantic comedy.  While Eric's disdain for Christmas is not revealed until the end, it's obvious that this has been a major stopgap in his life.  But April, Liam, and Chelsea show him there is more to the holiday then gift cards.  Also, in a Christmas with the Kranks style, there is a running gag with Eric's lawn ornaments (FTC Affiliate Disclaimer).   The "whodunit" is worthy of HMM.  You will laugh out loud at this Christmas movie.
I give it 4 out of 5 stars
There can never be too many decorations – April
Maybe its time for me to admit that I'm growing up – Eric
Find, shop for, and watch Hallmark movies on Amazon (FTC Affiliate Disclaimer)

---
Bobbi Kristina – Review
Bobbi Kristina – TVOne – 2 hours and 0 minutes
Bobbi Kristina carries a deep guilt after her mother's passing.  She regrets telling her mother she hated her.  Also, she almost drowned in the tub before Whitney died and was saved by her mother.  She feels like it should have been her.  She is now feeling the pressure to continue her moms legacy while trying to forge her own identity.  Bobbie Kristina hates being alone so she allows Nick to continue to live with her and be with her every step of the way as her play brother.   However, when Nick learns Whitney's will does not involve him, he becomes focused on helping Bobbi Kristina realize her dreams.  Bobbi Kristina's hole deepens as a friend ODs, her family loses its show, Nick becomes abusive, and her addition grows.  Her story will end just as abruptly as her mother's.
The world knows about her birth and death, but this story focuses on her downward spiral.  The people around her tried to warn her about Nick.  However, it's unsure how much they knew about her drug addiction.   With flashback, you will see how Nick came to live with Whitney and Bobbi Kristina, her view on her parents' marriage, and her view on her mother's addiction.  As Bobbie Kristina tried to act and sing for her mother's legacy in a sad way she completed it.  By dying in the same manner her mother died and being involved in a toxic relationship with an abusive man, Bobbie Kristina continued the most painful parts of her mothers legacy.  The only question that went unanswered was: How did Nick and Kristina meet.  The actors did a magnificent job with portraying Whitney Houston and Bobbie Kristina.   Their work didn't stop at how their counterparts sang but walked, talked, and their micro mannerism.  It is obvious that each actor poured 100% of themselves into this project.  TV One is having a great start for their movies.  Hopefully, it will continue.
I give it 4.5 out of 5 stars
I gotta carry on her legacy – Bobbi Kristina
Me and you against the world, right? – Whitney
I loved your mother, Krissy – Bobby Brown
Sweetheart, what have you done? – Pat
We just having a man to man talk – Gary
You need to go somewhere that feeds you – Taylor
It's me and you against the world baby – Nick
---
Wicked Mom's Club – Review
Mandy has decided to move with her daughter Riley to a new town. She wants to leave behind her failed marriage and Riley drug addiction.  Mandy accompanies Riley on her first day of school to meet the other Gymnastic moms, who are also PTA Members.  She meets:
Olivia – Head of the Gym Moms, Head of the PTA, Mother of Chelsea
Suki – A Gym Mom, ousted from the group, mother of Hailey
Colleen – A Gym Mom, PTA member, flirt, married to a police officer
Reyna – A Gym Mom, PTA member, mother of Taylor
Ellis – A Gym Dad, not a part of the group, PTA member, contractor
Mandy is invited to join Olivia for drinks at the country club and yoga.  While Mandy is not used to being this highly involved in school activities, she welcomes the distraction.  Olivia offers to help Mandy with her blog and Mandy confides to her about herself and Riley.  Mandy is relieved to have a friend.  Soon, her blog skyrockets, she is helping the PTA's marketing, she connects with Ellis, and Riley is a rising star on the Gymnastics team.  Mandy and Riley are both at ease in the new town.  But as soon as they rise, they start to fall.  Mandy loses endorsement deals for her blog, Riley is suspended, Ellis's relationship with her is over, and she is in jail.   However, Mandy thinks she knows why.  Just a few days after moving in, Mandy was warned that she would end up like Ginny, a mom who committed suicide.  Then Mandy finds Beyond Good and Evil by Friedrich Nietzsche and finds a photo with Olivia's eye scratched out (FTC Affiliate Disclaimer).  Now, can Mandy stop the monster without becoming a monster?
Oh, the shade of it all.  Inspired by real events, this movie proves there is no age limit for being a Mean Girl (FTC Affiliate Disclaimer).  This movie does allow you to sympathize and root for Mandy.  While she is warned about Olivia, she wants to give her a chance.  But when things fall apart, she is quick to place the blame where it deserves.  The rally cry to join forces is heard and championed by all.  Once again, to fight a bully, you need to lay all your cards on the table and face them head-on.  There is one part that is hard to wrap your head around in this movie.  Wasn't a mom committing suicide enough to make people stand up to Olivia? They should have rallied against Olivia then.  It should not take a new mom to stir up the pot.  While this movie did juggle a lot of characters and personalities well, more interaction between the wives and husbands would have helped.  This is a great movie to watch while sipping your tea.
I give it 4 out of 5 stars
I'm not used to so much parental involvement – Mandy
But it's real – Taylor
Keep your distance from them. It won't end well. It never does – Suki
He's well trained – Olivia
I'm a great mom – Ginny
Well I guess that's on your conscience – Holly
What I would give to put that cute waiter in a doggy bag for later – Colleen
You're always sorry – Riley
You're just jealous because I have a real friend – Chelsea
Your kid's happy, you're happy. I know that – Ellis
Find, shop for, and watch Lifetime movies on Amazon TV (FTC Affiliate Disclaimer)
Click here for more information
---
All of My Heart: Inn Love – Review
With a few days until the festivities, Brian is trying to keep Jenny calm.  There is so much work to do before the Inn opens.  When one thing is fixed, 3 more seem to break.  However, Jenny keeps working hard to get things together.  But mother nature deals one striking blow, it knocks out all the electricity in the Inn.  Jenny is able to talk the guest into staying, but Brian decides to go back to Wall Street to make fast money to fix the damage.  As Brian spend more time away, Jenny is worried that the lure of Wall Street will keep him away.  She doesn't want to influence his opinion but she wants Brian to come back to small-town life.
It's nice to see a couple works together for a common goal.  And to get Brian to see the beauty of small-town life, Jenny doesn't connive or scheme, she just visits and tell him that she misses him.  This is enough to make him reconsider climbing the corporate ladder again.  This is another lesson for the couple's communications skills.  Neither wants to force the person's decisions, but they want to be heard.  It will take most of the movie and advice from friends for them to figure it out.  This storyline is a problem real-life couples, but it's Hallmark so you know how it's going to end.  So record this one and use it as background noise.
I give it 2.5 out of 5 stars
I'm from the mean streets of Manhattan, being nice is a big adjustment – Brian
I miss you. I miss us – Jenny
Don't let the suit define the man – Tony
She's clearly an amateur – Denise
Trains go both ways – Casey
Find, shop for, and watch Hallmark movies on Amazon (FTC Affiliate Disclaimer)
---
A Mother's Crime – Review
Uninvited, Danielle comes to her sister's Nikki's house. Nikki is having a birthday party for her daughter Becky. So, seeing Danielle, with a baby in tow, is an unpleasant surprise for Nikki. After a few harsh words, Nikki allows Danielle and her baby Cali to stay the night. While Nikki and Becky are asleep, Danielle takes Nikki's wallet and runs with Cali. While on the road, Cali gets sick and Danielle takes her to the hospital. Danielle uses Nikki's credit card to pay for anything the baby needs. Danielle steps out to call her boyfriend Gunner. Gunner advises Danielle to meet him so they can run together but when he learns that Cali is with them, he tells Danielle to choose. Him or the baby. During this time, Nikki is at work when her friend Millie shows her horrible news. Danielle is wanted for murdering her husband. Danielle quickly reports Nikky to the police. Soon the hospital arrests Danielle as she is about to abandon Cali for Gunner. Since Nikki is Cali closest relative, she picks her up. At first, she wants to give her up for adoption but changes her mind. Danielle signs away her parental rights and goes to jail for 7 years for manslaughter. While Danielle has given up Cali on paper, she will get her daughter back. By any means necessary.
One thing is clear, Nikki and Danielle hate each other.  But there is never a specific reason why.  Just comments about the past.  Without knowing the history behind the hatred, Nikki comes off as cold, hard, and mean.  However, her feelings may be justified.  If only we knew.  You will get a sense of how much Cali is loved and wanted.  Even if some of the love is misguided.  Especially when she is kidnapped twice within a day "for her benefit".  It becomes easy to see how Becky feels neglected and starts to resent the people around her.  While this movie has it's gaps, it's still watchable.
I give it 3.5 out of 5 stars
You got knocked up. Good for you – Nikki
She's your sister – Millie
Baby? You brought the baby with you? – Gunner
Just remember, I'm always gonna be your mommy – Danielle
No promises – Cali
I have lawyers too – Beatrice
I liked it better when it was just you and me – Becky
Find, shop for, and watch Lifetime movies on Amazon TV (FTC Affiliate Disclaimer)
Click here for more information
---
---
Ten: Murder Island – Review
Meg and 9 other students from 3 different school all meet up at a vacation home at the request of their mutual friend Jennifer.  Meg's ex-love interest TJ and her best friend Minnie are at odds about what happened the night before the dance.  Meg is doing everything she can to avoid TJ and keep her friendship with Minnie strong.  On their first night, they find an unmarked DVD and watch it.  It has a countdown, random images and clips, and the final words "Vengence is Mine".  A little freaked out they all go to bed.  Meg finds a diary page that details a girl being betrayed for a singing solo.  In the middle of the night, Meg wakes up to find one of the students hanging with a suicide note and a "1" in red paint on the wall.  While everyone thinks this is a sad coincidence, Meg notices the suicide note was written on the back of song lyrics.  The same song lyrics mentioned on the diary page.  Meg has to convince everyone that a killer is on the loose, keep everyone from going nuts, and find a killer.  And all before she's next.
Based on the novel, Ten by Gretchen McNeil, this is a really good thriller (FTC Affiliate Disclaimer). You are left to believe everyone is a killer, even a ghost.  As each person dies, you cross off another name on your suspect list.  And with Minnie off her meds, Kamiko losing it, and Ben pointing fingers, everyone is a suspect.  Also, everyone has a reason to be killed since they all bullied a girl who committed suicide a few months earlier.  You might believe you have the killer figured out but 90% will be wrong.  Sit back and enjoy a good teen thriller.
I give it 4 out of 5 stars
Anything you can't do? – Meg
You think too much girl – TJ
Everyone knows what you did Vivian – Laurie
I'm still in love with him – Minnie
I think I can help – Vivian
Some might say that's the same thing, Meg – Ben
What I saw was someone who was off her meds – Kamiko
Find, shop for, and watch Lifetime movies on Amazon TV (FTC Affiliate Disclaimer)
Click here for more information
---
Secrets – Review
Secrets – BET – 2 hours and 1 minute
Tarron believes he is a loyal husband to his wife Secret but he knows he's not faithful.  He prides himself on being a provider but he is bored with married life.  He believes he married too earlier and should be allowed to have a little fun.  After breaking off his affair with Monica, he is trying hard to stay on the straight and narrow.   Just as his career is on a hot streak, the boss invites Victoria to join the team.  Soon, Tarron and Victoria are spending lunches together and Secret is getting suspicious.  After a huge fight about trust, Tarron leaves Secret and get his own place.  In time, his family, job, and health are in shambles.  And the only way to bring everything back is for everyone to tell the truth.  Including is Tarron, his brother Jay, Secret, Victoria, and his mother.
Based on the novel, Secrets of a Housewife by J Tremble, this movie is what happens when the can of worms is opened wide poured all over the table (FTC Affiliate Disclaimer).  The story starts off as a simple cheating story but leads to blackmail, drugs, and a blood test.  It gets complicated quick.  Be prepared because the 1st hour is a boring setup and the last hour is a great finisher.   So hang in there.   The biggest problem is due to the backing track often drowning out the dialogue.  It makes it hard to hear the best and most profound parts.  Also, Tarron plays the victim too much and it comes off as whining.  However, his mobile stalker will take him and you by surprise.
I give it 3 out of 5 stars
Don't bother cleaning up – Tarron
So what about that new bike – Terrance
You can keep your son and his crusty draws – Secret
Answers to our problems isn't out there, it's in there – Steven
Nobody wears tennis bracelets anymore – Monica
My career comes first, always – Victoria
Find, shop for, and watch BET movies on iTunes (FTC Affiliate Disclaimer)
Click here for more information
---
Downsized – Review
Downsized – TVOne – 2 hours and 0 minutes
In 1991, 14-year-old Ebony and Michael got pregnant.  Their family quickly lay down their lives.  Ebony is to go cosmetology school and start doing hair.  Michael is to go to ROTC and enlist.  When they both graduate, they should get married and raise their child as a family.  Three more kids and 25 years later,  Ebony owes a salon and does makeup & hair for the stars.  Michael finished his tours of duty and completed his first book.  But years ago, the two agreed that when their oldest child finished law school, they would get a divorce and live their lives.  With the date looming, Michael is having second thoughts.  So he decides to take his family to the cabin and remove most of the technology so they can bond.  He hopes this will change Ebony's mind and save his family.
This movie covers topics of forced commitments, infidelity, communication, parental expectations, and love.  However, the saddest impact is the effect the divorce is having on the children.  Ebony and Michael attempt to keep the divorce a secret as long as possible, but the children are crushed to know the truth.  The kids try everything possible to keep their parents together.  But they will realize that they are not the problem.  So, they can't fix the issue.  Being in this cabin forces the entire family to communicate and put everything out in the open, but can the marriage last?
I give it 3.5 out of 5 stars
Capital D-I-V-A. She almost made me lose faith in humanity – Ebony
We did it – Michael
Is he blackmailing you or something – Malaysia
I have no bars, no reception. This is bad – Michelle
By wonderful, I mean terrible, horrible, excruciating – Madison
That's how it's gonna be. You got favorites now – Jr
---
Illicit – Review
Illicit – BET – 2 hours and 0 minutes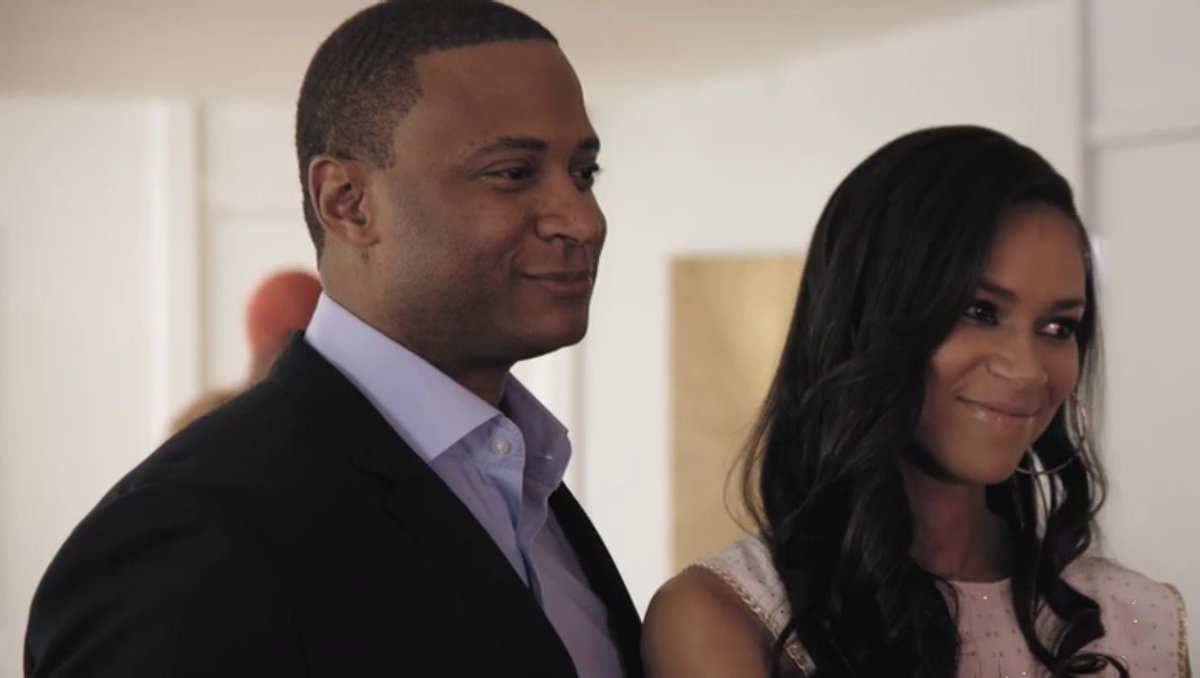 Guy, a parole officer, has worked hard to give his wife the house, car, and life she has always wanted.  Also, he is a dedicated father to his daughter.  He hopes his wife knows he is a "good one".  Sasha, a former model and jewelry designer, has sacrificed everything for her family.  She has breakfast ready in the morning and dinner by 7 every night.  She hopes her husband appreciates it.  But when she tells her husband she wants to model again, he tells her she needs to focus on their child and give up her hobby.  She lets it go until she meets a Cruise (like Uber) driver named Lance.  After a few rides, she learns he is a photographer and she agrees to take some pictures.  On the other side of the marriage, Guy has taken on a new parolee Farrah.  If he can get Farrah on the right path, he will get a promotion.  Farrah attacked her abusive boyfriend, got arrested, and put on probation.  She fears her ex-boyfriend is stalking her again and ask Guy to take her home.  Guy agrees to keep her safe and check out her apartment.  Agreeing to Lance and Farrah will turn their lives upside down and lead them into a tangled web of lies and the most uncomfortable dinner party ever.
Talk about a tangled web.  Sasha gets mixed up in a stalker with an orgy and auntie fetish.  Guy gets mixed up in a stalker with blackmail issues and a gun.  It's all crazy from beginning to end.  While the resolution is not believable, it's the best way to have this movie conclude without ending in violence.  As a viewer, it's hard to believe that this couple doesn't see the writing on the wall before the crazy stuff starts; because it's all there in black and white.  You will be yelling at the TV for them to see the writing on the wall.  But it will come too little too late.
I give it 4 out of 5 stars
Who is going to be taking care of our little girl while you are out gallivanting the world – Guy
You sacrifice for the people you love – Sasha
If I wanted excuses, I would have hired my ex – Linda
Aww hell no – Ty
You left something at my house and I thought you would need it to play husband – Farrah
Find, shop for, and watch BET movies on iTunes (FTC Affiliate Disclaimer)

---
Drink, Slay, Love – Review
Drink, Slay, Love – Lifetime – 2 hours and 0 minutes
Pearl and Jadrian go out for a date night and something to drink.  Blood.  They are teen vampires who love the hunt and believe humans are worthless creatures.  During a late night snack, Pearl is staked and wakes up at home.  Her family does not believe she was staked but her mother puts her on punishment.  She is not allowed to hunt alone and must mind herself before the Vampire king comes to town for the festival.  Her family was given the prestigious honor of hosting the event and they want to be at their best.  But Pearl, being a teen, sneaks out to hunt.  She is made as a vampire and a group of boys leaves her to burn in the sun.  However, she doesn't burn.  She walks around in the daytime shocked by how boring it all is.  Later, she comes home and shares the news with her family.  Her mother decides to use her daughter's gifts to their advantage.   Since the King will be there for the festival, they must stock up on blood.  And she wants Pearl to hunt in the daytime by going to high school and getting close to all the kids.  During her time in high school, Pearl has noticed a side effect with her new gift, she is growing a conscience and worries about her classmates' lives.  Can she help them and keep her family happy?
Based on the novel, Drink, Slay, Love by Sarah Beth Durst, this is a new twist to the vampire teen romance phenomenon (FTC Affiliate Disclaimer). The girl is the dangerous vampire and "fitting in" is nothing she wants.  Nor does she try to pretend.  She quickly puts Queen Bee on notice with a broken window and an emergency brake.  While it does have vampires and love, it also discusses responsibility and loyalty.  Pearl wants to honor her parents but she doesn't want her new friends to be hurt.  It's a lot for a teen to grasp.  This is an adventurous movie for teens and adults; it's not afraid to make fun of itself.
I give it 3.5 out of 5 stars
Don't worry. I'll leave it somewhere safe – Pearl
Kill or be killed – Bethany
A bit plain for my taste but if this is what's on the menu – Jadrian
I look really good in a tux – Evan
You always get what you want – Antoinette
Find, shop for, and watch Lifetime movies on Amazon TV (FTC Affiliate Disclaimer)
Click here for more information
---