TVOne
---
Snowed-Inn Christmas – Review
Kevin is a fly by the seat, laid back, extreme stunts writer.  He writes about the crazy adventures people can do on vacation.  Jenna is an organized, by the book, relaxed writer.  She likes to write about the thing people can do to relax during a vacation stay.  As magazine sales are going down, their magazine has decided to generate more internet traffic to the site.  To get a better idea of what the readers want, their boss decides to send them to a vacation site together.  Whoever gets the most clicks can keep their job, the other needs to hope for a Christmas miracle.  Nonetheless, when their flight has to make an emergency landing, the two are stuck in a small home with the keepers.  They start to get pulled closer with a little Christmas magic.  But will the job prevail?
Sigh, as funny as this movie can be, it still doesn't hold your interest.  You just don't get invested enough in the characters to care how it ended.  This is due to the fact that you know exactly how it will end.  This movie belongs on the predictable Hallmark channel, not the Lifetime network.
I give it 1 out of 5 stars
Does Kelly Kapowski count – Kevin
You haven't packed yet – Jenna
Find, shop for, and watch Lifetime movies on Amazon TV (FTC Affiliate Disclaimer)

---
Stalked by My Ex – Review
Olivia has been secretly writing to her father Sam in prison.  She sends him drawings of the two together and wonders what would have been like if he didn't leave her life 10 years ago.  Sam reveals that he will be released soon due to overcrowding and good behavior.  When her mother hears this, she is on high alert and decides to leave LA and go back to her small town roots.  After leaving, Sam goes to find them and is furious he can't.  So he will do everything to find them and get Olivia back.  And with the help of jealousy and the internet, they will be face to face soon.
This movie just doesn't grab your attention.  It just felt like part of the plot was empty and this came off as another domestic violence story.  Accept this was everything after the arrest.  It was just missing a spark that kept the viewers' interest.  This movie can be skipped.
I give it 1 out of 5 stars
It's really not that exciting – Alexis
I'm not leaving without a piece of chocolate cake – Bryan
Did you tell her we spoke – Sam
Find, shop for, and watch Lifetime movies on Amazon TV (FTC Affiliate Disclaimer)
Click here for more information
---
Karen Kingsbury's Maggie's Christmas Miracle – Review
20 years ago, Maggie played in the snow with her friend.  She had no idea of what awaited her at home.  Her father left the family on Christmas Eve and never came back.  Now she is a mother of one, divorced, and a divorce lawyer.  3 years ago her husband left her 1 week before Christmas.  She sees the holiday is nothing but heartbreak and pain.  But in a small corner of his room, Maggie's son Jordan is writing a letter to God.  He asks a few questions about nature.  Although, he asked God if all moms are sad and if he could give his mom love.  Out of the mouths of babes and into God's ear, Jordan will get his wish.
Based on the novel Maggie's Miracle by Karen Kingsbury, this movie will make you misty-eyed (FTC Affiliate Disclaimer).  As Jordan keeps writing letters hoping to make his mom happy, you reflect on your own family.  The element that sets this movie apart is you know exactly why Maggie doesn't like the holiday.  There is no big reveal 5 minutes before the end, you know from the beginning.  And there is an interesting love triangle.  So you have the added mystery of determining if Maggie will make the safe choice or the honest choice.
I give it 4.5 out of 5 stars
You think only bad things happen to babies – Maggie
Christmas every day of the year, that's my kind of world – Casey
That was so cool. It was like I was being swallowed by trees. Can I do it again – Jordan
Find, shop for, and watch Hallmark movies on Amazon (FTC Affiliate Disclaimer)

---
A Royal Christmas Ball – Review
This is a story about how a prince found his princess, again.  Alison and Charles met at a college party and fell in love.  Then, a woman came to Alison's dorm and told her Charles was a prince and a commoner would never be allowed to be a princess.  She instructed Alison to write Charles a break-up letter.  Feeling lied to and betrayed, Alison wrote the letter and never wanted to see him again.  Charles tried several times to contact her but after hearing nothing from Alison, he went through with his arranged marriage.  Now, seventeen years later, Charles is a widower and still in love with Alison.  While in America to take care of political duties, he decides to look her up and find her.  But Alison isn't all he finds.
This is a sweet story but the subplot of the two best friends deserves its own movie.  While it was a good twist on a Cinderella story, it was uninspired and fell flat.  It feels more like a filler movie for the holiday line up.  It's predictable and with extremely little real-world conflict.  This movie is nothing more than background noise.  Come for the plot, and be entertained by the subplot.
I give it 2 out of 5 stars
How am I? What are you doing here? – Alison
Well, technically, I'm the King now – Charles
I just want to make a good impression – Lily
Find, shop for, and watch ION movies on iTunes (FTC Affiliate Disclaimer)
Click here for more information
---
Sharing Christmas – Review
Sharing Christmas – Hallmark – 2 hours and 0 minutes
With her parents retiring, Stephanie is set on keeping their traditions and run the Christmas Shop just the way they did.  If it ain't broke, don't fix it.  Then she gets a letter in the mail from her landlord.  The lease is being terminated.  The owner has sold the building to a developer and all the month to month leases will end to make room for high-end condos.   Maggie has no idea what to do to save her parents' shop.  Mike is a real estate agent who was given the biggest job of his career.   If he does well, he will get his long-awaited promotion.  To celebrate, his family goes out to eat and he stops at the Christmas Shop.  Stephanie purges her feelings to Mike and he tells her to fight.  The next day, Mike's boss Helen takes him to his new real estate job.  He is shocked to learn his company is kicking out Stephanie.   With his feelings for her growing, Mike will do anything to help her but it could cost him his job.
Oh, can the Christmas Shop be real?  It sounds and smells wonderful.  And the handmade ornaments are a dream come true.  This story is unique because when Mike learns the truth, he tries anything he can to fix it.  He never hides the truth from Stephanie, he lends her a hand and tries to persuade Helen to change her mind.   As he works in the store, Mike grasps how important this shop is to the community.  DVR and watch with cocoa or hot apple cider with a cinnamon stick.
I give it 4 out of 5 stars
And give up being Uncle Mike, not a chance – Mike
Guys do me a favor and don't tell my parents – Stephanie
Find, shop for, and watch Hallmark movies on Amazon (FTC Affiliate Disclaimer)
Click here for more information
---
You Can't Fight Christmas – Review
Lesley Major of Major Design is designing the yearly Christmas themed entrance to the Chesterton hotel again. And she promises to make it bigger and better. The Christmas time is one of the biggest draws and money makers for the hotel.  But when Millicent and Edmund go over the books, they determine that Christmas revenue does not make up for the hotel's losses.  They want to remove Christmas, rebrand the hotel, and bring in new investors.  When Lesley gets wind of the news she is disgusted.  She liked Edmund and thought he wanted to continue the family hotel business.  She will lose her biggest client and a man she is grown fond of to another woman.  Will she fight to get him and her job back?  It's time for Lesley to complete the circle of life and delegate to get the holidays back.
This is a funny movie that will give you deja vu if you saw Miss Me This Christmas.  Two scenes are repeated but great for character development.  This movie gives you a plethora of characters with an uptight Millicent, a ride-or-die Belinda, and a tough Kevin.  This is a good one to record and keep on your DVR for later.  Also, you will want friends like Kevin and Belinda.
I give it 4 out of 5 stars
I'm telling you, Lesley. It's a union rule – Jasper
Can we keep the ugly on our sweaters, it's Christmas – Lesley
Not delete, just edit – Millicent
And they say its the most wonderful time of the year – Edmund
I'll leave you a fifty on the nightstand – Belinda
Find, shop for, and watch TVOne movies on iTunes (FTC Affiliate Disclaimer)

---
The Christmas Cottage – Review
Ava has always believed her family's cottage was magical.  For generations, her family has gotten married on Christmas Eve and spend their wedding night at the Christmas Cottage.  Every couple that followed the tradition had a marriage that lasts.   So, of course, Ava wanted her wedding to follow suit.  She decides to have her best friend Lacey as her maid of honor.  Lacey loves order and contemporary artistic choices.  She wants to make sure everything is perfect.  But Ava's brother Ean wants to follow the family's traditions of color and disorganization.  The two butt heads when decorating the cottage, not only because of style choice but due to a bitter break up.  Lacey and Ean dated, but when she took an internship, he felt like she was putting her career ahead of the relationship.   However, when he took a job overseas without informing her, she felt he wasn't serious about putting down roots with her.  After a big snowfall, the two are trapped in the cottage.  Ava hopes the cottage magic rubbed off, but Lacey's boyfriend Roger will put a kink in the plan.
Based on the novel The Christmas Cottage by Samantha Chase, this is a sweet love story about focusing on what's really important (FTC Affiliate Disclaimer).  However, these theme is not unique to Christmas or Hallmark films.  This movie just doesn't stand out in the saturated Christmas line up.  It does have its funny moments as Lacey and Ean trade shots at each other but everything else is predictable.  Watch if you have time, but don't open up the wine.
I give it 2.5 out of 5 stars
Have I ever let you down – Lacey
You sure you don't want to YouTube it – Ean
Find, shop for, and watch Hallmark movies on Amazon (FTC Affiliate Disclaimer)
Click here for more information
---
Runaway Christmas Bride – Review
Kate instantly has regrets on her wedding day and has to greet her family and friends after saying 'I Do'.  That is until she learns the truth from her groom Alex.  On his wedding day, he got his inheritance of $2,000,000.  He wasn't allowed to get it until he got married and could not tell the bride until after the wedding.  Now he is free of his father and can live his life the way he wants.  Kate asks him one question: Did you marry me for love or for money.  He hesitates to answer and she runs.  She runs to their honeymoon suite without any money or credit cards.  She gets help from some frat guys to get into the hotel room and gets comfortable.  Soon, she has the attention of the hotel medic and the manager.  And much to the chagrin of Becca (manager), she starts to date Jason (medic) but never tells him she is married.  Soon Alex, his parents, and her parents are all at the hotel.   But when she agrees to keep the marriage going for the money, will she lose Jason.
This is a "what else can go wrong" type of movie.  It's funny and has a lot of cringe-worthy moments.  It stands out from the typical holiday movie with a good family gripe fest.  However, the green screens are horrifically distracting.  It's not evident why these choices were made but it took away from the strong script and great characters.   When this movie sets itself apart during the holiday season, bad green screen choices and toupees just take away from it.  If you don't mind the distractions, watch it.  Otherwise, leave it on the back burner.
I give it 2.5 out of 5 stars
Alex, did you marry me for love or this money – Kate
I don't. Not that one – Jason
I'm here plus two sets of parents. I'm so sorry. Where are you? – Jess
Call room service and order a bottle of Christmas cheer. I need a drink – Rick
Find, shop for, and watch ION movies on iTunes (FTC Affiliate Disclaimer)
Click here for more information
---
Christmas Encore – Review
Charlotte is a struggling actress and part-time waitress.  She has continued her father's dream of making it big.  In the past, she had an opportunity to make it big but her audition partner/friend Julian ab-libbed some lines and left her looking like a fool.  He got the part on a major TV show and she is still trying to find any work available.  When her college roommate comes to town, she offers Charlotte a job as an event coordinator for her company.  Charlotte feels like getting a 9 to 5 is giving up but she needs the money.  She decides to take the job but auditions for a play one last time.  The theater is putting together a play for "A Christmas Carol" but they want a twist for it.  Realizing she is too old or too young for all the parts, Charlotte decides to be Scrooge.  But when she walks in, she is informed the director is Julian.  She leaves the stage.  He begs her to come back and after careful consideration she does, auditions, and gets the part.  She believes this is her big break until the owner of the theater decides to get rid of it.  Charlotte and Julian decided to fight for what they believe in, the arts and each other.
The love story is a snooze fest because you know it's going to happen.  In Hallmark, the more people argue, the more likely they will end up together.  You watch because you want to see Charlotte's character develop and blossom into an actress.  She will be making her and her father's dream come true.  It's easy to relate to Charlotte because we have all felt like giving up when we were so close to a dream.  You cheer for her to act in her career-making scene.  Also, you hope Julian can keep the theater open for future actors and actresses to come.  So DVR and watch when you need to kill 2 hours but don't cancel plans.
I give it 2.5 out of 5 stars
I believe happiness is a journey, not a destination – Charlotte
Find, shop for, and watch Hallmark movies on Amazon (FTC Affiliate Disclaimer)

---
Fatal Vision – Review
Fatal Vision – ID – 2 hours and 0 minutes
Joe McGinniss has hit a rough patch in his writing career.  He can't finish his books and no one wants to publish his articles.  So when he gets a call from Jeffery MacDonald, also know as the Green Beret Killer, Joe quickly goes to see him.  Jeffery discloses he wants Joe to follow him during his trial and write a book about who he is and what really happened to his family.  Jeffery will give Joe 100% access to his life, home, and courtroom proceedings.  Jeffery hopes this will enlighten others to his plight, absolve him, and find the true killers.  As Joe delves into Jeffery's life, he starts to see the monster within.  After interview Jeffery's in-laws, looking at the evidence, and living with Jeffery, Joe will write a book that will have an effect on the case, even today.
Leading up to the novel Fatal Vision: A True Crime Classic by Joe McGinniss, the viewer must keep in mind that this is only told from Joe's point of view.   It is hard to believe a man would kill his pregnant wife and 2 young children over an argument.  While they give a very convincing tale of events, you are still left to wonder if it really happened that way.  After you hear the crime scene was out of order, the evidence was mishandled, the samples were taken from the victims after the funeral, and the photos were blurry, it's hard to nail down what is up and what is down.  The fact that remains true is 3 people and 1 unborn child are gone.  One fact that was left out is the other trials that resulted in favor for Jeffery.  For a truly balanced movie, that needs to be seen too.
I give it 4 out of 5 stars
It's not a story. It's what happened. It's the truth – Jeffery
No one wants to believe a father could do that – Joe
Find, shop for, and watch Investigation Discovery movies on iTunes (FTC Affiliate Disclaimer)
Click here for more information
---
---
Christmas in Mississippi – Review
Photographer Holly is finally off the road and back home in Mississippi for Christmas.  She enjoys all the fanfare around the holidays so she joins the Winter Fair decorating committee.  She is surprised to learn that her ex Mike is the supervisor.  He gives her an assignment of setting up a bake stand and she tries to ignore him.  Everyone in town, including her mother, tries to tell her that Mike isn't the same man who broke her heart.  Since watching his nephew for his brother overseas, Mike has grown up a lot.  When Holly starts to let her guard down, a phone call could derail all her plans for a future with Mike.
Ok, so this movie feels like there wasn't enough room on the Hallmark Channel for it.  The actors are trying their best but the story is slow and uninspired.  It's the typical holiday movie with the typical ending but with a splash of 'hurricane' and a photo.  So watch if you have time, but you aren't missing much.  However, in the last 15 minutes, they throw in a soldier's homecoming, a Santa, and a light show to make it interesting.  So watch if you have the time, but it isn't essential.
I give it 2 out of 5 stars
You gotta be kidding me – Holly
Did I forget to mention that – Caroline
He told me that anything worth doing is worth doing right – Jack
You are the best. I'm just the luckiest girl in the world – Betty
Let's call a truce. Peace on earth, goodwill towards exes – Mike
Find, shop for, and watch Lifetime movies on Amazon TV (FTC Affiliate Disclaimer)

---
You Killed My Mother – Review
Joanna sat in a waiting room to hear if her mother would live or die.  Nurse Lynn tells her that an emergency liver transplant has been rejected by Dr. Miriam's board due to her mother chronic alcoholism.  She panics, holds a knife to Lynn's throat, and threatens to kill her if she doesn't save her mom.  Two years later, Joanna is almost done serving her time in a mental institution and her Aunt Molly is glad to be there for her.  Joanna promises to be on her best behavior but Molly has no clue who Joanna really is.  With knowledge from her dad, help from her boyfriend, and quiet patience, Joanna will seek revenge on Miriam, Lynn, and anyone else in her way.  Her way into their lives is an online romance with Bobby, Miriam's son.
Root for Joanna.  That is the best way to enjoy this film.   The people around her are so naive and absent-minded.  She is cunning, conniving, and lethal.  A perfect combination for a Lifetime movie.  Her ability to make traps are uniques and somewhat fun.  But it's those brilliant traps that are her undoing.  What makes this movie different is that it peels back Joanna's psychopathy slowly by showing her past with each of her parents during moments in her revenge.  Joanna is smarter than most Lifetime killers but falls into the same trap.  That is disappointing.
I give it 3 out of 5 stars
Terrific. Next silly question – Joanna
Let's just say my job sucks sometimes – Miriam
Hostility will get you nowhere – Lynn
You sure are daddy's little girl, aren't you – Jimmy
My father doesn't want anything from me. He's dead – Bobby
Find, shop for, and watch Lifetime movies on Amazon TV (FTC Affiliate Disclaimer)
Click here for more information
---
Disney's Stuck at Christmas: The Movie – Review
While Rachel is in France with friends, the Diaz kids are cooking.  They realize that Rachel's job was keeping track of the timer and they don't know how long to steam the food.  So Harley calls the one person who knows: her Abuela.  None one wants to call because she will ask if they are coming to visit for the holidays.  And each year they have an excuse not to fly to Florida.  However, when her Abuela doesn't ask, Harley feels she has given up on them.  So Harley convinces her parents to get last minute tickets to Florida by foregoing the kids big Christmas gift: A Pool Table.  The Diaz kids are angry with Harley until she tells them Abuela has given up on them ever visiting.  Now the Diaz family are headed to Florida.  By plane, car, and bus.
If this sounds like a simple story, then you obviously don't watch this show.   Each step of the way, a hurdle is presented to the family and they overcome it together.  While Rachel's brand of sass is missed, Daphne feels in the gap.  And for the first time, we get to see mom ready to fight for her cubs (and show where Daphne gets her spirit).  While dad proves that a penny head up isn't always good luck, Harley will use her knowledge of being a middle kid to help another.  The family provides lots of laughs while delivering a heart-warming message about family.
I give it 4 out of 5 stars
Here comes the ask. Are you as scrunchy as I am right now – Harley
You mean lie – Tom
That is a ho-ho-horrible idea – Lewie
If anyone wants to be my new BFTF, there's an opening – Ethan
You gave back our big gift, so maybe lose the judgy – Daphne
We found the sleeper seats – Beast
Oh, he's got 2 seconds before I'm all up in that – Suzy
And Daphne is your perfect gift – Georgie
Find, shop for, and watch Disney movies on Amazon (FTC Affiliate Disclaimer)

---
The Spruces & The Pines – Review
Julie Pines is back home for Christmas.  She is not surprised to see the family rivalry between them and the Spruces have carried on.  Both families own Christmas tree lots and hate stepping one foot on each other's property.  So when Martha asks Julie and Josh Pines to make a bakery delivery to Dave Spruce, they try hard to resist but say yes.  During the delivery, Julie spots a man trying to tie a tree to a roof.  Being an expert tree tie-er, she is quick to help him and learn his name is Rick.  They have an immediate connection.  The next day, Rick accidentally, on purpose runs into Julie again at a coffee shop.  It's then that he reveals that his Uncle is Dave Spruce and he is Rick Spruce.  Julie runs like she is on fire and calls off any future run-ins.  But it's only a matter of time or prank before they see each other again.
Now did you really think you could get through the holiday season without a Romeo and Juliet movie?  There must always be at least one.  Now it will take some time to reveal the family's past rivalry, it won't take much for this movie to tug at your heartstrings.  When Julie and Mr. Pines talk about getting rid of her mother's things or missing her star, you start to get misty eyed.  Don't worry.  You won't be crying for long when the pranks start.  These two families will stop at nothing to get the best of each other.  So come for the forbidden love story and say for the pranks.
I give it 3.5 out of 5 stars
Dad is that a naked Christmas tree – Julie
What if I wanted to – Rick
You got to know the difference between a pine and a spruce Rick. It's our family name – Dave
You want something for your notebook. Write this down. Stay away from the Pines – Holly
Find, shop for, and watch ION movies on iTunes (FTC Affiliate Disclaimer)

---
Magical Christmas Ornaments – Review
Marie works for a publisher in the non-fiction sector of a publishing company.  She has been extremely successful but wants to move into fiction editing.  She decides to practice her speech but is overheard by her neighbor Nate.  In a quick conversation, she complains about Nate's Christmas music not knowing it was him.  He jokes with her about the classic but she reveals she has lost her Christmas spirit.   But her mom and dad have found a way to fix that.  Each day they are sending her ornaments to remember the good times.  But these ornaments seem to predict her real life.  She is not sure why, but she believes it's Christmas magic.  But when she is asked to work with her ex Carl, she hopes that magic will make him disappear and bring Nate closer.
This movie makes you wonder if there really was magic in Marie's ornaments.  They did a great job of predicting the future.  But that wasn't their only magic.  One by one they brought back Marie's Christmas spirit by reminding her of all her best Christmas memories.  Now, there is never any drama between Nate and Carl.  Remember this is Hallmark, not Lifetime.   The drama is between Carl and Marie, especially when he reveals how much of a snake he truly is by taking credit for her work.   While this plot is original, the last 30 minutes are predictable so that can be skipped.
I give it 3.5 out of 5 stars
Magic only exist in fairy tales not in real life – Marie
Could you have been any more vague – Andy
If you have any more special request, you can put them on my door – Nate
Probably off a cliff. Am I right – Clark
Find, shop for, and watch Hallmark movies on Amazon (FTC Affiliate Disclaimer)

---
My Christmas Prince – Review
Samantha has gotten the job offer of her dreams and can't wait to tell her boyfriend and diplomat, Alex.  Though she loves Alex, she is still uncomfortable with his bodyguard being around but never speaking.  Alex is surprised to hear that her job will be a 3-year commitment with no summer breaks.  He was hoping to travel with her for the summer and take her to his home country.  She is shocked by his revelation because whenever she has given him an invite to go to Wyoming, he has always said no.  So she goes to Wyoming to clear her head and enjoy a hometown Christmas, but Alex decides to take her offer.  Within 5 minutes of being in town, Alex is spotted as a Prince.  Samantha had no clue, although it does explain his bodyguard.  Alex and Samantha's picture is taken and online the next day.  Soon the Queen hears her son not only has a girlfriend but she is an American commoner from Wyoming.  She sends 2 people to straighten out the Prince and remind him of his obligation to his country.  But he only wants to be obligated to Samantha.
YES, QUEEN!!! To find someone who can be polite and rude at the same time is magical.  Normally when a Lifetime mom is this controlling, someone ends up dead.  But since this is a Christmas movie, everyone lives.  This queen goes so far flying in her "daughter in law" choice to Wyoming.  However, when Samantha's mother, feels the Prince might not be right for Samantha, the look on Felicia's face is a pure shock.  It is amazing.  This movie is one that will make you put down the wine and grab some tea.  It's just too good.
I give it 4.5 out of 5 stars
I've fallen in love with some very special parts of it – Alex
Prince Alexander, it's you. It's really you – Heidi
What an interesting hobby – Mrs. Logan
you're serious. Are you serious right now – Samantha
He's a prince, not an ax murder – Jim
But he's a prince – Felicia
Jim and Samantha Logan with Alex – Patrick
Then what am I doing in this line?  Bye bye – Leann
Find, shop for, and watch Lifetime movies on Amazon TV (FTC Affiliate Disclaimer)

---
Dating Game Killer – Review
Tammy played on the beach with her best friend Becky when a man came up and asked to take their photo.  They posed for a few pictures before Becky's mother Joanne stepped in and stopped him.  He quickly backed off but continued to watch from afar.  Later, Tammy's mom Carol gets a phone call from Tammy's dance school.  They informed her that Tammy never showed up for her first day of practice.  Carol alerts the police that her daughter was missing and Joanne & Becky give his description to a sketch artist.  That sketch looks like a Dating Game contestant who has been wanted to rape and attempted murder.   The ripple of Rodney's wrath is still being felt today, one photo at a time.
If you aren't disgusted with the justice system yet, you will be after watching this movie.  So many times Rodney was behind bars but he kept getting out due to technicalities, misunderstandings of child molesters, and clerical mistakes.  After he rapes and strangles a little girl, he is allowed to be a counselor at an all-girls camp because they didn't do a background check.  Even to this day, his count of victims is an estimation.  We may never know.  Watch this movie with your children and teach them the warning signs.
I give it 5 out of 5 stars
He knows how to work the system and now he's on TV – Jim
Women, always trying to control my life – Rodney
Get that pervert behind bars. Who knows what else he has done – Joanne
He's a monster – Carol
Find, shop for, and watch Investigation Discovery movies on iTunes (FTC Affiliate Disclaimer)
Click here for more information
---
Christmas at Holly Lodge – Review
Sophie and Callie are awaiting their Christmas regulars to the Holly Lodge.  Callie believes that the Lodge performs one miracle a year.  Sophie only has one miracle in mind: Keeping the lodge.  She hasn't told her friends that she is 6 months behind in payments and may not make it to January.  She is doing everything she can to save it, even if it means selling it.  It hurts to consider selling it because the land has been in her family for 4 generations and her parents built the lodge.  Evan has been given a job.  To investigate a lodge for his company's latest acquisition.  They want to buy it and turn it into an exclusive high-end luxury resort.  His boss asked him to visit the lodge for a day to see how everything is run and collect information.  When Evan gets to the lodge, he makes eye contact with Sophie and falls for her.   She feels the attraction too.  But when Sophie learns the truth she will shut him out, try to force him out, and keep him close.
This is a funny movie with some Home Alone elements.  It performs several holiday miracles as promised while giving each character a backstory when they arrive at the hotel.   You have a recent widow, an army wife, newlyweds, and children.  Since they come to the Lodge every year, they have their own traditions.  You may want to incorporate them into your own family this holiday season.  Sheryl Lee Ralph is true to form as a tough-talking and wise woman, but one gift will show her soft side.
I give it 4 out of 5 stars
I'll say it. I love that man – Evan
Can't let you have Christmas without me – Nadine
Come on down. What am I, a game show host – Sophie
I feel like excited about this – Art
Well let's not jump to conclusions – Callie
Find, shop for, and watch Hallmark movies on Amazon (FTC Affiliate Disclaimer)

---
Miss Me This Christmas – Review
After a night of working/partying, Franklin comes home the next morning.  His wife Gina, along with her family, checked his Instagram feed and notice he has several pictures with his ex-girlfriend.  Since Franklin is unwilling to give an explanation, Gina decides to get back at him by making him jealous and showing up to his job with her ex-boyfriend.  After a huge fight, Gina asks for a divorce.  During the proceedings, Franklin and Gina realize their divorce will be finalized on their anniversary, Christmas Day.  To deal with her pain, Gina stays in the penthouse of the hotel she was married in, parties, and drinks.  The suite is owned by her best friend Trish.  Trish tells Gina to just live it up and have fun.  But when she meets Ulysses, her life will spin out of control and onto a ring.
Sigh.  If these two stop playing games and had a grown-up conversation, there would be no needed for a movie.  If you get past the childishness, it's a fun movie to get lost in.  Trish is the best friend you need and you don't need at the same time.  She offers the comic relief for the serious and romantic moments in the film.  While this is an ok film, it just seems like a jump off point or a backstory for TVOne's next holiday movie about the hotel, it's owners, and its' staff.  So watch this movie as a prequel with little depth.
I give it 2.5 out of 5 stars
Make sure you scrub extra hard to get the skank off – Gina
It doesn't have to be your thing, just his – Trish
I didn't – Chris
We got married on Christmas – Franklin
'Thursday' already go it's shot this week – Holly
You still fighting, you still love him – Ulysses
Find, shop for, and watch TVOne movies on iTunes (FTC Affiliate Disclaimer)

---
Christmas in Angel Falls – Review
Michael is an angel that delivers assignments to other angels and reminds them of the rules.  They must offer guidance but not interfere.  While he is fond of all the angles he helps, the one who needs him the most his Gabby Messenger (get the pun!).  Gabby has a hard time not interfering, so he gives her a special assignment.  He sends Gabby to Angel Falls but she isn't helping just 1 person, she is helping the entire town.  Since the factory closed down, a lot of people had to take jobs farther away.  Leaving little time for Christmas, so the town just lost it's Christmas Spirit.  People stop buying trees, cancel the pageant, and hire decorators for the store.  This breaks Gabby's heart, so she is ready for the challenge to save the town.  But can she help without interfering?
Good story with a great cast.  Each townsperson has their own story of loss or sadness around the holidays.  So the loss of Christmas spirit isn't just about a factory it's about the relationships within the town itself.  As Gabby helps, she starts to fall in love with the towns renaissance man and jack of all trades name Jack (yep, that's his name).  Since it's Hallmark, they had to add a love story between an angel and a human, but don't worry it won't end that way.
I give it 4 out of 5 stars
Hey, everything will be alright. Don't give up hope – Gabby
You shouldn't get involved in things you don't understand – Michael
It was a very small tree – Jack
Find, shop for, and watch Hallmark movies on Amazon (FTC Affiliate Disclaimer)

---
Christmas In Evergreen – Review
Allie is ready to leave the town of Evergreen and move to DC to be closer to her boyfriend Spencer.  She has a job and home all lined up she just needs to sign the contracts.  She says goodbye to her furry patients and heads to the airport.  But first, she stops by her parent restaurant and shakes the magic snow globe.  The legend of this town is if you shake the snow globe and wish from the bottom of your heart, your wish will come true.  She then heads to the airport, well she tries to head there.  Things just keep slowing her down.  On the other side of the road, Ryan, along with his daughter Zoe, are driving to the airport to fly to FL and catch a cruise.  On their way, Zoe gets hungry and they detour to Evergreen.  They hear Allie having car problems and offer to help.  Her car starts and she directs them to her parents' restaurant.  Inside, Zoe shakes the show globe and makes a wish.  It's these wish that will lead Zoe and Allie exactly where they want to be, even if it's where they were.
This story is a sweet love story between Allie and Ryan, but it is also a story of Zoe's remorse.  While Ryan is trying to keep Zoe for being sad and missing her mom, Zoe is trying to remember her and honor her Christmas spirit.  Seeing Zoe's love for Evergreen is wonderful.  While the townspeople, the Mayor and Festival organizer, are a bit over the top, they are there for comedic relief.  So, walk away and refill your glass during these scenes.  Focus on Zoe.  Oh, and there is a bonus love triangle in there too.
I give it 4 out of 5 stars
I even hear they have an airport now – Allie
Happy moving to DC day – Spencer
Former resident – Ezra
Give me a break – Michelle
Wow, this is what Christmas should look like – Zoe
The festival is going to be great and its all because of you – Ryan
Find, shop for, and watch Hallmark movies on Amazon (FTC Affiliate Disclaimer)

---
Bobbi Kristina – Review
Bobbi Kristina – TVOne – 2 hours and 0 minutes
Bobbi Kristina carries a deep guilt after her mother's passing.  She regrets telling her mother she hated her.  Also, she almost drowned in the tub before Whitney died and was saved by her mother.  She feels like it should have been her.  She is now feeling the pressure to continue her moms legacy while trying to forge her own identity.  Bobbie Kristina hates being alone so she allows Nick to continue to live with her and be with her every step of the way as her play brother.   However, when Nick learns Whitney's will does not involve him, he becomes focused on helping Bobbi Kristina realize her dreams.  Bobbi Kristina's hole deepens as a friend ODs, her family loses its show, Nick becomes abusive, and her addition grows.  Her story will end just as abruptly as her mother's.
The world knows about her birth and death, but this story focuses on her downward spiral.  The people around her tried to warn her about Nick.  However, it's unsure how much they knew about her drug addiction.   With flashback, you will see how Nick came to live with Whitney and Bobbi Kristina, her view on her parents' marriage, and her view on her mother's addiction.  As Bobbie Kristina tried to act and sing for her mother's legacy in a sad way she completed it.  By dying in the same manner her mother died and being involved in a toxic relationship with an abusive man, Bobbie Kristina continued the most painful parts of her mothers legacy.  The only question that went unanswered was: How did Nick and Kristina meet.  The actors did a magnificent job with portraying Whitney Houston and Bobbie Kristina.   Their work didn't stop at how their counterparts sang but walked, talked, and their micro mannerism.  It is obvious that each actor poured 100% of themselves into this project.  TV One is having a great start for their movies.  Hopefully, it will continue.
I give it 4.5 out of 5 stars
I gotta carry on her legacy – Bobbi Kristina
Me and you against the world, right? – Whitney
I loved your mother, Krissy – Bobby Brown
Sweetheart, what have you done? – Pat
We just having a man to man talk – Gary
You need to go somewhere that feeds you – Taylor
It's me and you against the world baby – Nick
---
Wicked Mom's Club – Review
Mandy has decided to move with her daughter Riley to a new town. She wants to leave behind her failed marriage and Riley drug addiction.  Mandy accompanies Riley on her first day of school to meet the other Gymnastic moms, who are also PTA Members.  She meets:
Olivia – Head of the Gym Moms, Head of the PTA, Mother of Chelsea
Suki – A Gym Mom, ousted from the group, mother of Hailey
Colleen – A Gym Mom, PTA member, flirt, married to a police officer
Reyna – A Gym Mom, PTA member, mother of Taylor
Ellis – A Gym Dad, not a part of the group, PTA member, contractor
Mandy is invited to join Olivia for drinks at the country club and yoga.  While Mandy is not used to being this highly involved in school activities, she welcomes the distraction.  Olivia offers to help Mandy with her blog and Mandy confides to her about herself and Riley.  Mandy is relieved to have a friend.  Soon, her blog skyrockets, she is helping the PTA's marketing, she connects with Ellis, and Riley is a rising star on the Gymnastics team.  Mandy and Riley are both at ease in the new town.  But as soon as they rise, they start to fall.  Mandy loses endorsement deals for her blog, Riley is suspended, Ellis's relationship with her is over, and she is in jail.   However, Mandy thinks she knows why.  Just a few days after moving in, Mandy was warned that she would end up like Ginny, a mom who committed suicide.  Then Mandy finds Beyond Good and Evil by Friedrich Nietzsche and finds a photo with Olivia's eye scratched out (FTC Affiliate Disclaimer).  Now, can Mandy stop the monster without becoming a monster?
Oh, the shade of it all.  Inspired by real events, this movie proves there is no age limit for being a Mean Girl (FTC Affiliate Disclaimer).  This movie does allow you to sympathize and root for Mandy.  While she is warned about Olivia, she wants to give her a chance.  But when things fall apart, she is quick to place the blame where it deserves.  The rally cry to join forces is heard and championed by all.  Once again, to fight a bully, you need to lay all your cards on the table and face them head-on.  There is one part that is hard to wrap your head around in this movie.  Wasn't a mom committing suicide enough to make people stand up to Olivia? They should have rallied against Olivia then.  It should not take a new mom to stir up the pot.  While this movie did juggle a lot of characters and personalities well, more interaction between the wives and husbands would have helped.  This is a great movie to watch while sipping your tea.
I give it 4 out of 5 stars
I'm not used to so much parental involvement – Mandy
But it's real – Taylor
Keep your distance from them. It won't end well. It never does – Suki
He's well trained – Olivia
I'm a great mom – Ginny
Well I guess that's on your conscience – Holly
What I would give to put that cute waiter in a doggy bag for later – Colleen
You're always sorry – Riley
You're just jealous because I have a real friend – Chelsea
Your kid's happy, you're happy. I know that – Ellis
Find, shop for, and watch Lifetime movies on Amazon TV (FTC Affiliate Disclaimer)
Click here for more information
---
All of My Heart: Inn Love – Review
With a few days until the festivities, Brian is trying to keep Jenny calm.  There is so much work to do before the Inn opens.  When one thing is fixed, 3 more seem to break.  However, Jenny keeps working hard to get things together.  But mother nature deals one striking blow, it knocks out all the electricity in the Inn.  Jenny is able to talk the guest into staying, but Brian decides to go back to Wall Street to make fast money to fix the damage.  As Brian spend more time away, Jenny is worried that the lure of Wall Street will keep him away.  She doesn't want to influence his opinion but she wants Brian to come back to small-town life.
It's nice to see a couple works together for a common goal.  And to get Brian to see the beauty of small-town life, Jenny doesn't connive or scheme, she just visits and tell him that she misses him.  This is enough to make him reconsider climbing the corporate ladder again.  This is another lesson for the couple's communications skills.  Neither wants to force the person's decisions, but they want to be heard.  It will take most of the movie and advice from friends for them to figure it out.  This storyline is a problem real-life couples, but it's Hallmark so you know how it's going to end.  So record this one and use it as background noise.
I give it 2.5 out of 5 stars
I'm from the mean streets of Manhattan, being nice is a big adjustment – Brian
I miss you. I miss us – Jenny
Don't let the suit define the man – Tony
She's clearly an amateur – Denise
Trains go both ways – Casey
Find, shop for, and watch Hallmark movies on Amazon (FTC Affiliate Disclaimer)
---
A Mother's Crime – Review
Uninvited, Danielle comes to her sister's Nikki's house. Nikki is having a birthday party for her daughter Becky. So, seeing Danielle, with a baby in tow, is an unpleasant surprise for Nikki. After a few harsh words, Nikki allows Danielle and her baby Cali to stay the night. While Nikki and Becky are asleep, Danielle takes Nikki's wallet and runs with Cali. While on the road, Cali gets sick and Danielle takes her to the hospital. Danielle uses Nikki's credit card to pay for anything the baby needs. Danielle steps out to call her boyfriend Gunner. Gunner advises Danielle to meet him so they can run together but when he learns that Cali is with them, he tells Danielle to choose. Him or the baby. During this time, Nikki is at work when her friend Millie shows her horrible news. Danielle is wanted for murdering her husband. Danielle quickly reports Nikky to the police. Soon the hospital arrests Danielle as she is about to abandon Cali for Gunner. Since Nikki is Cali closest relative, she picks her up. At first, she wants to give her up for adoption but changes her mind. Danielle signs away her parental rights and goes to jail for 7 years for manslaughter. While Danielle has given up Cali on paper, she will get her daughter back. By any means necessary.
One thing is clear, Nikki and Danielle hate each other.  But there is never a specific reason why.  Just comments about the past.  Without knowing the history behind the hatred, Nikki comes off as cold, hard, and mean.  However, her feelings may be justified.  If only we knew.  You will get a sense of how much Cali is loved and wanted.  Even if some of the love is misguided.  Especially when she is kidnapped twice within a day "for her benefit".  It becomes easy to see how Becky feels neglected and starts to resent the people around her.  While this movie has it's gaps, it's still watchable.
I give it 3.5 out of 5 stars
You got knocked up. Good for you – Nikki
She's your sister – Millie
Baby? You brought the baby with you? – Gunner
Just remember, I'm always gonna be your mommy – Danielle
No promises – Cali
I have lawyers too – Beatrice
I liked it better when it was just you and me – Becky
Find, shop for, and watch Lifetime movies on Amazon TV (FTC Affiliate Disclaimer)
Click here for more information
---
---
Ten: Murder Island – Review
Meg and 9 other students from 3 different school all meet up at a vacation home at the request of their mutual friend Jennifer.  Meg's ex-love interest TJ and her best friend Minnie are at odds about what happened the night before the dance.  Meg is doing everything she can to avoid TJ and keep her friendship with Minnie strong.  On their first night, they find an unmarked DVD and watch it.  It has a countdown, random images and clips, and the final words "Vengence is Mine".  A little freaked out they all go to bed.  Meg finds a diary page that details a girl being betrayed for a singing solo.  In the middle of the night, Meg wakes up to find one of the students hanging with a suicide note and a "1" in red paint on the wall.  While everyone thinks this is a sad coincidence, Meg notices the suicide note was written on the back of song lyrics.  The same song lyrics mentioned on the diary page.  Meg has to convince everyone that a killer is on the loose, keep everyone from going nuts, and find a killer.  And all before she's next.
Based on the novel, Ten by Gretchen McNeil, this is a really good thriller (FTC Affiliate Disclaimer). You are left to believe everyone is a killer, even a ghost.  As each person dies, you cross off another name on your suspect list.  And with Minnie off her meds, Kamiko losing it, and Ben pointing fingers, everyone is a suspect.  Also, everyone has a reason to be killed since they all bullied a girl who committed suicide a few months earlier.  You might believe you have the killer figured out but 90% will be wrong.  Sit back and enjoy a good teen thriller.
I give it 4 out of 5 stars
Anything you can't do? – Meg
You think too much girl – TJ
Everyone knows what you did Vivian – Laurie
I'm still in love with him – Minnie
I think I can help – Vivian
Some might say that's the same thing, Meg – Ben
What I saw was someone who was off her meds – Kamiko
Find, shop for, and watch Lifetime movies on Amazon TV (FTC Affiliate Disclaimer)
Click here for more information
---
Secrets – Review
Secrets – BET – 2 hours and 1 minute
Tarron believes he is a loyal husband to his wife Secret but he knows he's not faithful.  He prides himself on being a provider but he is bored with married life.  He believes he married too earlier and should be allowed to have a little fun.  After breaking off his affair with Monica, he is trying hard to stay on the straight and narrow.   Just as his career is on a hot streak, the boss invites Victoria to join the team.  Soon, Tarron and Victoria are spending lunches together and Secret is getting suspicious.  After a huge fight about trust, Tarron leaves Secret and get his own place.  In time, his family, job, and health are in shambles.  And the only way to bring everything back is for everyone to tell the truth.  Including is Tarron, his brother Jay, Secret, Victoria, and his mother.
Based on the novel, Secrets of a Housewife by J Tremble, this movie is what happens when the can of worms is opened wide poured all over the table (FTC Affiliate Disclaimer).  The story starts off as a simple cheating story but leads to blackmail, drugs, and a blood test.  It gets complicated quick.  Be prepared because the 1st hour is a boring setup and the last hour is a great finisher.   So hang in there.   The biggest problem is due to the backing track often drowning out the dialogue.  It makes it hard to hear the best and most profound parts.  Also, Tarron plays the victim too much and it comes off as whining.  However, his mobile stalker will take him and you by surprise.
I give it 3 out of 5 stars
Don't bother cleaning up – Tarron
So what about that new bike – Terrance
You can keep your son and his crusty draws – Secret
Answers to our problems isn't out there, it's in there – Steven
Nobody wears tennis bracelets anymore – Monica
My career comes first, always – Victoria
Find, shop for, and watch BET movies on iTunes (FTC Affiliate Disclaimer)
Click here for more information
---
Downsized – Review
Downsized – TVOne – 2 hours and 0 minutes
In 1991, 14-year-old Ebony and Michael got pregnant.  Their family quickly lay down their lives.  Ebony is to go cosmetology school and start doing hair.  Michael is to go to ROTC and enlist.  When they both graduate, they should get married and raise their child as a family.  Three more kids and 25 years later,  Ebony owes a salon and does makeup & hair for the stars.  Michael finished his tours of duty and completed his first book.  But years ago, the two agreed that when their oldest child finished law school, they would get a divorce and live their lives.  With the date looming, Michael is having second thoughts.  So he decides to take his family to the cabin and remove most of the technology so they can bond.  He hopes this will change Ebony's mind and save his family.
This movie covers topics of forced commitments, infidelity, communication, parental expectations, and love.  However, the saddest impact is the effect the divorce is having on the children.  Ebony and Michael attempt to keep the divorce a secret as long as possible, but the children are crushed to know the truth.  The kids try everything possible to keep their parents together.  But they will realize that they are not the problem.  So, they can't fix the issue.  Being in this cabin forces the entire family to communicate and put everything out in the open, but can the marriage last?
I give it 3.5 out of 5 stars
Capital D-I-V-A. She almost made me lose faith in humanity – Ebony
We did it – Michael
Is he blackmailing you or something – Malaysia
I have no bars, no reception. This is bad – Michelle
By wonderful, I mean terrible, horrible, excruciating – Madison
That's how it's gonna be. You got favorites now – Jr
---
Illicit – Review
Illicit – BET – 2 hours and 0 minutes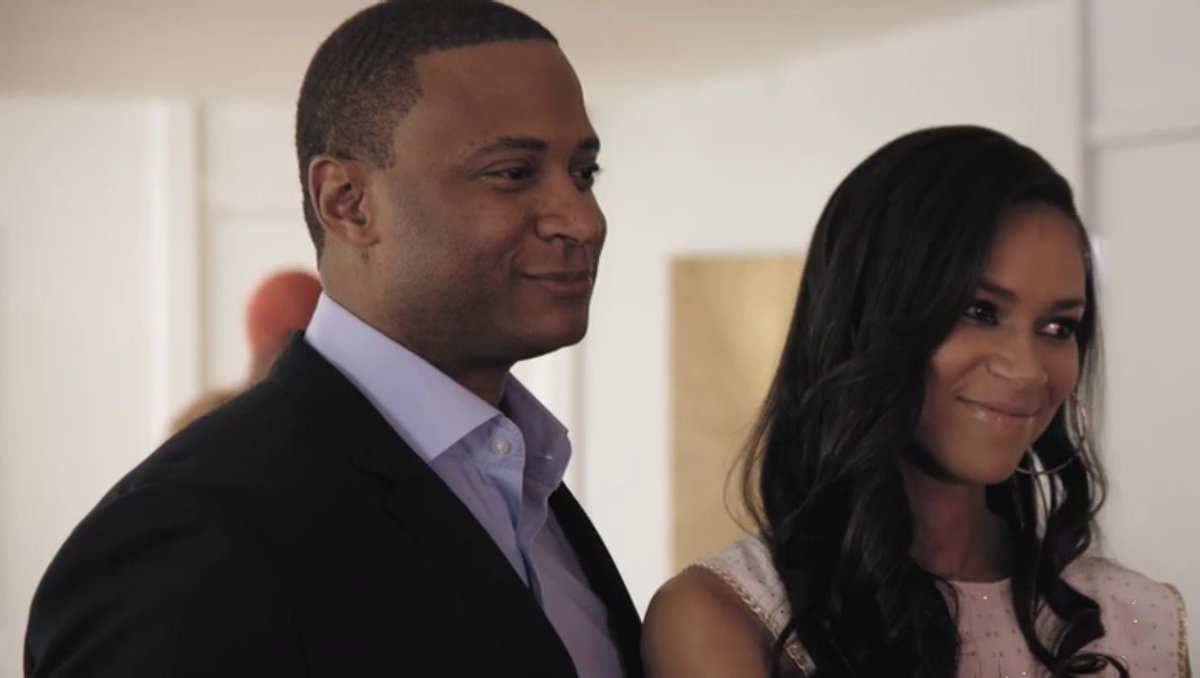 Guy, a parole officer, has worked hard to give his wife the house, car, and life she has always wanted.  Also, he is a dedicated father to his daughter.  He hopes his wife knows he is a "good one".  Sasha, a former model and jewelry designer, has sacrificed everything for her family.  She has breakfast ready in the morning and dinner by 7 every night.  She hopes her husband appreciates it.  But when she tells her husband she wants to model again, he tells her she needs to focus on their child and give up her hobby.  She lets it go until she meets a Cruise (like Uber) driver named Lance.  After a few rides, she learns he is a photographer and she agrees to take some pictures.  On the other side of the marriage, Guy has taken on a new parolee Farrah.  If he can get Farrah on the right path, he will get a promotion.  Farrah attacked her abusive boyfriend, got arrested, and put on probation.  She fears her ex-boyfriend is stalking her again and ask Guy to take her home.  Guy agrees to keep her safe and check out her apartment.  Agreeing to Lance and Farrah will turn their lives upside down and lead them into a tangled web of lies and the most uncomfortable dinner party ever.
Talk about a tangled web.  Sasha gets mixed up in a stalker with an orgy and auntie fetish.  Guy gets mixed up in a stalker with blackmail issues and a gun.  It's all crazy from beginning to end.  While the resolution is not believable, it's the best way to have this movie conclude without ending in violence.  As a viewer, it's hard to believe that this couple doesn't see the writing on the wall before the crazy stuff starts; because it's all there in black and white.  You will be yelling at the TV for them to see the writing on the wall.  But it will come too little too late.
I give it 4 out of 5 stars
Who is going to be taking care of our little girl while you are out gallivanting the world – Guy
You sacrifice for the people you love – Sasha
If I wanted excuses, I would have hired my ex – Linda
Aww hell no – Ty
You left something at my house and I thought you would need it to play husband – Farrah
Find, shop for, and watch BET movies on iTunes (FTC Affiliate Disclaimer)

---
Drink, Slay, Love – Review
Drink, Slay, Love – Lifetime – 2 hours and 0 minutes
Pearl and Jadrian go out for a date night and something to drink.  Blood.  They are teen vampires who love the hunt and believe humans are worthless creatures.  During a late night snack, Pearl is staked and wakes up at home.  Her family does not believe she was staked but her mother puts her on punishment.  She is not allowed to hunt alone and must mind herself before the Vampire king comes to town for the festival.  Her family was given the prestigious honor of hosting the event and they want to be at their best.  But Pearl, being a teen, sneaks out to hunt.  She is made as a vampire and a group of boys leaves her to burn in the sun.  However, she doesn't burn.  She walks around in the daytime shocked by how boring it all is.  Later, she comes home and shares the news with her family.  Her mother decides to use her daughter's gifts to their advantage.   Since the King will be there for the festival, they must stock up on blood.  And she wants Pearl to hunt in the daytime by going to high school and getting close to all the kids.  During her time in high school, Pearl has noticed a side effect with her new gift, she is growing a conscience and worries about her classmates' lives.  Can she help them and keep her family happy?
Based on the novel, Drink, Slay, Love by Sarah Beth Durst, this is a new twist to the vampire teen romance phenomenon (FTC Affiliate Disclaimer). The girl is the dangerous vampire and "fitting in" is nothing she wants.  Nor does she try to pretend.  She quickly puts Queen Bee on notice with a broken window and an emergency brake.  While it does have vampires and love, it also discusses responsibility and loyalty.  Pearl wants to honor her parents but she doesn't want her new friends to be hurt.  It's a lot for a teen to grasp.  This is an adventurous movie for teens and adults; it's not afraid to make fun of itself.
I give it 3.5 out of 5 stars
Don't worry. I'll leave it somewhere safe – Pearl
Kill or be killed – Bethany
A bit plain for my taste but if this is what's on the menu – Jadrian
I look really good in a tux – Evan
You always get what you want – Antoinette
Find, shop for, and watch Lifetime movies on Amazon TV (FTC Affiliate Disclaimer)
Click here for more information
---
When Love Kills: The Falicia Blakely Story – TVOne – 2 hours and 0 minutes
Falicia wanted to make enough money to get out of her mom's home.  When her minimum wage job wasn't enough to get what she needed, Falicia was introduced to stripping by her cousin.  At first, she is awkward and uncomfortable but as her money, attention, and alcohol increased, it was easier to strip.  While working at the club, she met Robert.  Robert gave her all the love and attention she wanted and he didn't care that she stripped.  But when she became pregnant, he disappeared.  Now, Falicia is stripping to take care of herself and her child.  So when Big Dino comes to the club and showers her with attention and gifts, she gives him private dances and her loyalty.  Even when Big Dino is in jail, he provides money for her rides home and prenatal care.  So when Big Dino gets out and tells her she is too good for the club, she quits.  Soon Falicia starts making plans to take classes, but Big Dino reminds her that classes cost money.  And to get the money, she needs to dance.   Falicia is back in the strip club and starts turning tricks in the champagne room.  But when she says no to a paying customer, Big Dino headbutts her.  With an apology, some gifts, and a declaration of love, Falicia decides to stay with Big Dino.  Since Big Dino is taking care of her and her daughter, she vows to make him proud and never make him mad again. That vow will make her pimp, rob, and kill.  Falicia will pay a horrible cost for her loyalty to Big Dino. And Falicia confesses it to the one person that needs to learn the lesson she was taught too late.
Based on a true story, this is a tragic tale of a little girl lost.  You will see how Big Dino manipulates Falicia to keeping herself trapped by blaming her, taking care of her, and using responsibility as trust and love.  However, Falicia was the biggest pawn in his game.  He constantly promises a better life and her low self-worth makes her an easy target for him.  Falicia's reality is warped because she wants to make Big Dino proud and make a better life for both of them.  But she doesn't understand that he will never be happy and always want more.  Director Tasha Smith has brought out the best in Lance Gross and Lil' Mama.  Lance uses his nice guy persona to trap you in, then he can quickly snap to the abuser.  It's remarkable to see this change in his acting ability.  Lil Mama proves she can hold her own in any role.  As she delves deeper into Falicia's dark side, you can see her eyes go vacant.  This is a standout, career-making role for her.  This movie is a must see.  Stop Domestic Violence
I give it 5 out of 5 stars
Dino gonna be real proud – Falicia
How am I suppose to believe that you love me when you don't even listen to what is say – Big Dino
---
The Immortal Life of Henrietta Lacks – Review
Click on a vendor to purchase: Amazon, Best Buy, iTunes, Target, Vudu, and Walmart (FTC Affiliate Disclaimer)


Click on a vendor to purchase: Amazon, Best Buy, iTunes, Target, Vudu, and Walmart (FTC Affiliate Disclaimer)
"Your cells are going to help a lot of people and you will be immortal" is the quote a given to the media by a doctor who performed a biopsy on Henrietta Lacks after she died. The harvested her cells and realized they could grow outside the human body. These cells have been used for research in polio, HPV, AIDS, in vitro fertilization, and more. Even today HeLa (after Henrietta Lacks) cells are being used for medical experiments. But nothing was known about Henrietta's contributions to the world, outside the medical community, before Rebecca Skloot decided to write about her. This movie is about the making of the book. After seeing her doctors treat her father unethically, Rebecca learns about Henrietta and becomes fascinated by the women who helped the world. Rebecca has to overcome doctor's, publishers, and a patriarchal family system before she could put words on paper. She finally got a chance to meet with Henrietta's children and hear their stories about their mistrust of John Hopkins, further experimentation of the family, and how they came to know of their mother's importance. But she and Henrietta's youngest daughter Debra want to know more about her mother. Rebecca is willing to oblige and take Debra, but she doesn't understand that Debra's mistrust of people and the abuse she has suffered will make working with her difficult. As Rebecca and Debra learn about Henrietta, HeLa, and the family's history, Debra starts to breakdown. What will it take to make Henrietta as famous as her cells? And what toll will it take on Debra?
Based on the biography, The Immortal Life of Henrietta Lacks by Rebecca Skloot, is a well acted, written, and directed piece of film (FTC Affiliate Disclaimer). It's hard to believe this movie went straight to HBO. It is remarkably shot to show the countryside of Clover and its contrast, the city of Baltimore. The actor's passion is seen in each shot to get the family's essence and perspective just right. Watching this movie and how the family was treated will make you angry and feel hurt, but use this as a teaching tool to understand why some don't trust doctors or hospitals. And just when you believe the family has been taken advantage off enough, you learn about their past. And it's not pretty or healthy. But as proof that the strength of the HeLa cells runs through this family. Don't miss this film.  Warning, you may need tissues for the last 15 minutes of this film.
I give it 5 out of 5 stars
You better get yourself ready girl, because you got no idea what you got yourself into – Debra
Come on in– Lawrence
Ms. Rebecca, you better run while you can – Sunny
She didn't donate nothing. They took them and didn't ask – Barbara
Mess with Henrietta and she'll sic HeLa on your ass – Debra
If he needed a ride to the hospital, he could take a cab – Zakariyya
Gal, you ain't only one ain't scared of fire – Mr. Cofield
Sometimes learning is as painful as not knowing – Paul Lurz
Click on a vendor to purchase: Amazon, Best Buy, iTunes, Target, Vudu, and Walmart (FTC Affiliate Disclaimer)

---
The Other Mother – Review
The Other Mother – Lifetime – 2 hours and 0 minutes
Jackie is thrown for a loop when her daughter Taylor comes home from Paris with her new stepmom Tiffany. Jackie's ex-husband Mitch, tells her Jackie that the marriage was spur of the moment. Jackie seems ok until Tiffany starts undermining her parenting of Brooke. Tiffany is telling Brooke to quit classes, flirt, and drive without a license. Jackie's relationship with her daughter has eroded so much that she wants to live with her father. While Jackie's life is falling apart, Tiffany and Brooke are getting closer. But when Brook's best friend Taylor dies, 2 words written on her hand will expose Tiffany.
This movie may not require your full attention, but it's a decent movie with a twist ending. And Lifetimers hang in there, she will be killing in no time. And once the bodies start dropping, this movie picks up the pace. While it is a fun, this movie has been done before. While its premise is good, it's been done before with a close family friend, relative, or coworker. Even the history of Tiffany is not new. It's just a common story. This is a movie to DVR and view when you have time.
I give it 3 out of 5 stars
It's not every day you get to shopping in Paris with your dad's credit card – Tiffany
My love life really isn't your business anymore – Mitch
You know Tiffany says fashion's art – Brooke
Wow, fancy – Jackie
Baking your woes away – Taylor
Find, shop for, and watch Lifetime movies on Amazon TV (FTC Affiliate Disclaimer)
Click here for more information
---
The Lost Souls Cafe – Review
At the height of soul music, Geneva had 2 hit songs. However, she had enough foresight to see that her singing days wouldn't last forever. So she saved every bit of money she could and bought a bar. She named it Lost's Souls Cafe. She employees her nephew Taylor (accountant), Ray (bartender), Stevie (waitress), and Briana (new waitress). Even though Geneva is on vacation, things are running smoothly with Taylor in charge. Until one night when Ray and Stevie are calmly confronted by a stranger. The stranger is looking for Taylor and will do anything to get him. The stranger never gives his name, just his brand of cigar. Taylor, on the outside, looks well put together, but in reality, he is falling apart. He is pocketing money from the Lost's Souls Cafe for his addiction. Soon Geneva is getting a bill from the IRS. She has 30 days to pay her $100,000 tax bill or she will lose her club. Geneva is so disappointed Taylor, she cuts him out of the family business and takes away his responsibilities. But just when Geneva thinks this is the worse that can happen, an abuse victim, a drug addict, and a phone call will put Geneva on an emotional roller coaster. Only time will tell if Geneva will keep her club and who got murdered.
This is a play-to-film movie with a lot of subject matter. Domestic Violence, Drug Addiction, Gambling Addiction, Cancer, Co-parenting, Theft, and Forgiveness. With 3 original songs, 2 performed by Loretta Devine, it's easy to forget you are watching a play without a laugh track. It does seem as if some things were cut out of the play to fit the movie into a 2-hour time slot. This movie is a great starting point to see the play in its entirety on stage. While the storyline is steady and the acting is great, the ending is anti-climatic and flat. DVR and watch when you have time with friends.
I give it 3.5 out of 5 stars
Of course, I'll come in tomorrow – Stevie
I don't repeat myself – Bryson
I already died – Briana
Not as much as I hate you coming here – Taylor
Remember I know all about the little problem you have – Pam
Drop a dime of my money in your pocket and I'm taking 50 cents out of your ass – Geneva
You said don't come in here when you open, but you closed – Delphine
---
Running Away – Review
Running Away – LMN – 2 hours and 0 minutes
Peggy believes Richard is the perfect fit for her family. After losing the father of her 2 girls, Maggie and Lizzie, she hasn't dated in 10 years. She is going through financial hardships and Richard is more than willing to give a helping hand. When Richard proposes, Peggy is ecstatic, her girls, however … not so much. They want to think their mom can do better. Later, all 3 move into Richard's home and change schools. Lizzie is happy that he has a pool. Maggie still hasn't warmed up to him. As Peggy and Lizzie settle, Maggie starts to rebel by drinking and partying. Richard keeps her secret but for a price. This price only amps up her rebellion. She starts cutting, fighting, and stealing. Seeing the changes in her, her new Chip offers to help her in any way he can. She asks for one thing: help to run away.
This is a sad tale of a little girl lost. It accurately portraits the grooming process and possessiveness of men like Richard. Also, it gives viewers insight into victimology of girls like Maggie. This movie is hard to watch but necessary. While Peggy is finding happiness by providing a better life for her children. Maggie is trying to let her mother be happy while sacrificing herself. While Richard is a tough character to handle, his opposite Chip is a breath of fresh air. He is the good guy Maggie needs. It's great that the writers made her friend a male instead of a female. This gives Maggie one good male in her life. The writing and acting were superb in this movie. It should have been 30 minutes longer to flush out biological father's character along with the missing girl. Sit back and enjoy this one. Maybe even with your teen to start a conversation.
I give it 4.5 out of 5 stars
Whoa, now that's not supposed to happen – Richard
Yeah that will sink faster than the Titanic – Peggy
No, she's not. She's trying to be happy – Lizzie
Do you mind if I just skip the movie night – Maggie
Maggie that will only bring more problems – Chip
Find, shop for, and watch Lifetime movies on Amazon TV (FTC Affiliate Disclaimer)
Click here for more information
---
Woman on the Run – Review
After moving to Seattle, Nomi has stayed a hermit while writing her book. Her only contact is her husband (Mark), her children (Jane and Aiden), her mentor (Teddy), and her nanny (Greta). However, when she finally put "The End" on her book, she is ready to be a full-time mother. She goes to a hotel with the family for her husband's conference when she realizes there is not milk or food for the baby. After getting the items, she heads back to the hotel but is attacked. She wakes up the next morning inside a car filling up with carbon dioxide. She gets out of the car and sees two disturbing things. A tube connecting the tailpipe to the window and a rental agreement with Greta's name on it. She heads back to the hotel only to find that everyone is calling her Greta. She confronts her husband but Mark says she is the nanny Greta, whom they fired because she attacked his wife. Now Greta has taken her place in her family and in her life. But she doesn't know why they are doing it. Nomi is determined to get her children and her identity. It will take a bell hop, Jane, and a stun gun to get the job done.
This is a slow build to a fun ride. Although it is slow, you must pay attention to all the small details. It's hard to imagine someone taking over your life and getting help doing it. But it can happen. There is one scene (and it won't be mentioned here, watch the movie) that will have your heart in our throat. You will fear and feel for Nomi. Her only concern is the lives of her children. She only contemplates the failed state of her marriage for a few moments, then it's back to Mother Lion. This is definitely one to watch.
I give it 4 out of 5 stars
Who wouldn't like her? she's so, so, blonde – Nomi
Yes, hell has officially frozen over – Mark
The longest 24 hours of my life – Greta
It's ok Aiden. Our real mommy is going to come back for us – Jane
It's a strange world – Teddy
Find, shop for, and watch Lifetime movies on Amazon TV (FTC Affiliate Disclaimer)
Click here for more information
---
Like Cats and Dogs – Review
Lara decided to get away from work and rent a house to spend time with her best friend Rose. And she is traveling with her dog, Frank. Spencer wants to get away from distractions so he can write his dissertation for his Ph.D. Spencer is traveling with his cat, Mozart. Also, he gets calls from his girlfriend Susan every day asking about his dissertation's progress. Once Spencer and Lara arrive at their rented homes, there is only one problem. The other one is there. Both Spenser and Laura thought they would have the house to themselves but the proprietor Ellen made a mistake and double booked the house. Spencer calls around to other hotels but none accept pets. They decide to stick it out and live together. But with Laura's easy going, fly by the pants nature, she soon clashes with the overscheduled and particular Spencer. To make the living situation easier, Spencer creates a treaty that sets rules for volume, pets, towels, and bathroom time. Laura has had enough and leaves but after talking to friends she decides to drive him out. While away the two miss each other and become attracted. But they both have problems. Lara is afraid of commitment and Spencer has a girlfriend. Can these two make it work?
This movie follows the Hallmark plan.
Two people don't like each other
Two people have to co-exist and don't like it
They slowly become attracted
They have a reason they can't be together
They fall in love with a declaration
It's the same movie with a different title and inanimate object. They need to do more to spice things up. Since you know how this movie will end, you pay little to no attention to the characters. This is a shame because they are very likable. The actors appeared to really embody their characters in walking, talking, and mannerism. However, this is overshadowed by a script done one too many times. Hallmark needs to bring more to the table than the same story. This movie is background noise. DVR it and watch when you need a distraction. The actors saved this movie.
I give it 2 out of 5 stars
Can't you just download it – Lara
Good idea. Wait! What? – Spencer
Ok. So, what do you want to do with your life? – Rose
It's not going to paint itself – Ellen
So, did you finally get rid of that cat guy – Tyler
Find, shop for, and watch Hallmark movies on Amazon (FTC Affiliate Disclaimer)

---