HMM
---
Hailey Dean Mysteries: A Will to Kill – Review
While reconciling her past and looking into Will's murder, Hailey is intrigued by a missing classmate named Emma.  She was last seen the night Will died.  As a college news reporter, Emma has a list of enemies.  And her personal life wasn't easier.  While Hailey barely knew her, she believes there is a connection between Emma's disappearance and Will's murder.  Hailey has her doubts about the case until a fake social media account appears, a mystery cousin was spotted the day after the disappearance, and she is almost run over.  Hailey knows this means she is close to solving Emma's case but is she close to solving Will's.
Based on the Hailey Dean Mysteries by Nancy Grace, this will finally answer the question Hailey Dean fans have had since episode 1.  But don't worry.  This isn't the end of the series.  With this good mystery, you also get a fun subplot about Fincher relationship and his strong ties to Hailey.  While this is a good story, it's not the strongest mystery.  This final part of a three-part episode had fans predicting perpetrators since the first part.  And your prediction was probably right.  So watch this movie for the "why" not the "who".
I give it 4 out of 5 stars
But I like you for you. Not for the things we do together – Hailey
For what its worth Hailey, I am proud of you no matter what happens – Jonas
I promise not to be afraid of you – Clyde
Find, shop for, and watch Hallmark movies on Amazon (FTC Affiliate Disclaimer)

---
The Wrong Son – Review
The Wrong Son – Lifetime – 2 hours and 2 minutes
A fun family day at the beach ends in a panic when Sara and Jake heard their son Ian screaming for his brother Matt.  Decades later the family believes Matt was swept at sea.  And the feelings of lost come back during Ian's wedding, especially since his father Jake died a few weeks prior in a car accident.  After learning the will is to be split between Ian and Sara, she finds a young man on her front lawn. He tells her he is Matt and he came to find his real mom.  He explains he was found ashore after suffering a seizure, put into foster care, and then adopted.  His adoptive parents finally told him the truth and he came looking for her.  Now he is ready to reconnect and be a part of the family.  While Sara is accepting, Ian is cautious.  But Matt isn't the only family member with a secret.
Slow build up, strong climax, with a lackluster ending.  You know something is off about Matt but you are not sure why he is in their lives.  As the plan reveals itself, it seems so ordinary.  There is one big reveal but it just isn't wow enough after several murders.  While this movie answers every question you have about its characters, you don't need to cancel plans to watch it.
I give it 3 out of 5 stars
Mom Help – Ian
It's a lot right now but I'm managing – Sara
You don't believe me – Matt
I'm too young to be a widow – Rachel
Find, shop for, and watch Lifetime movies on Amazon TV (FTC Affiliate Disclaimer)
Click here for more information
---
Love At First Dance – Review
Hope is a free-spirited dance instructor at DanceTopia.  While she teaches children, she also helps couples prepare for the first dance at their wedding.  As she is hoping to get a loan to buy the dance studio, she is offered to audition for an assistance choreographer job in London.  She is now questioning where she should be in life.  Eric is preparing to be the head of a brokerage firm after his father leaves the company.  He will not be alone.  His fiance Adriana's father is stepping down too.  She dreamed of running the firm since high school.  And doing it with her future husband is a bonus.  With his wedding and takeover just days away, Eric is wondering if its all enough for him.  He had a double major in college: theater and finance.  While he followed finance, his heart was in the theater.  To make the wedding smoother Adriana and Eric's overbearing mothers sign them up for dance class.  With Hope.  As Hope and Eric work together, they confide in each other and connect.
The love story has a steady pace to allow you to believe the love is real.  And the divide between Eric and Adriana allows you to see the issues without hating Hope for their doomed relationship.  This movie follows the Hallmark formula to a tee, so you watch it for character development and the jokes.  The mother's meddling will have you yelling at the screen but the wisdom of Eric's father will bring you joy.  And don't forget to spot the Hallmark card!
I give it 3 out of 5 stars
Peter was perfection on paper. Reality was something different – Hope
Who is he guarding? Is Rihana inside? – Eric
Tell me these nerves subside – Cassidy
A 93. She must have liked you – Vanessa
Find, shop for, and watch Hallmark movies on Amazon (FTC Affiliate Disclaimer)

---
---
Stalked By My Doctor: Patient's Revenge – Review
Dr. Beck was acquitted of all charges against him for the kidnapping and attempted murder of Sophie.  He can't practice medicine but was hired as a professor at Southeastern Arizona University (SAU).  While his conscience tells him to ignore the young students in his class, he constantly fantasizes about them.  He hopes he can start a new life but old habits die hard when he meets an eager student named Melissa.  Meanwhile, in LA, Sophie still has the nightmares of her ordeal and can't believe the jury didn't send Dr. Beck to jail.  Her parents hope college will be a new start but she has other plans.  She lied to her parents about attending a local school and will be attending SAU.  She plans to make Dr. Beck's life a living nightmare.
The third movie in the Stalked by My Doctor series, this movie ups the crazy factor.  It adds a subconscious, murder, and explosion.  With a plot straight from of the ID channel, Melissa takes "ride or die chick" to a whole new level.  While watching this movie, you worry about Sophie.  Not as a victim but a perpetrator.  She gets closer to getting arrested, expelled, or locked in a mental institution each time she goes after Dr. Beck.  If you are a fan of this series, #3 will not disappoint.  However, new fans should watch #1 before seeing #3.  #2 is not necessary.
I give it 4 out of 5 stars
You said you'd love me no matter what I told you – Dr. Beck
Watch me – Sophie
That is so generous of you – Melissa
Find, shop for, and watch Lifetime movies on Amazon TV (FTC Affiliate Disclaimer)

---
Hailey Dean: A Marriage Made for Murder – Review
Well-respected art dealer Victor dies to leave behind an angry artist and a disconnected wife Christy.  It's not until Hailey hears Christy arguing over the phone that she starts to look into his death.  Hailey learns the insurance company will not release the payment to Christy until they have a death certificate.  So she goes to her boyfriend Jonas to get the certificate.  Jonas finds out the nurse wanted an autopsy and the files are missing, so a certificate cannot be created.  When Hailey goes to Christy to ask her to request Victor's body be exhumed for an autopsy.  Christy hands Hailey Victor's ashes.  Jonas looks through the ashes and finds a bone fragment.  A fragment is loaded with arsenic.  Victor's death is now a murder.  And by the end of this investigation, Hailey has to decide if she should do the right thing or follow the law.
Based on the Nancy Grace's Hailey Dean novels, this addition fits in perfectly with the rest of the movies (FTC Affiliate Disclaimer).  While this 3 part series of movies focus on Hailey finding out who killed her fiance, each character has his or her own arc of growth.  The bonds between each character grow stronger as you learn how deeply they cared for one another.  And you will get a compelling mystery to boot.  It comes down to the ultimate question of ethics for Hailey.  What would you choose: Right or Law?
I give it 4.5 out of 5 stars
I'm so glad you said that because I was going to make your help me whether you wanted to or not – Sabrina
Just keep buying art – Christy
You're so understanding, it makes me feel terrible – Hailey
I'm not forcing you to – Jonas
Don't break the branch Hailey; be the breeze that bends it – Fincher
Ready, for what? – Danny
Find, shop for, and watch Hallmark movies on Amazon (FTC Affiliate Disclaimer)

---
The Perfect Bride: Wedding Bells – Review
Molly has been giving her bridal boot camp for years at the local gym.  But she wants to open her gym of her own.  She is ready to take the next step in her career.  While she makes advancements, Nick has switched from wedding photographer to gallery artist.  His photos will be admired by all.  With everything going on the right track, Nick gets on one knee and ask Molly to marry him.  Without a second breath, she says yes.  The two are happy to start planning their wedding until a mistake gives them only a few weeks to get everything together.  And if things can't get harder for Molly, she learns the only person who wants to invest in her new gym is Stephen.  The man that left her at the altar.  She must navigate a bumpy present and a messy past while advancing her career.  Will Nick and Molly make it down the aisle?
The Perfect Bride will make your head spend in this new edition.  Often, Molly has fixed the lives of others while ignoring her past issues.  While she and Nick have talked about marriage, it hasn't been at the forefront of any movie in the past.  Now, the past and present will collide for long awaiting fans.  While this does have its funny moments, it reaches a plateau and fails to entertain.  It takes the focus off of the wedding planning and puts it all in Molly's relationship with her ex.  It feels as if the writers are trying to make him a major character.  Molly's past relationship should be just that, the past.  Hopefully, this is the last of Stephen's storyline.
I give it 3 out of 5 stars
Where's Steven – Molly
Wow this guy sound really good looking. I should meet him sometime – Nick
Venue? Molly, I know you better than that – Stephen
Find, shop for, and watch Hallmark movies on Amazon (FTC Affiliate Disclaimer)

---
---
Did I Kill My Mother? – Review
After passing the LSAT, Natalie can't wait to share the good news with her father.  With a few joyful seconds, her world is turned upside down. Her father was found murder and police have no leads.  After a year, Natalie decided law school was too much pressure and she staying home to party and drink.  After a booze-soaked night, Natalie and her mother have a huge fight.  Natalie decides to move out after she sleeps off her drinks.  The next morning, Natalie walks downstairs to see he home ransacked and her mom's body on the floor.  With an argument, condensation, and noisy neighbors, Natalie will end up in handcuffs and wonder what she did that night.
As Shelby and Natalie sit in a bar, they go over the suspects.  They even name themselves suspects.  So it's easy to see how the viewer will get tripped up.  Now, understand this is a mystery with a small body count.  If you are looking for the "friendly psycho" stories with a death every 15 minutes, this isn't the movie for you.  This is a murder mystery with several suspects and a twist at the end.  Give it your full attention so you can keep up with every intense moment.
I give it 4 out of 5 stars
Well that was fun – Shelby
The alcohol – Natalie
Find, shop for, and watch Lifetime movies on Amazon TV (FTC Affiliate Disclaimer)
Click here for more information
---
Mommy Be Mine – Review
Mommy Be Mine – LMN – 2 hours and 2 minutes
As Summer open the car door during a fight with her mom Lianne, she accidentally hits Cara with it.  To make up for her mistake, Summer shows Cara around the school.  Cara had to leave her old school after her mom passed away.  Feeling some sympathy, Summer invite Cara to hang out at her home with her friends.  They have a great time and Cara offers to tutor Summer in Spanish.  Later, Summer asks Lianne if Cara could spend the night.  This decision will leave Summer screaming for the hills.
It doesn't take long for Cara to be crazy.  Bit by bit you can see her slowly devolve and attach herself to the family.  Although his hard to decide if she wants to be Summer's sister, Lianne's daughter, or both.  At times it seems like Cara is trying to win Summer over.  And other times, it feels like she is pushing Summer away.  Experienced Liftimers will know how this movie will end and you are right.  So watch when you have a chance but don't cancel plans or open the wine.
I give it 2.5 out of 5 stars
I know right. Which it's so weird, it feels like she's been irritating the crap out of us forever – Tori
Maybe if you were home for once in your life – Summer
Ok well, I'll text you – Cara
Find, shop for, and watch Lifetime movies on Amazon TV (FTC Affiliate Disclaimer)
Click here for more information
---
The Wrong Daughter – Review
After a failed IVF treatment, Joseph will do anything to make his wife Kate smile.  So he goes on the internet and finds the daughter she gave up for adoption 16 years ago.  The young girl is named Danica and Kate is surprised to learn she was never adopted by the loving couple she left Danica to after giving birth.  With 8 rough drafts, Kate finally messages Danica and in a few moments, Kate is shocked and elated to have Danica write back.  Danica says she wants to see her too and has been looking forward to this day.  Kate arranges to meet Danica at Kate's new restaurant and get to know each other.  However, Kate doesn't know that Danica is really Samantha.  Samantha is a volatile young woman with attachment issues that lies, cheats, steals, and kills to keep anyone in her life.  And she has stolen the real Samantha's laptop and pretends to be her to get a new mother.  Now Samantha will happily be Danica to keep Kate in her life … and only Kate.
This thriller follows "The Wrong" movie series to a tee.  With the unsuspecting loving parent, the nosey friend, and the crazily attached person, it's easy to see where this movie is going.  You sit and wonder how long it will take for Kate to see what her best friend Melissa realized from the moment she saw Samantha.  Joseph and Kate make it all too easy for Samantha to weave herself into their lives.  So its only fitting they end up with the wrong daughter.  If you are a fan of "The Wrong" series, sit back and enjoy.  Otherwise, this is background noise.
I give it 2.5 out of 5 stars
Break a leg – Samantha
Just stop. So now what – Joseph
I think I'm on draft eight – Kate
Find, shop for, and watch Lifetime movies on Amazon TV (FTC Affiliate Disclaimer)
Click here for more information
---
Darrow and Darrow: In The Key of Murder – Review
Miles and Claire decides to not "talk shop" for a week to focus on their relationship outside of the courtroom.  This pact is broken on their first date when Miles's sister Pheobe is arrested for killing her producer Terry.  With gunshot residue on her hands, motive, and a witness to the murder via telephone call, it seems like Pheobe will be in jail for a long time. Even with all the evidence, Claire believes Pheobe didn't commit the crime.  Now Miles and Claire will be on the same side to free his sister and find the real killer.
As evidence starts mounting up, it's hard for even the seasoned viewer to believe in Pheobe's innocence.  But with an unlikeable victim, it's easy to see how anyone could have shot him.  And that's what gives the story its bark.  Now to understand the reasoning behind the murder, you must pay full attention to the movie.  It'ssuspensefull and keeps you hooked.  Also, the subplots are strong and touching .
I give it 4 out of 5 stars
I swear if you do that, you'll be sorry – Terry
It's call mindfulness, you should try it so time – Claire
Oh, you poor thing. You think this is normal – Joanna
Not yet – Miles
Find, shop for, and watch Hallmark movies on Amazon (FTC Affiliate Disclaimer)

---
---
Prescription for Danger – Review
Ivy is working all-nighters as a software engineer to create a stronger, faster app. She starts to hear a high pitch sound in her ear and passes out. When she wakes up, Dr. Laurie tells her she has a cancerous brain tumor. He continues her she will die within a year without the treatment, but her tumor is inoperable and chemo will only prolong her life by a few months.    After seeing her mother suffer through chemo treatments, Ivy wants to forgo them.  He then gives her medication to help ease her symptoms.  Ivy hides the truth from her friends in order to save them pain.  A few days later, Dr. Laurie tells Ivy about an experimental drug that will cost a lot of money.  Ivy is willing to pay whatever he wants to get in the trial and start the treatment.  But Ivy doesn't know that Dr. Laurie is fighting a malpractice suit for giving a patient unnecessary medication, extorting money, and almost killing her.  Ivy is risking her life and money to save her life.
Too slow and just a bore.  It's hard to get excited about a movie that just drags on and on.  You are waiting for something to happen and it never does.  You are actually begging for someone to be killed just to make it interesting.  This movie can be skipped.
I give it 1 out of 5 stars
Oh you'd be surprised – Dr. Laurie
Why are you doing this to me – Ivy
Find, shop for, and watch Lifetime movies on Amazon TV (FTC Affiliate Disclaimer)
Click here for more information
---
Lethal Admirer – Review
Lethal Admirer – Lifetime – 2 hours and 4 minutes
Lloyd is happy to tell his mother about his date with his co-worker Megan.  He thinks she is amazing and held strong after her fiance was killed.  Also, she has given him tips on how to win while being an introvert and 'game-less'.  But when he hears she is moving, his mother tells him to act and show this girl he truly loves her.  The only obstacle is Megan has no idea Lloyd likes her.  She has put him in the friend zone and started dating.  As people around her die, she still trusts him.  What will it take for her to see Lloyd's truth?
This movie should be titled 'Danger in the Friend Zone' as Lloyd stalks Megan's every move on social media and with a camera.  With all this stalking, its the encouragement calls from this mother that leaves a sick feeling in the pit of your stomach.  The first 1.5 hours is a slow burn, the last 30 minutes are action-packed.  So use this movie as background noise until the last 30 minutes.  Then give it your full attention.
I give it 3 out of 5 stars
'Game' may win you a date but never a mate – Megan
I have no game – Lloyd
Find, shop for, and watch Lifetime movies on Amazon TV (FTC Affiliate Disclaimer)
Click here for more information
---
Reap What You Sew: An Aurora Teagarden Mystery – Review
Aurora is happy to hear Poppy's amazing news.   Her online crafty blog is exploding, she is getting a book deal, and will be going on a tour.  Poppy is so happy to have all her dreams come true.  So when Poppy is late for an important dinner, Aurora and Sally go to check on her.  They find Poppy dead with a stab wound in her abdomen, an open door, and an envelope on the front porch.  At first, Sally lies and tells Det. Arthur the envelope was empty. She knows the letter hides a secret that could finger her friend as the number one suspect. However as time goes on, Aurora will need help from her club to nail down a killer from 4 possible suspects.
Add this new mystery to the amazing Aurora collection. With several strong misdirects, you will continue to second guess your choice. While most will get it right, it's still fun to watch Aurora get under everyone's skin. While the reason for the crime is derivative, it's still exciting to see everything unfold. Watch this when you can dedicate the time and your full attention.
I give it 4.5 out of 5 stars
Oh yeah, you are terrible at keeping secrets – Aurora
You can't go alone – Sally
You can put the chair down now, Ro – Arthur
Find, shop for, and watch Hallmark movies on Amazon (FTC Affiliate Disclaimer)

---
---
Mommy's Little Angel – Review
Katie has gone through so much in her short life.  Her mom Shawna has an addiction to pills and her abusive father Darren spent 3 years in prison for beating Shawna.  And late one night, Darren comes banging on their door looking for Katie.  So Shawna leaves town to live with her cousin Nikki.  In a few moments, Katie is in love with Nikki's home but fears her mother will be a problem.  However, that problem is short-lived when her mother apparently commits suicide.  Katie quickly transitions to calling Nikki "mommy" and Nikki is happy to start adoption proceedings.  Katie makes up her mind that Darren, Nikki's new baby, nor Nikki's husband Luke will stand in the way of being the only child in a happy family.
Nothing is creepier than a cute kid on a warpath.  And what makes little Katie even creepier is that she knows she does bad things but wants to be good.  Seeing what this sweet-faced girl is capable of will send a shiver up your spine.  She will use a car, knife, and a flight of stairs to become a good girl.  As everyone tries to warn Nikki, you want to yell at the screen.  But don't worry, it won't take long for her to see Katie is a Problem Child to the 10th degree (FTC Affiliate Disclaimer).
I give it 4 out of 5 stars
I wanna live with Nikki forever. And no one can stop me – Katie
I just don't think she's comprehended it yet – Nikki
Where are they – Shawna
Find, shop for, and watch Lifetime movies on Amazon TV (FTC Affiliate Disclaimer)
Click here for more information
---
Mistress Hunter – Review
Jackie is getting small hints that her husband Carl is cheating.  So, on a hunch, she follows him when he leaves work for an unscheduled lunch break.  Jackie sees Carl arrive at a motel, kiss a woman, then go inside the room.  She is heartbroken and furious.  She goes straight to her friends to vent.  While telling her story, her friend Valerie tells her about a sub-urban legend called the Mistress Hunter.  Jackie is skeptical about hiring her but changes her mind after a fight with Carl.  Jackie goes to a sketchy warehouse and meets the Mistress Hunter.  Even though she hates the moniker, Hanna loves to make cheating spouses squirm.  She offers Jackie 2 choices:
Turn the cheating couple's life into hell causing them to break up while collecting evidence for a divorce
Break up the couple and push him back into Jackie's arms
Jackie is only interested in option 1.  Hanna tells Jackie that in order for their plan to work, she would need to help.  Hanna doesn't want to do anything illegal so she will need Jackie's help.  Otherwise, the two women will never see or speak to each other again.  Everything seems to go as plan until 2 people turn up dead leaving Jackie the #1 suspect.
This is an incredible story.  The Mistress Hunter is a private investigator on the warpath.  It's easy to see why someone in Jackie's position would hire her.  But when Jackie becomes a suspect, she starts suspecting Hanna.  Figuring out the killer is a tough task for the viewer, even though the "why" becomes obvious.  It's this reviewer's prediction that the Mistress Hunter will become the next Dr. Foster.  Don't miss this one.
I give it 4.5 out of 5 stars
See, this is me engaging – Carl
Not feeling great – Jackie
Uh, I hate that name – Hanna
Tell him to go to hell – Valerie
Find, shop for, and watch Lifetime movies on Amazon TV (FTC Affiliate Disclaimer)

---
Deadly Deeds: A Fixer Upper Mystery – Review
Marie asked Shannon to help with a charity project.  She wants to turn a large home into affordable apartments for low-income families.  They hope that several families can use it to get back on their feet.  Jim and his son Elliot is one of those families.  They are happy to help Shannon and a handful of volunteers fix the home.  As Shannon is handing out assignments, she hears the bank president Mr. Potter and Jim arguing.  Soon, Shannon learns Mr. Potter hates the project because it doesn't make enough money, he doesn't want to give handouts, and he has foreclosed on most of the people volunteering.  With no love loss, Shannon is still stunned to find Mr. Potter dead.  While he was not the most liked guy, she has to find the killer.  If she doesn't, the project will be as dead as Mr. Potter.  But can she handle the truth even when a friend becomes a suspect?
With an unlikable victim, there are countless suspects for Shannon to investigate.  Your head will spin with possibilities.  There are multiple, yet viable, misdirects in the storyline and a surprising killer.  While the reason for the crime does fall flat, the investigation is solid and highly entertaining.  Based on the Kate Carlisle book series, there is much more to explore and be entertained by in this film series (FTC Affiliate Disclaimer).
I give it 4.5 out of 5 stars
What I get in return is the satisfaction of helping people – Shannon
You're making fun of me – Mac
I always thought Shawn was kinda cute – Jennifer
The kind of man that doesn't rely on handouts – Mr. Potter
I thought you knew. Pretend I didn't say that – Callie
Find, shop for, and watch Hallmark movies on Amazon (FTC Affiliate Disclaimer)

---
Love, Once and Always – Review
Lucy has gotten good news and bad news in the same moment.  Bad news: her great-aunt Grace died, leaving her a huge estate that she has cherished ever since she was a little girl.  Good news: she is up for a promotion as Vice President of a museum in London.  She heads back to the states to sign the paperwork to transfer the property.  She is glad to be back but is jolted when she sees her ex Duncan is still living there.  His family has been taking care of the property since he was a child.  However, when he accompanies Lucy to the lawyer's office, she is bewildered.  The lawyer tells her that Grace left 50% of the property to each of them.  She wanted them to come to a decision about the house's future because she knew they both loved it.  Lucy can't wait to restore it back to its glory days.  But Duncan can't wait to turn it into a golf retreat.  Lucy is disgusted at the idea of changing it but Duncan knows they can't afford to fix it.  These two need to make a decision before they lose everything, including each other.
With a strong, superb cast, this movie is funny in its own right.  While it does follow the Hallmark format of ex-lovers forced to work together, their path differs because the whole neighborhood is at stake.  The neighborhood knows the history of the home and their relationship.  They will do everything to keep both running strong.  Seeing them butt in is hilarious and worth the watch.  DVR and watch on a rainy day.
I give it 3.5 out of 5 stars
The follies of youth – Lucy
How can you be so blind to the bottom line – Duncan
Find, shop for, and watch Hallmark movies on Amazon (FTC Affiliate Disclaimer)
Click here for more information
---
---
Cooking with Love – Review
Cooking with Love – Hallmark – 2 hours and 0 minutes
Kelly is a shy assistant producer of The Little Gourmet.  When the executive producer Amanda announces she plans to move on, she tells Kelly to step up if she wants the job. The network head John is eyeing Adam for the role but she believes Kelly has what it takes.  So when the host of the show slips a disk, Adam is quick to offer a suggestion but Kelly counters with Chef Steven Harris.  This name makes everyone nervous because he has recently got into trouble.  However, when Kelly explains his meltdown went viral overnight, John knows clicks equals ratings.  Kelly is ecstatic to have her plans in place.  Those feelings are slowed down when Steven becomes the biggest pain in her side.  He knows he needs the show to get good press, but he wants to do it his way.  With Adam saying 'yes' and Kelly saying 'no', Kelly will have to compromise for her future and the show.  Of course, it's not long before love is in the air.
Watching Kelly and Steven one-up each other is highly entertaining.  In the past, these scenes can come off as childish, this movie handles it wonderfully and in an adult manner.  With the spark between the two characters, it's their connection to the little gourmets that take center stage.  As they talk to the children about their hopes, dreams, and fears, you get a sense of compassion from Steven and a strength from Kelly.  That's the glue that ties this movie together.  So DVR and watch on a rainy day.  Just have some food nearby.
I give it 3.5 out of 5 stars
I'm not wearing it – Steven
Steven, I hear you truly. Just have an open mind – Kelly
Find, shop for, and watch Hallmark movies on Amazon (FTC Affiliate Disclaimer)

---
Disney ZOMBIES – Review
Disney ZOMBIES – Disney Channel – 1 hour and 45 minutes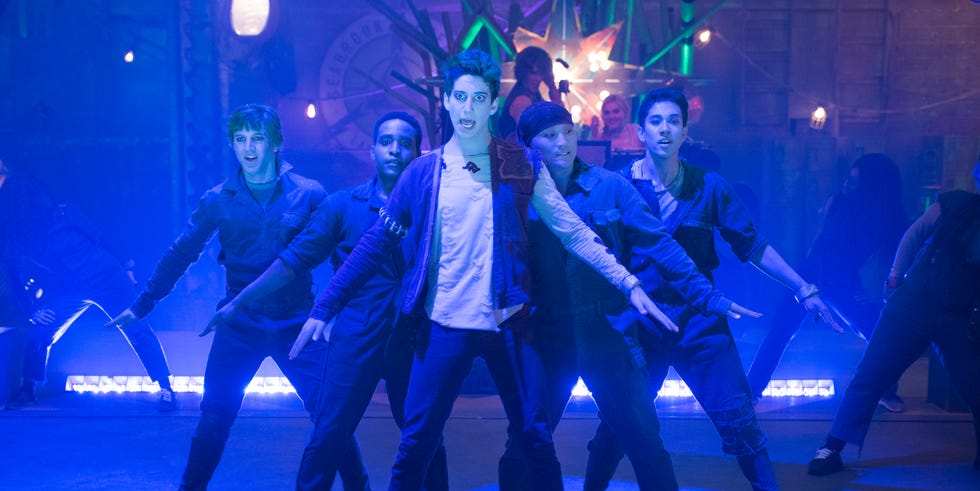 Fifty years ago, a bottle of lime soda caused the zombie apocalypse.  To keep uninfected people safe, a large wall was created to keep the zombies out until science helped them.  Now, zombies were a Z-band that sends a soothing pulse that removes their craving for brains.  One of those zombies is Zed.  Zed is excited about his 1st day at a human school.  With other zombie kids by his side, they hope to be accepted and he wants to be on the football team.  Addison is a human in the perfect town of Seabrook.  She knows zombies will be attending her school but she is too focused on her freshman year in high school and trying out for the cheer squad.  But Addison is hiding an imperfect.  She has bright white hair.  There is no cause and no fix.  She knows her hair will make her an outcast.  Her parents tell her to wear a wig all the time.  After a misunderstanding, Addison and Zed end up in a zombie safe room together.  This moment will change Seabrook and Zombieland one cheer at a time.
This movie is a great way to start a conversation about tolerance, bigotry, and acceptance.  With conversation, many of our prejudices can be removed but we have to take a stand for the wrong we see.  With bringing things down to a human/zombie level, kids of all ages can relate.  This movie also provides a strong soundtrack and dance routines (FTC Affiliate Disclaimer).  You will be excited to learn both.  With a strong premiere, a sequel is surely in the works.
I give it 3.5 out of 5 stars
Don't get any ideas buster.  The only thing more dangerous than my high kick is my low kick – Addison
Hey if you smell smoke, stop, drop, and roll – Eliza
I got your back. I just don't want anyone to break your heart or devour it – Bree
I wasn't doing anything especially not cheering – Zoe
Yea, for a human right? – Zed
Zombies distract people from wants really important.  Like cheer, pep rally, me – Bucky
Find, shop for, and watch Disney movies on Amazon (FTC Affiliate Disclaimer)

---
Signed, Sealed, Delivered: Road Less Traveled – Review
As the POstables start their day, they find a camera with a partial address written in shaky handwriting.  They develop the film inside and see several photos.  First, people in 80s clothing.  Next, a road sign overexposed on another image.  Then, some photos in a store.  But the image that caused concern was a note that said, "Find me, daddy.  We in a grey car. I want to go home".  They worry the child may have have been kidnapped and start looking through a database for Missing and Exploited Children.  However, after speaking with the hotel, they learned the 80s pictures were from a class reunion 3 weeks ago, not the 1980s.  They worry this child is in danger and they go on a mission via road trip to find him with the pictures as clues.
This movie dives deeper into the characters than any of its predecessors.  While searching for the young boy, the two pairs work on communication and trust.  Oliver notices something on Shane's phone.  He tries to keep his thoughts aside but later asks her about it.  She asks for his trust to keep that part of her life private.  Rita knows Norman is holding something back, but can't tell what.  But when the POstables learn of Norman secret, they will all get a chance to steer it.  However, when they solve the mystery, they learn secrets can cause more harm than good. But communication is the best way to help.  This road trip of mystery is one of the best POstable movies yet.
I give it 4 out of 5 stars
There are 100 things to do?! – Rita
Sometimes it's the imperfections in life that make something perfect – Oliver
Do I have to? – Shane
Did I tell you I don't know how to drive that thing? – Norman
Find, shop for, and watch Hallmark movies on Amazon (FTC Affiliate Disclaimer)
Click here for more information
---
Very, Very, Valentine – Review
Helen has a successful flower shop with her friends and co-works Aunt Carol and Sarah.  Her friend Henry works at the botanical gardens.  Everyone who sees the two believes they should be a couple, but Helen is quick to say they are just friends.  Henry gets tickets so a Masked Black & White Ball and ask Helen to be his plus one.  At first, Helen says no but Aunt Carol asks her to start taking risks.  So she goes to the ball and starts talking to a man she believes his Henry.  When she realizes it isn't him, she is embarrassed but makes an impression on the mystery man.  Soon she meets up with Henry who has to leave her to take care of business.  She spends the rest of the evening with her mystery man.  They don't exchange names but have great conversation.  He has to leave and lives behind his boutonniere.  She picks it up and tells Henry about her experience.  Since this risks as lead to an intriguing man, she wants to find him.  And hopes to find true love.  Henry vows to help her.
This movie throws you in a lot of directions in Helen's love story.  First, you believe the college friends will start to date and fall in love.  Then, when Helen hits it off with the mystery man, you believe they will fall in love.  Next, when Henry acts as Cyrano for the mystery man, you don't know who is truly in the relationship with Helen.  But as the story unfolds with a buyout, you believe you know that last act.  You don't.  This movie has an ending ala Friends finale (FTC Affiliate Disclaimer).  Sit back and enjoy it.
I give it 3.5 out of 5 stars
Yes, he is very handsome. I can see why you mistook him for me – Henry
What's life without a little risk Helen – Caroline
You look like Zorro – Helen
You are a wonderful surprise – Charles
Here, have a cookie. You need it more than I do – Sarah
Find, shop for, and watch Hallmark movies on Amazon (FTC Affiliate Disclaimer)

---