---
Disney's Beauty and the Beast – Review
Beauty and the Beast – Budget of $160 million – 2 hours and 9 minutes
Click on a vendor to purchase: Amazon, Best Buy (Exclusive Set), iTunes, and Target (Exclusive Set), and Wal-mart (FTC Affiliate Disclaimer)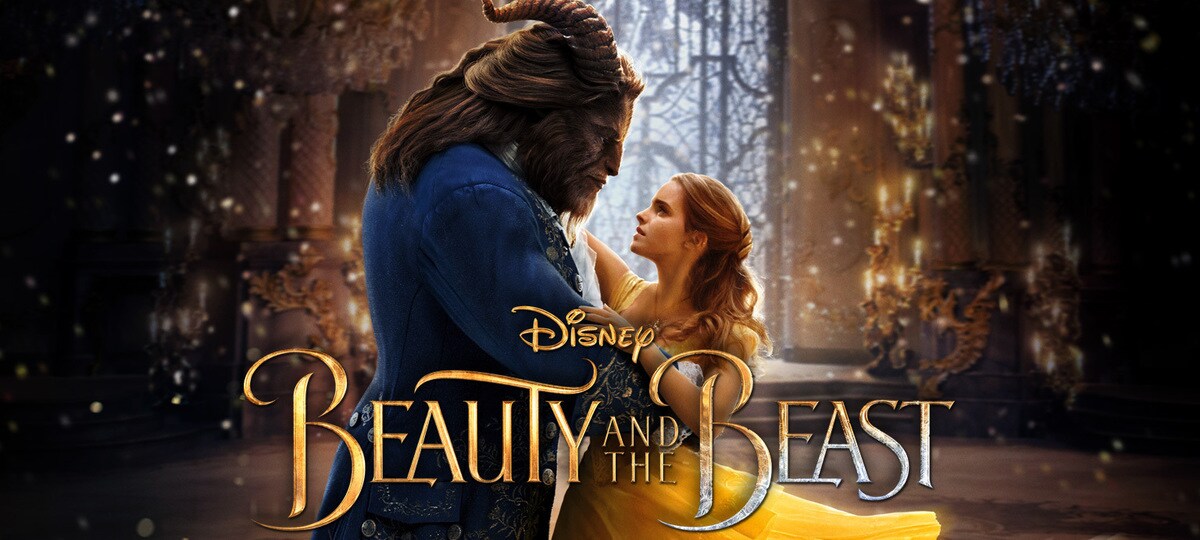 Click on a vendor to purchase: Amazon, Best Buy (Exclusive Set), iTunes, and Target (Exclusive Set), and Wal-mart (FTC Affiliate Disclaimer)
A long time ago, an egotistical prince turned away a woman in need because she wasn't beautiful. When she offered a rose in exchange for help, he only laughed. The woman turned beautiful and then cursed the prince to be a beast and all those who lived in the castle to become inanimate objects. The rose is kept in a glass case where a petal falls ever so often. If the prince doesn't find a woman to fall in love with him before the last petal falls, everyone, including the prince, will be stuck for all eternity.
Belle is the weird girl in her small town in France. She is a smart, well-read girl that doesn't want to marry any of they guys in town. She loves spending time helping her father, doing her chores, and visiting her quaint library. Gaston, on the other hand, thinks Belle is the most beautiful girl in town and she should be with the most handsome man … himself. He asks her on a proper date and she quickly says no. She finds Gaston ghastly and a brute. However, pushing away is advances only makes him want her more. When Maurice (Belle's father) doesn't return with his horse Phillippe, Belle goes off to find him. Belle finds her father in the castle of the Beast. She decides to take her father's place in the dungeon. The living inanimate objects believe she can break their spell and set her free about the castle to get to know the man behind the beast. While Belle is at the castle, Maurice goes back to town and ask for help to get his daughter back. Of course, this means Gaston to the rescue, but for how long?
Now, this is a story you may know. So, for all my hardcore Disney fans, sorry for the long explanation in the paragraphs above. While the live adaptation of the cartoon is very popular, they must:
This is a hard sell for a classic movie. But Disney, once again, does a good job. They recreated classic scenes, songs, and dances while giving fans new elements and songs. Now be prepared the ending is a little … just a smidge … different but still good. Now the biggest problem is when the movie switch from live action to computer graphics. This transition is extremely noticeable and takes away from the viewing experience. While this live adaptation should be seen on the big screen, it should not be seen in 3D. So as they say, if you want to see it, Be Our Guest. LOL. Sorry … couldn't help it.
I give it 4 out of 5 stars
She is so well reading you are so athletically inclined – LeFou
It's the ones who play hard to get that are the sweetest prey – Gaston
Your mother was fearless – Maurice
Mom said I wasn't supposed to move because it might be scary – Chip
A minute of forever – Belle
She is not coming back – Beast
Excuse me. Grandmother. Attack – Mrs. Potts
Turn back to a clock. Turn back to a clock – Cogsworth
The man has taste – Lumiere
Ow another cavity – Maestro Cadenza
Click on a vendor to purchase: Amazon, Best Buy (Exclusive Set), iTunes, and Target (Exclusive Set), and Wal-mart (FTC Affiliate Disclaimer)

---
The Last Word – Review
The Last Word – Budget Unknown – 1 hour and 58 minutes
Click on a vendor to purchase: Amazon, Best Buy, iTunes, Target, and Walmart (FTC Affiliate Disclaimer)


Click on a vendor to purchase: Amazon, Best Buy, iTunes, Target, and Walmart (FTC Affiliate Disclaimer)
After a failed suicide attempt, Harrietta (an obsessive control freak) starts to think about her obituary. After reading a few, she stumbles upon a writer she likes, Anna. Harrietta marches to Anna's job and demands Anna write her obituary. She gives Anna an alphabetized list of family, friends, and colleagues along with their favorite restaurants so Anna can interview them. Also, she gives Anna until Monday to deliver. Anna wants to say no but her boss tells her that Harrietta's advertisements keep their newspaper afloat. Anna must make Harrietta happy to keep the newspaper open. Anna interviews are horribly disastrous. No one has anything nice to say about Harrietta. Anna does the best that she can to create the obituary and turn it in. Harrietta is extremely disappointed in Anna's work and lets her know it. It's then that Anna tells Harrietta that the writing isn't the problem, it's the subject. After some research and hurt feelings, Harrietta comes to Anna's home unannounced with writing tips for Anna. Every obituary Harrietta has read has 4 parts:
Family who loves them
Co-workers who admire them
Help the life of a minority or physically disabled
A wild card
With a family that hates her, co-workers who fear her, no charity work, and no wild card, Harrietta sees where Anna has issues. So, Harrietta asks Anna to help her fix her life to improve her obituary.
This film is sharp and has great comedic timing, even though it covers the rough topic of death. Although Harrietta does work hard to change her life, her core self (strong, bold, brash) remains the same. While others think she is tough, she just wants people to live up to their potential and take a risk. But in the course of this story, both Anna and Brenda (the minority Harrietta helps) grow and become stronger. They even take the all-important road trip to see an estranged family member together. While a bonding movie isn't unique, this movie was written in a refreshing way. The strong female leads aren't apologetic for being strong, but hold firm in their resilience.  This is definitely one to watch in theaters.
I give it 4 out of 5 stars
Thank you for your approval – Harrietta
You should be so lucky – Ronald
I'm happy. I have a good life and you should be a part of it – Elizabeth
Well, I'm not sorry – Anna
You gotta be something. God put you in this world to be something – Brenda
Click on a vendor to purchase: Amazon, Best Buy, iTunes, Target, and Walmart (FTC Affiliate Disclaimer)

---