---
Cooking with Love – Review
Cooking with Love – Hallmark – 2 hours and 0 minutes
Kelly is a shy assistant producer of The Little Gourmet.  When the executive producer Amanda announces she plans to move on, she tells Kelly to step up if she wants the job. The network head John is eyeing Adam for the role but she believes Kelly has what it takes.  So when the host of the show slips a disk, Adam is quick to offer a suggestion but Kelly counters with Chef Steven Harris.  This name makes everyone nervous because he has recently got into trouble.  However, when Kelly explains his meltdown went viral overnight, John knows clicks equals ratings.  Kelly is ecstatic to have her plans in place.  Those feelings are slowed down when Steven becomes the biggest pain in her side.  He knows he needs the show to get good press, but he wants to do it his way.  With Adam saying 'yes' and Kelly saying 'no', Kelly will have to compromise for her future and the show.  Of course, it's not long before love is in the air.
Watching Kelly and Steven one-up each other is highly entertaining.  In the past, these scenes can come off as childish, this movie handles it wonderfully and in an adult manner.  With the spark between the two characters, it's their connection to the little gourmets that take center stage.  As they talk to the children about their hopes, dreams, and fears, you get a sense of compassion from Steven and a strength from Kelly.  That's the glue that ties this movie together.  So DVR and watch on a rainy day.  Just have some food nearby.
I give it 3.5 out of 5 stars
I'm not wearing it – Steven
Steven, I hear you truly. Just have an open mind – Kelly
Find, shop for, and watch Hallmark movies on Amazon (FTC Affiliate Disclaimer)

---
Disney ZOMBIES – Review
Disney ZOMBIES – Disney Channel – 1 hour and 45 minutes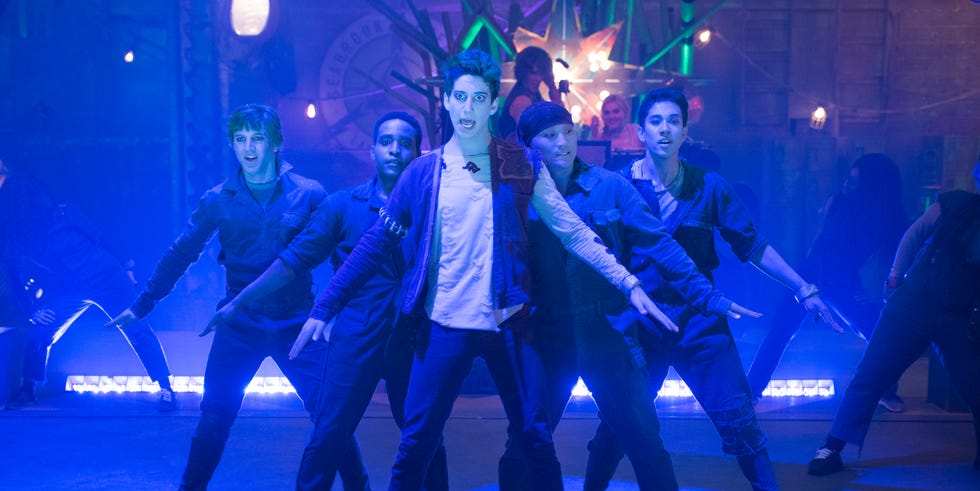 Fifty years ago, a bottle of lime soda caused the zombie apocalypse.  To keep uninfected people safe, a large wall was created to keep the zombies out until science helped them.  Now, zombies were a Z-band that sends a soothing pulse that removes their craving for brains.  One of those zombies is Zed.  Zed is excited about his 1st day at a human school.  With other zombie kids by his side, they hope to be accepted and he wants to be on the football team.  Addison is a human in the perfect town of Seabrook.  She knows zombies will be attending her school but she is too focused on her freshman year in high school and trying out for the cheer squad.  But Addison is hiding an imperfect.  She has bright white hair.  There is no cause and no fix.  She knows her hair will make her an outcast.  Her parents tell her to wear a wig all the time.  After a misunderstanding, Addison and Zed end up in a zombie safe room together.  This moment will change Seabrook and Zombieland one cheer at a time.
This movie is a great way to start a conversation about tolerance, bigotry, and acceptance.  With conversation, many of our prejudices can be removed but we have to take a stand for the wrong we see.  With bringing things down to a human/zombie level, kids of all ages can relate.  This movie also provides a strong soundtrack and dance routines (FTC Affiliate Disclaimer).  You will be excited to learn both.  With a strong premiere, a sequel is surely in the works.
I give it 3.5 out of 5 stars
Don't get any ideas buster.  The only thing more dangerous than my high kick is my low kick – Addison
Hey if you smell smoke, stop, drop, and roll – Eliza
I got your back. I just don't want anyone to break your heart or devour it – Bree
I wasn't doing anything especially not cheering – Zoe
Yea, for a human right? – Zed
Zombies distract people from wants really important.  Like cheer, pep rally, me – Bucky
Find, shop for, and watch Disney movies on Amazon (FTC Affiliate Disclaimer)

---
Signed, Sealed, Delivered: Road Less Traveled – Review
As the POstables start their day, they find a camera with a partial address written in shaky handwriting.  They develop the film inside and see several photos.  First, people in 80s clothing.  Next, a road sign overexposed on another image.  Then, some photos in a store.  But the image that caused concern was a note that said, "Find me, daddy.  We in a grey car. I want to go home".  They worry the child may have have been kidnapped and start looking through a database for Missing and Exploited Children.  However, after speaking with the hotel, they learned the 80s pictures were from a class reunion 3 weeks ago, not the 1980s.  They worry this child is in danger and they go on a mission via road trip to find him with the pictures as clues.
This movie dives deeper into the characters than any of its predecessors.  While searching for the young boy, the two pairs work on communication and trust.  Oliver notices something on Shane's phone.  He tries to keep his thoughts aside but later asks her about it.  She asks for his trust to keep that part of her life private.  Rita knows Norman is holding something back, but can't tell what.  But when the POstables learn of Norman secret, they will all get a chance to steer it.  However, when they solve the mystery, they learn secrets can cause more harm than good. But communication is the best way to help.  This road trip of mystery is one of the best POstable movies yet.
I give it 4 out of 5 stars
There are 100 things to do?! – Rita
Sometimes it's the imperfections in life that make something perfect – Oliver
Do I have to? – Shane
Did I tell you I don't know how to drive that thing? – Norman
Find, shop for, and watch Hallmark movies on Amazon (FTC Affiliate Disclaimer)
Click here for more information
---
Very, Very, Valentine – Review
Helen has a successful flower shop with her friends and co-works Aunt Carol and Sarah.  Her friend Henry works at the botanical gardens.  Everyone who sees the two believes they should be a couple, but Helen is quick to say they are just friends.  Henry gets tickets so a Masked Black & White Ball and ask Helen to be his plus one.  At first, Helen says no but Aunt Carol asks her to start taking risks.  So she goes to the ball and starts talking to a man she believes his Henry.  When she realizes it isn't him, she is embarrassed but makes an impression on the mystery man.  Soon she meets up with Henry who has to leave her to take care of business.  She spends the rest of the evening with her mystery man.  They don't exchange names but have great conversation.  He has to leave and lives behind his boutonniere.  She picks it up and tells Henry about her experience.  Since this risks as lead to an intriguing man, she wants to find him.  And hopes to find true love.  Henry vows to help her.
This movie throws you in a lot of directions in Helen's love story.  First, you believe the college friends will start to date and fall in love.  Then, when Helen hits it off with the mystery man, you believe they will fall in love.  Next, when Henry acts as Cyrano for the mystery man, you don't know who is truly in the relationship with Helen.  But as the story unfolds with a buyout, you believe you know that last act.  You don't.  This movie has an ending ala Friends finale (FTC Affiliate Disclaimer).  Sit back and enjoy it.
I give it 3.5 out of 5 stars
Yes, he is very handsome. I can see why you mistook him for me – Henry
What's life without a little risk Helen – Caroline
You look like Zorro – Helen
You are a wonderful surprise – Charles
Here, have a cookie. You need it more than I do – Sarah
Find, shop for, and watch Hallmark movies on Amazon (FTC Affiliate Disclaimer)

---
Categories: Ali Liebert, Cameron Mathison, Cooking With Love, Crystal Lowe, Danica McKellar, disney, Disney Channel, Disney ZOMBIES, Eric Mabius, Geoff Gustafson, hallmark, Hallmark Movies and Mysteries, HMM, Jamie-Lynn Sigler, Kristin Booth, Made for TV, Meg Donnelly, Milo Manheim, movie, POstables, review, Very, Very, Valentine