---
Ten: Murder Island – Review
Meg and 9 other students from 3 different school all meet up at a vacation home at the request of their mutual friend Jennifer.  Meg's ex-love interest TJ and her best friend Minnie are at odds about what happened the night before the dance.  Meg is doing everything she can to avoid TJ and keep her friendship with Minnie strong.  On their first night, they find an unmarked DVD and watch it.  It has a countdown, random images and clips, and the final words "Vengence is Mine".  A little freaked out they all go to bed.  Meg finds a diary page that details a girl being betrayed for a singing solo.  In the middle of the night, Meg wakes up to find one of the students hanging with a suicide note and a "1" in red paint on the wall.  While everyone thinks this is a sad coincidence, Meg notices the suicide note was written on the back of song lyrics.  The same song lyrics mentioned on the diary page.  Meg has to convince everyone that a killer is on the loose, keep everyone from going nuts, and find a killer.  And all before she's next.
Based on the novel, Ten by Gretchen McNeil, this is a really good thriller (FTC Affiliate Disclaimer). You are left to believe everyone is a killer, even a ghost.  As each person dies, you cross off another name on your suspect list.  And with Minnie off her meds, Kamiko losing it, and Ben pointing fingers, everyone is a suspect.  Also, everyone has a reason to be killed since they all bullied a girl who committed suicide a few months earlier.  You might believe you have the killer figured out but 90% will be wrong.  Sit back and enjoy a good teen thriller.
I give it 4 out of 5 stars
Anything you can't do? – Meg
You think too much girl – TJ
Everyone knows what you did Vivian – Laurie
I'm still in love with him – Minnie
I think I can help – Vivian
Some might say that's the same thing, Meg – Ben
What I saw was someone who was off her meds – Kamiko
Find, shop for, and watch Lifetime movies on Amazon TV (FTC Affiliate Disclaimer)
Click here for more information
---
Secrets – Review
Secrets – BET – 2 hours and 1 minute
Tarron believes he is a loyal husband to his wife Secret but he knows he's not faithful.  He prides himself on being a provider but he is bored with married life.  He believes he married too earlier and should be allowed to have a little fun.  After breaking off his affair with Monica, he is trying hard to stay on the straight and narrow.   Just as his career is on a hot streak, the boss invites Victoria to join the team.  Soon, Tarron and Victoria are spending lunches together and Secret is getting suspicious.  After a huge fight about trust, Tarron leaves Secret and get his own place.  In time, his family, job, and health are in shambles.  And the only way to bring everything back is for everyone to tell the truth.  Including is Tarron, his brother Jay, Secret, Victoria, and his mother.
Based on the novel, Secrets of a Housewife by J Tremble, this movie is what happens when the can of worms is opened wide poured all over the table (FTC Affiliate Disclaimer).  The story starts off as a simple cheating story but leads to blackmail, drugs, and a blood test.  It gets complicated quick.  Be prepared because the 1st hour is a boring setup and the last hour is a great finisher.   So hang in there.   The biggest problem is due to the backing track often drowning out the dialogue.  It makes it hard to hear the best and most profound parts.  Also, Tarron plays the victim too much and it comes off as whining.  However, his mobile stalker will take him and you by surprise.
I give it 3 out of 5 stars
Don't bother cleaning up – Tarron
So what about that new bike – Terrance
You can keep your son and his crusty draws – Secret
Answers to our problems isn't out there, it's in there – Steven
Nobody wears tennis bracelets anymore – Monica
My career comes first, always – Victoria
Find, shop for, and watch BET movies on iTunes (FTC Affiliate Disclaimer)
Click here for more information
---
Downsized – Review
Downsized – TVOne – 2 hours and 0 minutes
In 1991, 14-year-old Ebony and Michael got pregnant.  Their family quickly lay down their lives.  Ebony is to go cosmetology school and start doing hair.  Michael is to go to ROTC and enlist.  When they both graduate, they should get married and raise their child as a family.  Three more kids and 25 years later,  Ebony owes a salon and does makeup & hair for the stars.  Michael finished his tours of duty and completed his first book.  But years ago, the two agreed that when their oldest child finished law school, they would get a divorce and live their lives.  With the date looming, Michael is having second thoughts.  So he decides to take his family to the cabin and remove most of the technology so they can bond.  He hopes this will change Ebony's mind and save his family.
This movie covers topics of forced commitments, infidelity, communication, parental expectations, and love.  However, the saddest impact is the effect the divorce is having on the children.  Ebony and Michael attempt to keep the divorce a secret as long as possible, but the children are crushed to know the truth.  The kids try everything possible to keep their parents together.  But they will realize that they are not the problem.  So, they can't fix the issue.  Being in this cabin forces the entire family to communicate and put everything out in the open, but can the marriage last?
I give it 3.5 out of 5 stars
Capital D-I-V-A. She almost made me lose faith in humanity – Ebony
We did it – Michael
Is he blackmailing you or something – Malaysia
I have no bars, no reception. This is bad – Michelle
By wonderful, I mean terrible, horrible, excruciating – Madison
That's how it's gonna be. You got favorites now – Jr
---
Illicit – Review
Illicit – BET – 2 hours and 0 minutes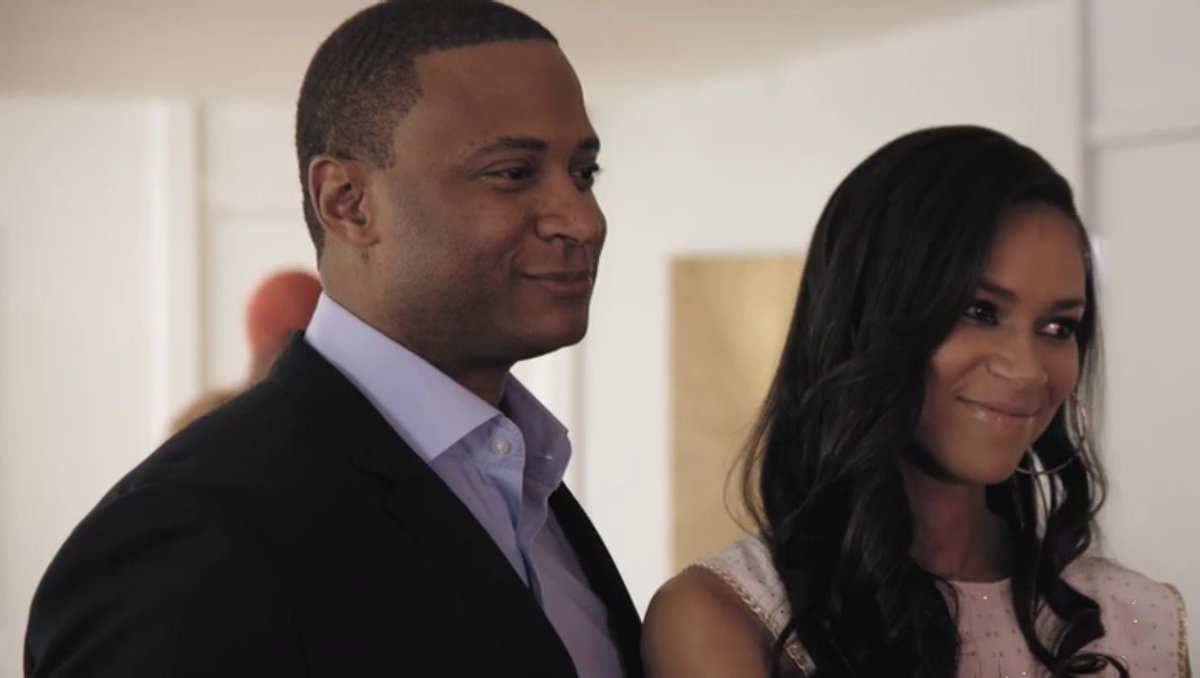 Guy, a parole officer, has worked hard to give his wife the house, car, and life she has always wanted.  Also, he is a dedicated father to his daughter.  He hopes his wife knows he is a "good one".  Sasha, a former model and jewelry designer, has sacrificed everything for her family.  She has breakfast ready in the morning and dinner by 7 every night.  She hopes her husband appreciates it.  But when she tells her husband she wants to model again, he tells her she needs to focus on their child and give up her hobby.  She lets it go until she meets a Cruise (like Uber) driver named Lance.  After a few rides, she learns he is a photographer and she agrees to take some pictures.  On the other side of the marriage, Guy has taken on a new parolee Farrah.  If he can get Farrah on the right path, he will get a promotion.  Farrah attacked her abusive boyfriend, got arrested, and put on probation.  She fears her ex-boyfriend is stalking her again and ask Guy to take her home.  Guy agrees to keep her safe and check out her apartment.  Agreeing to Lance and Farrah will turn their lives upside down and lead them into a tangled web of lies and the most uncomfortable dinner party ever.
Talk about a tangled web.  Sasha gets mixed up in a stalker with an orgy and auntie fetish.  Guy gets mixed up in a stalker with blackmail issues and a gun.  It's all crazy from beginning to end.  While the resolution is not believable, it's the best way to have this movie conclude without ending in violence.  As a viewer, it's hard to believe that this couple doesn't see the writing on the wall before the crazy stuff starts; because it's all there in black and white.  You will be yelling at the TV for them to see the writing on the wall.  But it will come too little too late.
I give it 4 out of 5 stars
Who is going to be taking care of our little girl while you are out gallivanting the world – Guy
You sacrifice for the people you love – Sasha
If I wanted excuses, I would have hired my ex – Linda
Aww hell no – Ty
You left something at my house and I thought you would need it to play husband – Farrah
Find, shop for, and watch BET movies on iTunes (FTC Affiliate Disclaimer)

---
Drink, Slay, Love – Review
Drink, Slay, Love – Lifetime – 2 hours and 0 minutes
Pearl and Jadrian go out for a date night and something to drink.  Blood.  They are teen vampires who love the hunt and believe humans are worthless creatures.  During a late night snack, Pearl is staked and wakes up at home.  Her family does not believe she was staked but her mother puts her on punishment.  She is not allowed to hunt alone and must mind herself before the Vampire king comes to town for the festival.  Her family was given the prestigious honor of hosting the event and they want to be at their best.  But Pearl, being a teen, sneaks out to hunt.  She is made as a vampire and a group of boys leaves her to burn in the sun.  However, she doesn't burn.  She walks around in the daytime shocked by how boring it all is.  Later, she comes home and shares the news with her family.  Her mother decides to use her daughter's gifts to their advantage.   Since the King will be there for the festival, they must stock up on blood.  And she wants Pearl to hunt in the daytime by going to high school and getting close to all the kids.  During her time in high school, Pearl has noticed a side effect with her new gift, she is growing a conscience and worries about her classmates' lives.  Can she help them and keep her family happy?
Based on the novel, Drink, Slay, Love by Sarah Beth Durst, this is a new twist to the vampire teen romance phenomenon (FTC Affiliate Disclaimer). The girl is the dangerous vampire and "fitting in" is nothing she wants.  Nor does she try to pretend.  She quickly puts Queen Bee on notice with a broken window and an emergency brake.  While it does have vampires and love, it also discusses responsibility and loyalty.  Pearl wants to honor her parents but she doesn't want her new friends to be hurt.  It's a lot for a teen to grasp.  This is an adventurous movie for teens and adults; it's not afraid to make fun of itself.
I give it 3.5 out of 5 stars
Don't worry. I'll leave it somewhere safe – Pearl
Kill or be killed – Bethany
A bit plain for my taste but if this is what's on the menu – Jadrian
I look really good in a tux – Evan
You always get what you want – Antoinette
Find, shop for, and watch Lifetime movies on Amazon TV (FTC Affiliate Disclaimer)
Click here for more information
---
Categories: Adam Senn, Alix Lapri, BET, Boris Kodjoe, Cassidy Gifford, China Anne McClain, Cierra Ramirez, David Ramsey, Dean Cain, Denise Boutte, Denyce Lawton, Dionne Gipson, Downsized, Drink, Slay, Love, Essence Atkins, Harold House Moore, IllicitBET, Isaiah John, Lanett Tachel, lifetime, Made for TV, McKinley Freeman, Michael Monks, Michele Weaver, Nicole Ari Parker, Racquel Bianca John, review, Rome Flynn, Sade Kimora Young, Secerts, Shireen Crutchfield, Tank, Ten: Murder Island, Tia Hendricks, TV One, tv review, Vincent M. Ward, Vivica A. Fox