Tank
---
Her Boyfriend's Secret – Review
Melissa was recommended by her friend Travis (a contractor) to decorate John's home.  She prepared several design options and he loves her work.  And her.   After flirtation exchanges, the two start to date.  Melissa thinks her new adventure loving, horse-riding, pilot boyfriend is a dream come true.  They are quickly falling for each other.  But when Carey, John's ex, visits, she warns Melissa that John is obsessive and attacked her.  Also, he lied about his job and his name.  Carey informs Melissa that he is smart and dangerous.  Melissa blows off Carey's warning until Travis warns her that John can be a little weird.  She decides to investigate John's home, car, and past.  This "great" boyfriend has more than one secret.
Seriously, how many warnings do you need!! As Melissa gets more clues to John's dark side, she continues to stay in the relationship.  While she tells Travis it's to investigate, she tells Carey she still believes him.  Melissa makes so many dumb decisions while attempting to be a smart investigator.  It's hard to care about Melissa taking John down because you are too busy yelling at the screen.  You just want to shake her.  Even though this movie leaves you wanting more from its protagonist, John can't be ignored.  His charm is infectious and his lies will leave you up at night.  He is the perfect sociopath.
I give it 3 out of 5 stars
I'm not ready – Travis
I want you to know I'm not going anywhere – John
I'm gonna post something – Ashley
You still haven't told me who you are – Melissa
Find, shop for, and watch Lifetime movies on Amazon TV (FTC Affiliate Disclaimer)

---
House of Darkness: New Blood – Review
After her husband left her a 'Dear John' letter and never came back, Brooke and her son Dylan are left to pick up the pieces.  With Judd's proposal, she feels almost whole again.  She starts to fantasize about the perfect wedding when Judd's mother Elaine's nurse abruptly quits.  He wants to go back to his family home, find a nursing home for Elaine, and sell her house.  Alison feels this is too much for him to handle alone, so she asks Judd to bring her and Dylan.  Judd is happy to have the help.  On her first night, she hears and sees things in the night.  She explains it as a side effect of her medication.  But she decides to stay because her son loves being there.  However, the longer she stays the worse her delusions get until she can't take it anymore.  Just as she is about to leave a picture, film negatives, and a file will expose the truth about the house.  And the truth doesn't care about what you believe.
This movie has a very slow build to tell the back story of both Judd and Alison while creating a connection between then and Elaine.  The movie even sets up a reason for Alison's delusions with her heavy sleeping medication.  So you start to wonder if she is having a mental breakdown.  To get in a few scares, this movie uses creepy figures, a sleeping child calling for its mother, and scary voices.  For seasoned thriller/horror pros, this movie is laughable.  The fainter at heart may jump once or twice.  But it's the truth that will leave you with more questions than answers.
I give it 3 out of 5 stars
It's ok. It's been a while since there were kids in this house – Dylan
It was Judd's favorite and Michael loved it – Elaine
There's no shame in being sensitive – Doris
Well, you better figure it out – Brooke
Find, shop for, and watch Lifetime movies on Amazon TV (FTC Affiliate Disclaimer)

---
The Bobby Brown Story – Review
The Bobby Brown Story – BET – 4 hours and 0 minutes (divided over 2 days, 2 hours each day)
Part 1
In 1980, Bobby Brown rode bikes with a friend, within minutes that friend was stabbed to death in front of him.  When he comes home after being fired from New Edition, he walks past the foyer where his friend died.  He enters a state of depression and decides to get money any way he can.  When his mother Carol sees him looking for her gun, she calls Jheryl Busby to set him straight.  He gives Bobby hope by reminding him the company is obligated to give him a solo album.  With his brother Tommy as his manager, Bobby starts a solo career.   When his first album King of Stage gets mediocre responses, Busby convinces Motown to give Bobby Brown another chance with L.A. Reid and Babyface (FTC Affiliate Disclaimer).  Motown agrees.  Bobby is happy with the second chance but he must be able to do this album his way.  That decision leads Bobby Brown to become the King of R&B.
This movie gives you 5 minutes of pre-New Edition Bobby Brown and the rest is after New Edition.  So, it's a good idea to see The New Edition Movie first.  It showcases Bobby's strong family ties and determination to make it as a solo artist.  However, he always did it with New Edtion in mind.  He always wanted to top them to prove he was needed.  That is the way Bobby handled everything in life. He was constantly proving himself to doubters.  While the first half will feel like a long music video with Girlfriend, Rock With'cha, and My Prerogative, it's a testament to the career and talent of Bobby Brown.  In case you are watching for Whitney, the couple meets, gets engaged, and gets married in this part.  But their story was never a fairytale with drugs, infidelity, and two pregnancies before they even said 'I do'.
You know if you take that thing out of here, you probably gonna have to use it – Carol
For this to work, you need to get the right producer – Ralph
So fellas, who're your stylist – Tommy
Y'all gotta let me be me – Bobby
Your son's got a real head for business – Brian
I don't know which show is better – Whitney
Oh, is that all I am? I was here before you and I will be here after you – Robyn
Part 2
Deep into his addiction, Bobby Brown is consistently on the wrong side of the law.  Drug use has made him paranoid, get in car accidents, and have a stroke.  As he lies in a hospital bed, Whitney and Bobbi Kristina, his daughter, are by his side.  They decide to stop using all drugs and get their lives back on track.  The first step, go on a vacation to the Bahamas.  The second step was to go to rehab but when the family lands, Bobby is arrested for a parole violation in Florida.  He is sentenced to a stint in jail.  It's there that he sobers up for the first time and resist the temptation of drugs.  Meanwhile, Tommy has been working on a way to rehab Bobby's image to get him back on top.  A reality show starring him and with his family.  This show solidified what their fans feared.  The world of the Browns was falling apart, no one was at the helm, and Bobbi Kristina was there for it all.  Bobby has to put his life back on track before he loses his life.
The second half of this movie is filled with so much pain and sadness, it's hard not to cry.  This movie pulls no punch but doesn't cast complete blame.  While Carol Brown refused to see her son's faults, he saw them within himself.  The same drive he put into the growth of his career, he put that same drive into the downfall of his career.  The hardest revelation in this movie is the truth all addicts bare: just as they are getting themselves together, everything around them falls apart.  As Bobby finds love, a career, and sobriety, he loses four family members in 3 years.  The movie ends on one positive note: The real reason Bobby Brown is standing today.
I give it 4.5 out of 5 stars
I'm a start without you – Whitney
We need to rehab your image – Tommy
It feels desperate – Bobby
Do I look like Whitney to you – Alicia
Find, shop for, and watch BET movies on iTunes (FTC Affiliate Disclaimer)

---
His Perfect Obsession – Review
Allison and her daughter Abigail enjoy their time together while talking on the phone with their Aunt Charlotte.  Then they hear a sickening sound.  Charlotte was hit by a car and died.  At Charlotte's funeral, Allison, Abigail, and Allison's husband Wyatt meet Bart.  Bart was Charlotte's accountant and want to help get her affairs in order as quickly and painlessly as possible.  Wyatt on the other hands sees something else, he believes Bart was hitting on Allison and wants him to stay away.   Wyatt's possessiveness leaves Allison shocked because Wyatt is having an affair.   She and Abigail overhear him talking to his mistress, so she ends their relationship and kicks him out.  Wyatt goes to drown his sorrows at a bar and runs into Bart.  After they exchange words, Bart leaves.  Wyatt believes he has won but he doesn't know that Bart has been quietly stalking Allison on social media and he feels now is his chance to make his move.   He will do anything to have Allison and Abigail all to himself.  Even kill.
With the era of social media, this story rings too true.  It's easy for a stalker to watch your page, post, or tweets for years and you never know.  Quietly creating an obsession without you knowing they exist.  And with Bart being a quiet unassuming guy, Allison would have no need to worry about her or her family's safety.  As things start to turn for the worse, Allison must count on her greatest strength: Abigail.  Being recently blinded to medication, most movies would have her be a hindrance.  But this movie shows Abigail as ABLED not disabled.  This is the most beautiful quality of this movie.
I give it 4 out of 5 stars
She cries sarcasm instead of tears – Allison
Are we all going to pretend he wasn't hitting on you right in front of me – Wyatt
I want you to leave – Alice
I may be many things but I am not clueless – Bart
Why did you park in the street – Abigail
Find, shop for, and watch Lifetime movies on Amazon TV (FTC Affiliate Disclaimer)
Click here for more information
---
Dinner For Two – Review
Dinner For Two – TVOne – 2 hours and 0 minutes
Chris prepares a soul food meal, pours a glass of wine, and plays a mix CD.  Then he hears a knock at the door.  It's his ex Angie.  She knows Chris needed her so she came by to help.  While he cooks Angie's favorite meal, the two talk about how they meet at Pierson University in 1992.  Chris was awestruck by Angie's singing voice and beautiful looks.  While they eat, they discuss their first breakup over infidelity and how they got back on track.  Angie continues to talk hoping it will help Chris stop drinking and get his life back on track.  Chris continues to talk because he hopes they will get back together and have his family again.  Angie wants him to stop looking at the past and focus on the future.  Chris doesn't see a future anymore and wants to end it all.
This is the serious talk all couples should have before they decide to break up.  This couple doesn't get loud, talk down to each other, or throw things.  They have a true heartfelt conversation.  Both have messed up in the past and married for a brighter future.  As they look back using objects, food, words, they see unfulfilled promises and multiple warning signs.  Each college scene is emphasized with wardrobe and technology to put you back in that time period.  While each is at fault, they have a hard time accepting those faults.  This movie should be used as an instructional video on how to correctly argue.  Sit back and watch with your significant other.  Have the conversation you have been too proud, too hurt, or too angry to have.
I give it 5 out of 5 stars
It's alright. People make mistakes – Chris
You know how we do. Whenever you need me, I'll be there – Angie
You know you are a good guy Chris – Jay
Find, shop for, and watch TVOne movies on iTunes (FTC Affiliate Disclaimer)

---
He's Watching – Review
He's Watching – Lifetime – 2 hours and 0 minutes
After a few FaceTime calls, Angela is worried her boyfriend Michael is cheating and she just isn't sure what to do without proof.  Then she looks up from her desk and sees Kyle., her old college boyfriend and famed photographer.  He wants help with his financial portfolio and has hired Angela's company.  But only if he can work with Angela.  The business meeting evolves into a dinner out and drinks.  The two talk about the past and talk about continuing their friendship.  However, after Kyle's art exhibit sparks fly and the two end up in bed.  The next morning Angela wakes up to breakfast by Kyle and a voicemail from Michael.  Michael's voicemail is a "first date" anniversary message for Angela that leaves her in tears.  She regrets her night with Kyle and breaks it off with the hopes they can just be friends.  She is ready to trust Michael and make their relationship work.  Kyle won't ever let that happen.
The story of Kyle and Angela is old and boring.  However, Kyle's backstory holds more promise.  He is the Bad Seed all grown up.  His ability to weasel his way into Angela's life is believable and eerie.  With just a smile and a camera, he can charm himself into anyone's life.  Another saving grace is Laurie. The comic relief, best friend says all the right things at the right time.  Plus she his handy with a gun and a computer.  DVR this one and watch it for a rainy day.
I give it 2.5 out of 5 stars
It wasn't luck, Michael – Angela
I only care what we have now – Michael
Kyle, I only do elevators on the second date – Laurie
I'm glad we can have a different kind of future now – Kyle
Find, shop for, and watch Lifetime movies on Amazon TV (FTC Affiliate Disclaimer)

---
---
Ten: Murder Island – Review
Meg and 9 other students from 3 different school all meet up at a vacation home at the request of their mutual friend Jennifer.  Meg's ex-love interest TJ and her best friend Minnie are at odds about what happened the night before the dance.  Meg is doing everything she can to avoid TJ and keep her friendship with Minnie strong.  On their first night, they find an unmarked DVD and watch it.  It has a countdown, random images and clips, and the final words "Vengence is Mine".  A little freaked out they all go to bed.  Meg finds a diary page that details a girl being betrayed for a singing solo.  In the middle of the night, Meg wakes up to find one of the students hanging with a suicide note and a "1" in red paint on the wall.  While everyone thinks this is a sad coincidence, Meg notices the suicide note was written on the back of song lyrics.  The same song lyrics mentioned on the diary page.  Meg has to convince everyone that a killer is on the loose, keep everyone from going nuts, and find a killer.  And all before she's next.
Based on the novel, Ten by Gretchen McNeil, this is a really good thriller (FTC Affiliate Disclaimer). You are left to believe everyone is a killer, even a ghost.  As each person dies, you cross off another name on your suspect list.  And with Minnie off her meds, Kamiko losing it, and Ben pointing fingers, everyone is a suspect.  Also, everyone has a reason to be killed since they all bullied a girl who committed suicide a few months earlier.  You might believe you have the killer figured out but 90% will be wrong.  Sit back and enjoy a good teen thriller.
I give it 4 out of 5 stars
Anything you can't do? – Meg
You think too much girl – TJ
Everyone knows what you did Vivian – Laurie
I'm still in love with him – Minnie
I think I can help – Vivian
Some might say that's the same thing, Meg – Ben
What I saw was someone who was off her meds – Kamiko
Find, shop for, and watch Lifetime movies on Amazon TV (FTC Affiliate Disclaimer)
Click here for more information
---
Secrets – Review
Secrets – BET – 2 hours and 1 minute
Tarron believes he is a loyal husband to his wife Secret but he knows he's not faithful.  He prides himself on being a provider but he is bored with married life.  He believes he married too earlier and should be allowed to have a little fun.  After breaking off his affair with Monica, he is trying hard to stay on the straight and narrow.   Just as his career is on a hot streak, the boss invites Victoria to join the team.  Soon, Tarron and Victoria are spending lunches together and Secret is getting suspicious.  After a huge fight about trust, Tarron leaves Secret and get his own place.  In time, his family, job, and health are in shambles.  And the only way to bring everything back is for everyone to tell the truth.  Including is Tarron, his brother Jay, Secret, Victoria, and his mother.
Based on the novel, Secrets of a Housewife by J Tremble, this movie is what happens when the can of worms is opened wide poured all over the table (FTC Affiliate Disclaimer).  The story starts off as a simple cheating story but leads to blackmail, drugs, and a blood test.  It gets complicated quick.  Be prepared because the 1st hour is a boring setup and the last hour is a great finisher.   So hang in there.   The biggest problem is due to the backing track often drowning out the dialogue.  It makes it hard to hear the best and most profound parts.  Also, Tarron plays the victim too much and it comes off as whining.  However, his mobile stalker will take him and you by surprise.
I give it 3 out of 5 stars
Don't bother cleaning up – Tarron
So what about that new bike – Terrance
You can keep your son and his crusty draws – Secret
Answers to our problems isn't out there, it's in there – Steven
Nobody wears tennis bracelets anymore – Monica
My career comes first, always – Victoria
Find, shop for, and watch BET movies on iTunes (FTC Affiliate Disclaimer)
Click here for more information
---
Downsized – Review
Downsized – TVOne – 2 hours and 0 minutes
In 1991, 14-year-old Ebony and Michael got pregnant.  Their family quickly lay down their lives.  Ebony is to go cosmetology school and start doing hair.  Michael is to go to ROTC and enlist.  When they both graduate, they should get married and raise their child as a family.  Three more kids and 25 years later,  Ebony owes a salon and does makeup & hair for the stars.  Michael finished his tours of duty and completed his first book.  But years ago, the two agreed that when their oldest child finished law school, they would get a divorce and live their lives.  With the date looming, Michael is having second thoughts.  So he decides to take his family to the cabin and remove most of the technology so they can bond.  He hopes this will change Ebony's mind and save his family.
This movie covers topics of forced commitments, infidelity, communication, parental expectations, and love.  However, the saddest impact is the effect the divorce is having on the children.  Ebony and Michael attempt to keep the divorce a secret as long as possible, but the children are crushed to know the truth.  The kids try everything possible to keep their parents together.  But they will realize that they are not the problem.  So, they can't fix the issue.  Being in this cabin forces the entire family to communicate and put everything out in the open, but can the marriage last?
I give it 3.5 out of 5 stars
Capital D-I-V-A. She almost made me lose faith in humanity – Ebony
We did it – Michael
Is he blackmailing you or something – Malaysia
I have no bars, no reception. This is bad – Michelle
By wonderful, I mean terrible, horrible, excruciating – Madison
That's how it's gonna be. You got favorites now – Jr
---
Illicit – Review
Illicit – BET – 2 hours and 0 minutes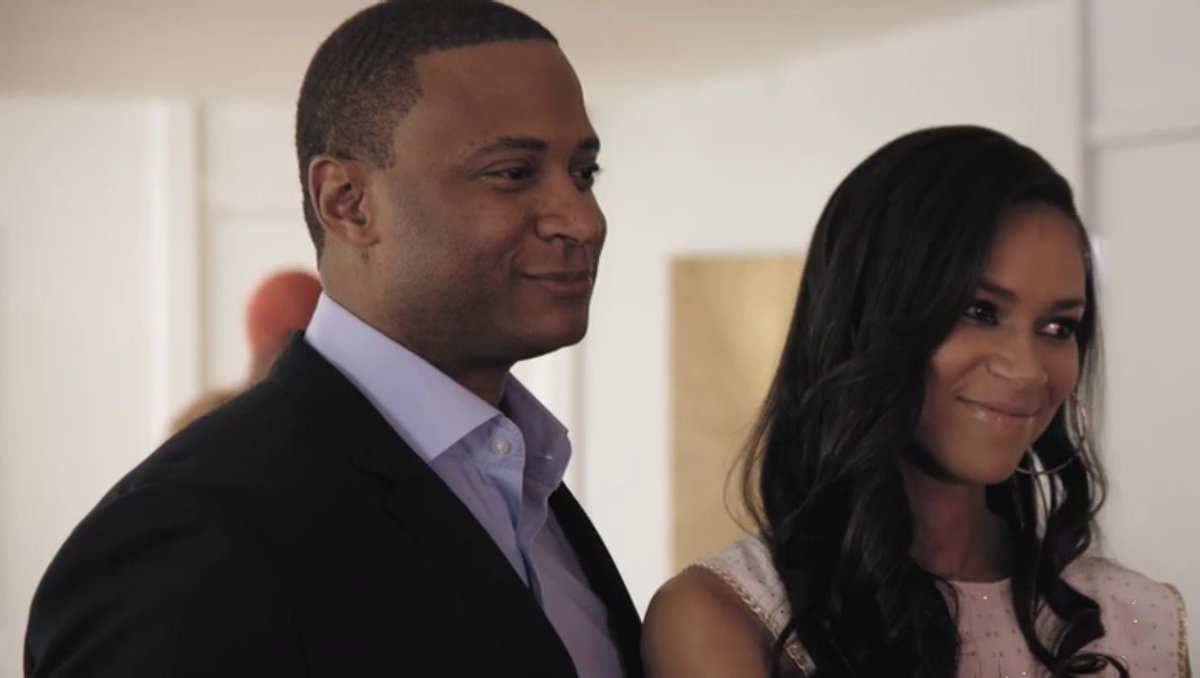 Guy, a parole officer, has worked hard to give his wife the house, car, and life she has always wanted.  Also, he is a dedicated father to his daughter.  He hopes his wife knows he is a "good one".  Sasha, a former model and jewelry designer, has sacrificed everything for her family.  She has breakfast ready in the morning and dinner by 7 every night.  She hopes her husband appreciates it.  But when she tells her husband she wants to model again, he tells her she needs to focus on their child and give up her hobby.  She lets it go until she meets a Cruise (like Uber) driver named Lance.  After a few rides, she learns he is a photographer and she agrees to take some pictures.  On the other side of the marriage, Guy has taken on a new parolee Farrah.  If he can get Farrah on the right path, he will get a promotion.  Farrah attacked her abusive boyfriend, got arrested, and put on probation.  She fears her ex-boyfriend is stalking her again and ask Guy to take her home.  Guy agrees to keep her safe and check out her apartment.  Agreeing to Lance and Farrah will turn their lives upside down and lead them into a tangled web of lies and the most uncomfortable dinner party ever.
Talk about a tangled web.  Sasha gets mixed up in a stalker with an orgy and auntie fetish.  Guy gets mixed up in a stalker with blackmail issues and a gun.  It's all crazy from beginning to end.  While the resolution is not believable, it's the best way to have this movie conclude without ending in violence.  As a viewer, it's hard to believe that this couple doesn't see the writing on the wall before the crazy stuff starts; because it's all there in black and white.  You will be yelling at the TV for them to see the writing on the wall.  But it will come too little too late.
I give it 4 out of 5 stars
Who is going to be taking care of our little girl while you are out gallivanting the world – Guy
You sacrifice for the people you love – Sasha
If I wanted excuses, I would have hired my ex – Linda
Aww hell no – Ty
You left something at my house and I thought you would need it to play husband – Farrah
Find, shop for, and watch BET movies on iTunes (FTC Affiliate Disclaimer)

---
Drink, Slay, Love – Review
Drink, Slay, Love – Lifetime – 2 hours and 0 minutes
Pearl and Jadrian go out for a date night and something to drink.  Blood.  They are teen vampires who love the hunt and believe humans are worthless creatures.  During a late night snack, Pearl is staked and wakes up at home.  Her family does not believe she was staked but her mother puts her on punishment.  She is not allowed to hunt alone and must mind herself before the Vampire king comes to town for the festival.  Her family was given the prestigious honor of hosting the event and they want to be at their best.  But Pearl, being a teen, sneaks out to hunt.  She is made as a vampire and a group of boys leaves her to burn in the sun.  However, she doesn't burn.  She walks around in the daytime shocked by how boring it all is.  Later, she comes home and shares the news with her family.  Her mother decides to use her daughter's gifts to their advantage.   Since the King will be there for the festival, they must stock up on blood.  And she wants Pearl to hunt in the daytime by going to high school and getting close to all the kids.  During her time in high school, Pearl has noticed a side effect with her new gift, she is growing a conscience and worries about her classmates' lives.  Can she help them and keep her family happy?
Based on the novel, Drink, Slay, Love by Sarah Beth Durst, this is a new twist to the vampire teen romance phenomenon (FTC Affiliate Disclaimer). The girl is the dangerous vampire and "fitting in" is nothing she wants.  Nor does she try to pretend.  She quickly puts Queen Bee on notice with a broken window and an emergency brake.  While it does have vampires and love, it also discusses responsibility and loyalty.  Pearl wants to honor her parents but she doesn't want her new friends to be hurt.  It's a lot for a teen to grasp.  This is an adventurous movie for teens and adults; it's not afraid to make fun of itself.
I give it 3.5 out of 5 stars
Don't worry. I'll leave it somewhere safe – Pearl
Kill or be killed – Bethany
A bit plain for my taste but if this is what's on the menu – Jadrian
I look really good in a tux – Evan
You always get what you want – Antoinette
Find, shop for, and watch Lifetime movies on Amazon TV (FTC Affiliate Disclaimer)
Click here for more information
---