---
Disney's Beauty and the Beast – Review
Beauty and the Beast – Budget of $160 million – 2 hours and 9 minutes
Click on a vendor to purchase: Amazon, Best Buy (Exclusive Set), iTunes, and Target (Exclusive Set), and Wal-mart (FTC Affiliate Disclaimer)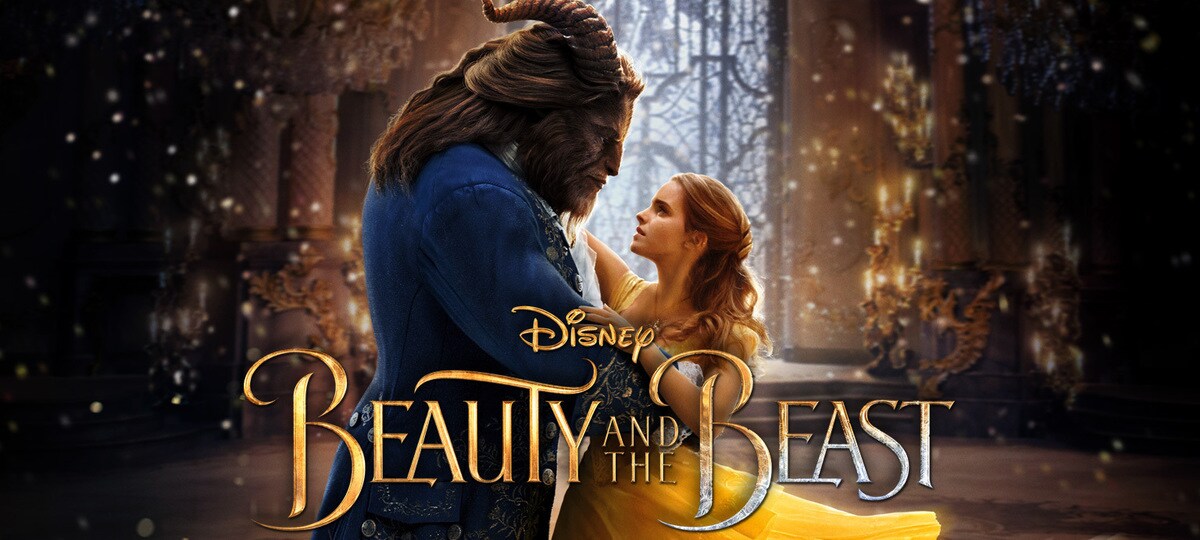 Click on a vendor to purchase: Amazon, Best Buy (Exclusive Set), iTunes, and Target (Exclusive Set), and Wal-mart (FTC Affiliate Disclaimer)
A long time ago, an egotistical prince turned away a woman in need because she wasn't beautiful. When she offered a rose in exchange for help, he only laughed. The woman turned beautiful and then cursed the prince to be a beast and all those who lived in the castle to become inanimate objects. The rose is kept in a glass case where a petal falls ever so often. If the prince doesn't find a woman to fall in love with him before the last petal falls, everyone, including the prince, will be stuck for all eternity.
Belle is the weird girl in her small town in France. She is a smart, well-read girl that doesn't want to marry any of they guys in town. She loves spending time helping her father, doing her chores, and visiting her quaint library. Gaston, on the other hand, thinks Belle is the most beautiful girl in town and she should be with the most handsome man … himself. He asks her on a proper date and she quickly says no. She finds Gaston ghastly and a brute. However, pushing away is advances only makes him want her more. When Maurice (Belle's father) doesn't return with his horse Phillippe, Belle goes off to find him. Belle finds her father in the castle of the Beast. She decides to take her father's place in the dungeon. The living inanimate objects believe she can break their spell and set her free about the castle to get to know the man behind the beast. While Belle is at the castle, Maurice goes back to town and ask for help to get his daughter back. Of course, this means Gaston to the rescue, but for how long?
Now, this is a story you may know. So, for all my hardcore Disney fans, sorry for the long explanation in the paragraphs above. While the live adaptation of the cartoon is very popular, they must:
This is a hard sell for a classic movie. But Disney, once again, does a good job. They recreated classic scenes, songs, and dances while giving fans new elements and songs. Now be prepared the ending is a little … just a smidge … different but still good. Now the biggest problem is when the movie switch from live action to computer graphics. This transition is extremely noticeable and takes away from the viewing experience. While this live adaptation should be seen on the big screen, it should not be seen in 3D. So as they say, if you want to see it, Be Our Guest. LOL. Sorry … couldn't help it.
I give it 4 out of 5 stars
She is so well reading you are so athletically inclined – LeFou
It's the ones who play hard to get that are the sweetest prey – Gaston
Your mother was fearless – Maurice
Mom said I wasn't supposed to move because it might be scary – Chip
A minute of forever – Belle
She is not coming back – Beast
Excuse me. Grandmother. Attack – Mrs. Potts
Turn back to a clock. Turn back to a clock – Cogsworth
The man has taste – Lumiere
Ow another cavity – Maestro Cadenza
Click on a vendor to purchase: Amazon, Best Buy (Exclusive Set), iTunes, and Target (Exclusive Set), and Wal-mart (FTC Affiliate Disclaimer)

---
The Shack – Review
The Shack – Budget of $20 million – 2 hours and 12 minutes
Click on a vendor to purchase: Amazon, Best Buy, iTunes, Target, and Walmart (FTC Affiliate Disclaimer)


Click on a vendor to purchase: Amazon, Best Buy, iTunes, Target, and Walmart (FTC Affiliate Disclaimer)
After an abusive childhood, Mac Phillips is raising 3 children with his wife, Nan.  His children (Kate, Josh, and Missy) are being raised in a loving home and Nan is the driving force behind the family's faith.  Nan calls God Papa when she talks to him and teaches her kids to do the same.  Although Mac's is not as devout as Nan, he attends church with them.  One day, Mac takes his children on a camping trip and has a great night under the stars.  After watching Kate cause a boating accident, capsizing the boat, Mac jumps in the water to save his son.  Once his son is breathing, instant relief is turned into instant panic when he realizes his young daughter, Missy, is missing.  After a long search, only her red dress and blood stains are found in a shack.  The Phillips family buries an empty casket.  Four years later, Mac and Kate are both drowning in grief while Nan and Josh try to keep the family together.  Then, after a snow storm, a letter appears in Mac's mailbox telling him to come to the shack for the weekend; and it's signed Papa.  Mac can't believe it, but once he realizes there were no footprints in the snow, he heads to the one place that is the sources of his pain: the shack.  Mac will endure hope, love, pain, and anger over 2 days with the people he questions the most about is daughter's murder.
Wow.  This is a true tear jerker.  If you see this movie, come with an open mind and Kleenex.  Based on the book, The Shack by William P. Young, this story covers grief, forgiveness, faith, religion, judgment, hope, and love (FTC Affiliate Disclaimer).  You will question your own thoughts and beliefs about the topic; you should discuss them after taking a long deep breath.  The cinematography was beautiful as they walked into Mac's mind and gave Mac the ability to see the world as they do.  Some moments in the book were taken directly out of the bible (some are more noticeable than others), but don't take this movie as a Christian movie.  It's just a good movie that talks about tough topics.  It should definitely be watched, but if you have lost a child, it may be extremely hard for you.  Don't be surprised if you want to read the book after watching this film.
I give it 5 out of 5 stars
If God is always with us, why does he care if we are late to church – Missy
God cares because mom cares – Nan
She ask good questions doesn't she – Kate
You lead me here. Now you don't have the guts to show. Some Papa you are – Mac
We all collect things we value, don't we. I collect tears – Sarayu
It's better if you do it with me – Jesus
You don't believe God is good – Wisdom
You have no idea how much stuff I am doing right now – Papa
Click on a vendor to purchase: Amazon, Best Buy, iTunes, Target, and Walmart (FTC Affiliate Disclaimer)

---
Categories: Alice Braga, Audra McDonald, Aviv Alush, Be Our Guest, Beauty and the Beast, dan stevens, disney, Emma Thompson, Emma Watson, Ewan McGregor, gugu mbatha-raw, Ian McKellen, In The Theater, Josh Gad, Kevin Kline, Luke Evans, movie, octavia spencer, radha mitchell, review, Sam Worthington, stanley tucci, The Shack, Tim McGraw