---
Faith Under Fire: The Antoinette Tuff Story – Review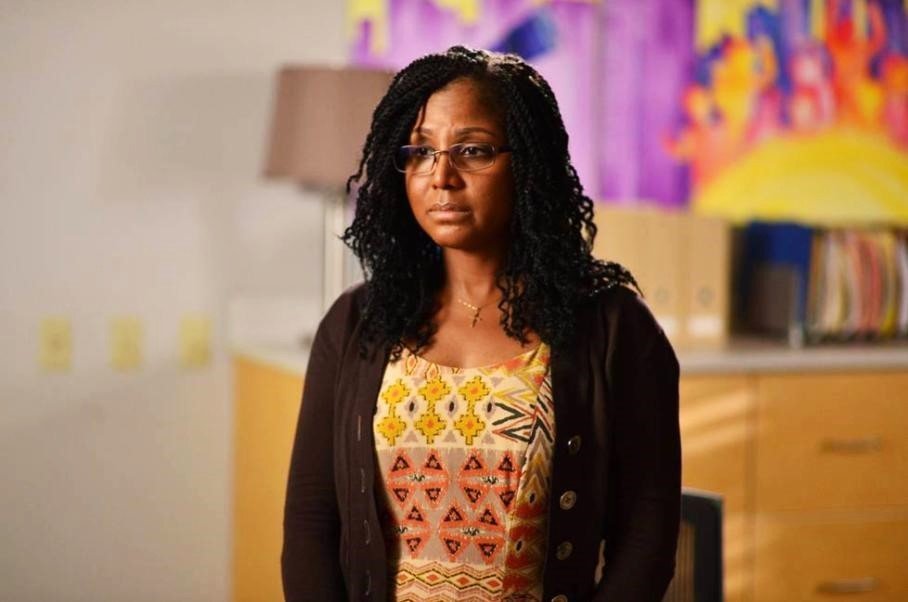 After sending her family off for their day, Antoinette Tuff went to work as a bookkeeper for Ronald E. McNair Learning Academy in Georgia.  Since the receptionist was not in, Antoinette filled in for her.  At 12:33 pm, a man stood outside the school door, then walked in.  He tried the next set of doors into the school but they were locked.  So he went into the office and pulled a gun on Antoinette and a pregnant staffer.   The gunman told the staffer to let everyone know he was there.  The school went on automatic lockdown as teachers gathered the students, took cover, and locked the doors.  While teachers keep kids calm and read books like Wynken, Blynked, & Nod, Antoinette must survive (FTC Affiliate Disclaimer).  Now Antoinette is alone with a desperate gunman and she is the only obstacle keeping him from the kids.
Based on the book Prepared for a Purpose by Antoinette Tuff with Alex Tresniowski, it's hard to believe this story is real (FTC Affiliate Disclaimer).  Antoinette used her faith, her life, and her humanity to reach out to the gunman and help him.  By taking the time to reveal her own hardships, she was able to give the gunman space to talk.  At the end, you will have compassion for people with mental illness and want to help.  This movie was well acted and treated all involved with respect.  From the gunman to Antionette to the first responders, everyone has a voice.
I give it 5 out of 5 stars
Everybody dies today. Everybody dies – Michael
Just a pinch. I'll live. I hope – Mr. Madison
Are you kidding me? Tuff? – Lt. Franklin
There's a place for everybody – Antoinette
No one was injured – Kendra
Find, shop for, and watch Lifetime movies on Amazon TV (FTC Affiliate Disclaimer)

---
Overexposed – Review
Overexposed – LMN – 2 hours and 0 minutes
Sheriff Sheila Prescott is campaigning for re-election.  She assures the townspeople she will keep their streets safe for another 2 years.  But at home, her daughter Erin has made a big mistake.  Erin was dating Taylor and invited him over.  When she said no to his advances, he threatens to send her "sext" messages all over the school.  Erin freaks out and pushes him down a flight of stairs, breaking his neck.  She grabs his phone to delete her pictures and finds pictures of several girls he has blackmailed, including her friend Joanna.  She calls Joanna for help to get rid of his body.  And she is all too happy to help.  It's not long before Sheila learns that Taylor is missing and starts a search that turns up his dead body.  Now she investigates while her daughter tries to maintain her composure.  But when her mom loses her job, someone releases Erin's pictures, and someone kills Joanna, will Erin tell the truth before she becomes the next victim.
This is a good story that takes a darker turn.  You assume it will be a movie about revenge porn but the ultimate plot is murder and coverup.  Revenge porn just supplies a motive.  The ending is a little flat because you know how one killer's story will end but not Erin's.  You want to know if she went to jail, got community service, or got off.  Experienced Lifetime fans will be able to pick out Joanna's killer but others will take a little longer.  This is a movie that you should DVR and watch later.
I give it 3 out of 5 stars
I'm sorry mom – Erin
I didn't kill him – Joanna
I tried to get as many as I could – Rachel
Find, shop for, and watch Lifetime movies on Amazon TV (FTC Affiliate Disclaimer)
Click here for more information
---
Morning Show Mystery: Mortal Mishaps – Review
Billie is a cookbook author, the proud owner of Blessings restaurant, and a staple on Wake Up West Coast cooking segment.  After the co-host dies due to a food allergy, everyone on the show believes Billie will be a shoe-in for the job.  However, her chef Maurice worries the new job will mean the end of her restaurant.  The producer Rudy tells everyone he will make is the final decision at the Blessing restaurant.  But his ex/station interim owner Gretchen hates any decision he makes.  Later, as Rudy stands before his team, he falls down and dies.  Later the police determined, he was poisoned with cyanide.  Billie is questioned by a detective Ian, who happens to be her high school sweetheart.  Ian has bad news for Billie.   Rudy was poisoned by a cake she made him.  Now she is their number one suspect.   She must clear her name and find the real killer before someone else gets hurt.
Based on the novel The Morning Show Murders by Al Roker and Dick Lochte, this is a good start for more mysteries to come (FTC Affiliate Disclaimer). There were enough misdirections and comedy to keep you entertained.  Within the murder, you have the added mystery of who is the new co-host.  And the comic relief of Aunt Cassandra will leave you in stitches.  She is a true straight shooter that loves her family.   Now there is a key moment where the killer will become obvious.  But hang on because the "why" and extra reveal is worth it.  This will be another one in HMM murder mystery movie line-up.
I give it 4 out of 5 stars
Remember you can't buy happiness but you can bake it – Billy
Good deeds make good refrigerator magnets and no one pays attention to either of them – Rudy
Does that line usually work for you – Cassandra
What can I say? Sometimes I just get lucky – Ian
Find, shop for, and watch Hallmark movies on Amazon (FTC Affiliate Disclaimer)

---
One Winter Weekend – Review
Relationship columnist Cara caught her boyfriend kissing another girl at the stroke of midnight at a New Year's Eve Party.  Now she has decided to take a break from dating.  At first, her editor, Diane, is concerned because Cara pulled information from her own life to write the stories.  But she believes Cara's relationship sabbatical could be used to their advantage.  So when Megan (Cara's friend and roommate) has a cancellation for a ski vacation, Diane urges Cara to go with Megan and have fun on her sabbatical.  Ben is trying to escape bad press by going to the mountains and keeping his head down so he can get away from media attention.  He brought his friend Dr. Sean along to make sure he keeps his mind out of the office.   When Cara and Megan arrive at their chalet, they see Ben coming downstairs.  With one document check, they discover they only booked half the chalet.  And with everything booked they have to stay together.  With both holding secrets, Ben and Cara are on a fast track to love but will they survive or crash and burn.
This follows the simple Hallmark format of annoyance to love with secrets in between.  There is nothing special about this movie that makes it stand out.  The subplot couple is a nice addition but they are the moral sounding board for the main couple.  It does have some humorous moments but it's not enough to save the movie.  If you are a fan of this Hallmark format than watch.  Otherwise, it can be skipped.
I give it 2 out of 5 stars
I don't mope, I brood – Ben
Messed up. It's all good. The more the merrier – Shawn
Outside? We just go warm – Cara
Maybe she'll listen to a doctor – Megan
Find, shop for, and watch Hallmark movies on Amazon (FTC Affiliate Disclaimer)

---
Categories: Antoinette Tuff, David Maldonado, Dewshane Williams, Faith Under Fire, hallmark, Hallmark Movies and Mysteries, HMM, Jack Turner, lifetime, lifetime movie network, lmn, Made for TV, Malik Yoba, Marguerite Moreau, Mary Katherine Duhon, Morning Show Mystery, Mortal Mishaps, movie, One Winter Weekend, Overexposed, review, Rukiya Bernard, Taylor Cole, toni braxton, Yaya DaCosta