Breaking Legs – Budget Unknown – 1 hour and 38 minutes
Click on a vendor to purchase: Amazon and iTunes (FTC Affiliate Disclaimer)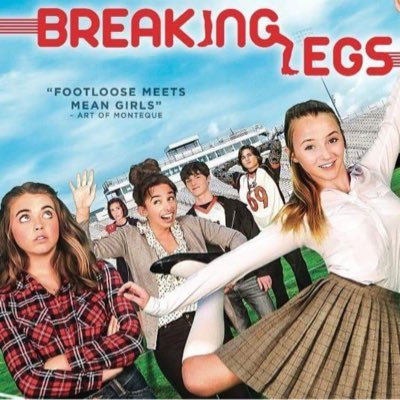 Click on a vendor to purchase: Amazon and iTunes (FTC Affiliate Disclaimer)
Bloom is the new girl in school and if that's not hard enough let's look at her life's scorecard:
Her mother died
Her father is not around
She lives with her alcoholic uncle Mayn
Her grandmother Gigi doesn't remember her
On her first day at R. Murray High, she captures the attention of Herbert. But Herbert is dating the most popular girl in school, Harmony. This puts Bloom on Harmony's enemy list in her first 5 minutes. But Bloom makes the weirdest and coolest friend named Graceland a.k.a. Gracie. This ball of energy is as friendly and kind as she is sporadic. Bloom tries to find balance in her life by dancing. However, the only studio in town charges $25 an hour.  So Gracie tells her to try out for the dance team, which Harmony is the captain. During tryouts, it's obvious that Bloom is the only choice, but Harmony refuses. Instead of fighting, Bloom wants to kill Harmony with kindness. If Bloom does something nice, then Harmony will let her on the team. Gracie tells Bloom to nominate Harmony for Honor Girl. The plan would work, but there is only one problem: Herbert nominated Bloom too. But when a string of events causes a re-vote, Bloom starts to change towards Gracie, Mayn, and the entire school.
This movie has the humor of Juno, dancing of Center Stage: On Pointe, and the solid storytelling of Edge of Seventeen (FTC Affiliate Disclaimer). Breaking Legs has all the makings of a cult classic among teens with a quick wit, strong subject matter, and multi-dimensional characters. Each character is given a passion and struggle that gives them a depth not seen in mainstream teen movies. However, you do want to know more about Bloom's father and why he isn't in her life. Also, you want to know more about Mayn's downfall from dancer to alcoholic. The biggest moment for this movie is when Mayn is there for Bloom during the biggest and most disgusting humiliation in this young girl's life. There are no words, only emotions. This film remembers the beauty of silent. So Rent or Buy this movie today.
I give it 4.5 out of 5 stars
You said a mouthful tuts – Gigi
At the rate we're going, we're going be 22 – Herbert & Jake
Why does everyone talks in riddles around here – Bloom
Where there is a will, there's a misdemeanor – Graceland
Consider it closed – Ms. Tarable
So Fresh Prince – Mayn
I love a landslide, you're the best – Harmony
A little louder hun, they can't hear you in Modesto – Lala
Click on a vendor to purchase: Amazon and iTunes (FTC Affiliate Disclaimer)

---