---
King Arthur: Legend of the Sword – Review
Click on a vendor to purchase: Amazon, Best Buy, iTunes, Target, Vudu, and Walmart (Exclusive Set) (FTC Affiliate Disclaimer)


Click on a vendor to purchase: Amazon, Best Buy, iTunes, Target, Vudu, and Walmart (Exclusive Set) (FTC Affiliate Disclaimer)
King Uther is benevolent to his kingdom and will fight any man or creature that tries to destroy them. After a huge battle, Uther's brother King Vortigern warns the guards that Uther has gotten soft. They need a stronger king to expand their territories. When the bell tolls, the guards attack all those who protect King Uther, causing King Uther to flee with his young son and wife. As King Uther puts his family on a boat, his wife is killed but his young son Arthur escapes. Arthur washes up on the docks and is found by prostitutes. As the years go by, he protects the women in the brothel and runs Londinium with his 2 friends Wetstick and Backlack. However, when Arthur opposition is protected by King Vortigern, the Blacklegs start looking for him. In an attempt to escape the Blacklegs, Arthur runs into a guard who checks for a brand (which informs them that a young man has taken a test). When they see that Arthur does not have a brand, they send him to Camelot. It is there that Arthur sees the stone with a sword. Tired of waiting, Arthur rushes through the crowd and pull out the sword, also known as Excalibur. King Vortigern knows Arthur is the rightful king and locks him in a dungeon to await execution. Arthur is adamant that he wants nothing to do with the sword or the kingdom, but King Vortigern knows that Arthur's existence is a threat to his mission of ultimate power. Arthur must escape execution, become one with Excalibur, and fight for his kingdom to become a king instead of just a legend.
This movie is visually stunning with its atmosphere, costumes, and casting. It also delivers a humorous take on very tense situations. The script does not focus on slapstick humor to make the audience laugh, but easy dialogue. Whether fighting men or creatures, each fight scene offers something new each time. Arthur's storytelling scenes are reminiscent of Ant-man but with their own appeal(FTC Affiliate Disclaimer). During one noticeable chase scene, the Steadicam appears to be attached to the actors, so you feel as if you are running along side them. Now the movie does get slow as Arthur aligns himself with friends and foes to finish his mission, but a love interest is NOT inserted in the movie as a time filler (thank goodness). This movie focus on the legend of Arthur and his sword, not a sappy love story. There is no to stay after the end credits, but the movie does leave an opening for a part 2. But to truly appreciate this movie, it needs to be seen in IMAX theaters.
I give it 3.5 out of 5 stars
We talked to them – Arthur
Hold the crown and hold it steady – King Uther
Have I not sacrificed enough – King Vortigern
Put him back on his horse – Mage
Like it or not, it's your lot. And I don't like you – Sir Bedivere
I didn't miss – Goosefat Bill Wilson
Click on a vendor to purchase: Amazon, Best Buy, iTunes, Target, Vudu, and Walmart (Exclusive Set) (FTC Affiliate Disclaimer)

---
Sleight – Review
Sleight – Budget of $250,000 – 1 hour and 29 minutes
Click on a vendor to purchase: Amazon, Best Buy, iTunes, Vudu, and Walmart (FTC Affiliate Disclaimer)


Click on a vendor to purchase: Amazon, Best Buy, iTunes, Vudu, and Walmart (FTC Affiliate Disclaimer)
A year ago, Bashir "Bo" Wolfe turned down an academic scholarship to raise his little sister after his mother died. His father passed away years ago, leaving him the man of the house. He performs street magic and sales drugs to support them both. When he leaves at night, his neighbor Georgia looks after his sister Tina a.k.a. "T". During a trick, Holly left her number is his money bag.  Interested, he calls her back for a 1st date. However, before the date, he meets with his supplier Angelo. Angelo handles his cartel as if it is a corporation. He expects courtesy and respect. He understands that co-workers don't have to like each other but they must work together. Bo is fine with selling drugs and sees Angelo as a big brother until he sees Angelo's dark side. Angelo asks Bo to do something that makes him sick to his stomach. Now, Bo wants to buy his way out and get T out of the neighborhood and into a better school. He comes up with a plan to get $15,000, to pay Angelo, and to leave with Holly and T. However when Angelo finds out this was at his expense, he gives Bo a week to get $45,000 or everyone he loves is dead. Bo will need to come up with the money or create a new magic trick to save his family.
This is a super-hero origin story told in great detail. Even though Bo is a dealer you have compassion for his situation. You cheer for him when he decides to get out, pity him when he is in horrible circumstances, and hope for him when the chips are down. This movie is inventive like Iron-man, has the love of Taken, with the street-wise characters of Boyz-N-Da-Hood (FTC Affiliate Disclaimer). It has something for everyone. Fans of Dule' Hill will love him as the bad guy Angelo. His natural charisma of calm and collected works to make Angelo mouthwateringly sinister. Jacob Latimore's range of emotions shines through in every scene (caring for his sister, falling for his girlfriend, and fearing death & destruction of his family). This will soon have a cult following and may even have a part 2. See it in theaters.
I give it 4 out of 5 stars
You can do whatever you want, but don't buy drugs to impress girls – Bo
You know I have never met a cute magician before – Holly
Yea, 3 of them – Tina
I guess I'm gonna die alone – Georgia
Anyone can do a trick but being able to do something no one else can do makes you a magician – Bo
Here you go. First date's on me – Angelo
Click on a vendor to purchase: Amazon, Best Buy, iTunes, Vudu, and Walmart (FTC Affiliate Disclaimer)

---
The Circle – Review
The Circle – Budget of $18 million – 1 hour and 50 minutes
Note: This is a review of the movie only, not the movie compared to the book
Click on a vendor to purchase: Click on a vendor to purchase: Amazon, Best Buy, iTunes, Target, Vudu, and Walmart (FTC Affiliate Disclaimer)


Click on a vendor to purchase: Click on a vendor to purchase: Amazon, Best Buy, iTunes, Target, Vudu, and Walmart (FTC Affiliate Disclaimer)
Mae Holland hates her temp job at the water company, however, she wants to help her family pay her dad's medical bills. So, when her friend Annie gets her an interview with The Circle, she is thrilled. After acing the interview, she is put on the Customer Experience team. She can see her customer rating on the screen and is told by her trainer to say above 90% approval. Mae attends a weekly meeting with a new product launch called SeeChange. It is a wireless camera that can be placed anywhere, connect to a satellite, and collect every bit of information possible. The Circle will know everything, everywhere. With this, The Circle is integrated into every aspect of their users and employees lives. It believes that sharing is caring. When her co-workers believe she is not sharing enough (because she doesn't get involved in weekend activities), they give her more screens to focus on work and social networking. Now, she must keep her social ratings up too. It's not until Ty (one of The Circles most famous programmers) shows her what's behind the curtain that she starts to question the Circle. Although, when The Circle discovers her father is sick, they put her parents on her medical plan (allowing them access to the best medical care in the world) and after the SeeChange cameras save her life, Mae feels in debt to The Circle. So she decides to be 100% transparent and wear a camera for people to watch and follow her all the time.  In 3 weeks she has over 2 million followers who track and comment on her every move.  This seems like a great idea until her family disconnects from her, her best friend Mercer pulls away, and Annie starts falling apart. Now Mae is must find a way to beat The Circle before someone pays the ultimate price.
Based on The Circle by Dave Eggers,  this movie offers an interesting look at the future (FTC Affiliate Disclaimer). With so much social media, is privacy realistic? And once we give up some rights to privacy, will we give up for safety, knowledge, and/or honesty. This movie starts with showing you the practical and life-saving implications of the technology. It looks cool, but once you delve into the darker side, you are frightened and disgusted. Not just with the technology but its followers and their comments. While this movie is a suspense, when Mae's co-workers question her weekend activity, it gets very scary and extremely creepy. Be prepared to be uncomfortable. See it in theaters before someone ruins the ending. A good movie at the best possible time.  This movie is what happens when the author writes the screenplay.
I give it 3.5 out of 5 stars
Unfulfilled potential – Mae
Know is good, but knowing everything is better – Eamon
It's my party trick – Ty
Smiles and frowns use to be for middle school – Mercer
We need accountability. We need openness – Tom Senton
She's a natural – Annie
Click on a vendor to purchase: Click on a vendor to purchase: Amazon, Best Buy, iTunes, Target, Vudu, and Walmart (FTC Affiliate Disclaimer)

---
Breaking Legs – Review
Breaking Legs – Budget Unknown – 1 hour and 38 minutes
Click on a vendor to purchase: Amazon and iTunes (FTC Affiliate Disclaimer)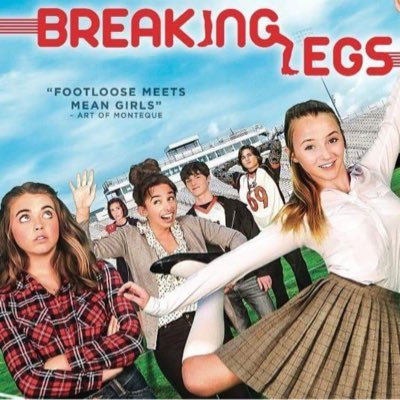 Click on a vendor to purchase: Amazon and iTunes (FTC Affiliate Disclaimer)
Bloom is the new girl in school and if that's not hard enough let's look at her life's scorecard:
Her mother died
Her father is not around
She lives with her alcoholic uncle Mayn
Her grandmother Gigi doesn't remember her
On her first day at R. Murray High, she captures the attention of Herbert. But Herbert is dating the most popular girl in school, Harmony. This puts Bloom on Harmony's enemy list in her first 5 minutes. But Bloom makes the weirdest and coolest friend named Graceland a.k.a. Gracie. This ball of energy is as friendly and kind as she is sporadic. Bloom tries to find balance in her life by dancing. However, the only studio in town charges $25 an hour.  So Gracie tells her to try out for the dance team, which Harmony is the captain. During tryouts, it's obvious that Bloom is the only choice, but Harmony refuses. Instead of fighting, Bloom wants to kill Harmony with kindness. If Bloom does something nice, then Harmony will let her on the team. Gracie tells Bloom to nominate Harmony for Honor Girl. The plan would work, but there is only one problem: Herbert nominated Bloom too. But when a string of events causes a re-vote, Bloom starts to change towards Gracie, Mayn, and the entire school.
This movie has the humor of Juno, dancing of Center Stage: On Pointe, and the solid storytelling of Edge of Seventeen (FTC Affiliate Disclaimer). Breaking Legs has all the makings of a cult classic among teens with a quick wit, strong subject matter, and multi-dimensional characters. Each character is given a passion and struggle that gives them a depth not seen in mainstream teen movies. However, you do want to know more about Bloom's father and why he isn't in her life. Also, you want to know more about Mayn's downfall from dancer to alcoholic. The biggest moment for this movie is when Mayn is there for Bloom during the biggest and most disgusting humiliation in this young girl's life. There are no words, only emotions. This film remembers the beauty of silent. So Rent or Buy this movie today.
I give it 4.5 out of 5 stars
You said a mouthful tuts – Gigi
At the rate we're going, we're going be 22 – Herbert & Jake
Why does everyone talks in riddles around here – Bloom
Where there is a will, there's a misdemeanor – Graceland
Consider it closed – Ms. Tarable
So Fresh Prince – Mayn
I love a landslide, you're the best – Harmony
A little louder hun, they can't hear you in Modesto – Lala
Click on a vendor to purchase: Amazon and iTunes (FTC Affiliate Disclaimer)

---
Categories: Aidan Gillen, Àstrid Bergès-Frisbey, Bill Paxton, Breaking Legs, Cameron Esposito, Charlie Hunnam, Chris Kattan, Djimon Hounsou, Dulé Hill, Ellar Coltrane, Emma Watson, Eric Bana, Glenne Headly, In The Theater, Jacob Latimore, john boyega, Jude Law, Karen Gillan, King Arthur, Lee Meriwether, Legend Of The Sword, Liv Southard, movie, Patton Oswalt, review, Richard Riehle, Sarah Rochelle, Sasheer Zamata, Seychelle Gabriel, Storm Reid, The Circle, Tom Hanks