---
Free Fire – Review
Free Fire – Budget of $7 million – 1 hour and 30 minutes
Click on a vendor to purchase: Amazon, Best Buy, iTunes, Target, Vudu, and Walmart (FTC Affiliate Disclaimer)


Click on a vendor to purchase: Amazon, Best Buy, iTunes, Target, Vudu, and Walmart (FTC Affiliate Disclaimer)
Frank and his crew (Justine, Stevo, Chris, Bernie) are meeting in an old factory to buy weapons from Christopher and his crew (Ord, Vernon, Martin, Harry, Gordon). Things don't go smoothly because Vernon got the wrong weapons. He brought AR70 instead of M16. Frank and Chris are noticeably upset with the change but decide to try the weapons and fire them. After being please, he decided to buy the AR70s. But when Stevo and Harry recognize each other from the previous night, Harry throws a punch at Stevo. Both crews pull the men apart, but when Frank finds out why Harry is upset, he starts to beat Stevo. Stevo is forced to apologize. And, well, let's just say, his apology is met with bullets. This causes a chain reaction that leads to a 63-minute shootout. And just when they believe they know who their enemy is, snipers are added to the mix. But who is with the snippers and who will be left standing?
While this shootout starts off funny, it gets gruesome in the last 15 minutes. You may forget how serious the situation is until the fire, a car, a telephone, and propane tanks are added to the mix. It's interesting to see who lives and who dies in this movie but it's amazing how much you learn about the characters in such a short time. Vernon jokes that he doesn't remember what side he is on but don't be surprised if you feel the same way. After the actors a covered with dirt, water, and blood, it's hard to tell them apart. While it's fun to watch it does lag at times. This movie is best for RedBox or Netflix.
I give it 2.5 out of 5 stars
I just want everyone to go home happy from this deal – Justine
I told you, I don't like working with someone who is carrying a loaded weapon – Christopher
I'm leaving a trail of breadcrumbs – Stevo
It's better this way. Machines don't lie – Martin
Vernon is a weird and mysterious jewel – Vernon
Click on a vendor to purchase: Amazon, Best Buy, iTunes, Target, Vudu, and Walmart (FTC Affiliate Disclaimer)

---
Unforgettable – Review
Unforgettable – Budget of $12 million – 1 hour and 40 minutes
Click on a vendor to purchase: Amazon, Best Buy, iTunes, Target, Vudu, and Walmart (Exclusive Set) (FTC Affiliate Disclaimer)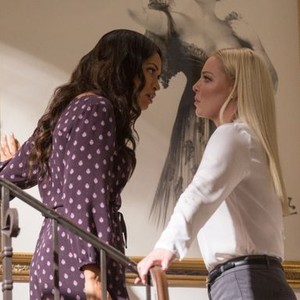 Click on a vendor to purchase: Amazon, Best Buy, iTunes, Target, Vudu, and Walmart (Exclusive Set) (FTC Affiliate Disclaimer)
David's brewery is making money, his daughter Lily is happy, and his girlfriend Julia said yes to his proposal. His life is on the right track. However, his ex Tessa does not see it the same way. She believes that Julia is a bad influence on Lily and will never be a perfect mother. Tessa on the other hand eats, dresses, walks and talks perfectly at all times in public. And she wants her daughter to be the same. Tessa has decided that she wants David back and recreate the perfect family she had before. She must do one thing first: GET RID OF JULIA. She steals her phone, makes a fake profile page, and steals her jewelry to break Julia down and make her look bad in front of David. But when Tessa brings up Julia's dangerous past, Tessa's actions become fatal.
Get ready to yell at the screen. While this movie plays on the crazy ex-wife archetype, it's expanded by catfishing, phone-cloning, and caller ID spoofing. So why wasn't it on Lifetime you ask. Well, because of the sex scenes. Now Lifetime has been known to get a little steamy, but this movie would have been too much for the channel. Now you may find yourself laughing at the things Tessa does, but when you meet her mother Lovie you will start to feel bad for Tessa. And you will also understand why she snapped. So if you are just trying to kill 2 hours with a little mindless fun with no introspective value, see this movie but see it a matinee. And don't be surprised if there is a part 2. Also, yes it's a chick flick.
I give it 3 out of 5 stars
You should go now. GO! NOW! – Tessa
Your dragging your knife and your silver needs polishing – Lovie
I love you and I don't like people – Ali
I'm gonna be in trouble – Lily
She is the mother of my daughter – David
I never wanted you to see me like this – Julia
Click on a vendor to purchase: Amazon, Best Buy, iTunes, Target, Vudu, and Walmart (Exclusive Set) (FTC Affiliate Disclaimer)

---