SofiaBoutella
---
Hotel Artemis – Review
Hotel Artemis – Budget Unknown – 1 hour and 34 minutes
In 2028, Nurse has run Los Angelos's Hotel Artemis for 22 years but it's not a hotel.  The only open floor is the penthouse and its a hospital for criminals.  They must pay monthly dues, bring no guns, have no visitors, do no business, and never bring the police to the hotel.  And Nurse keeps everyone in line with an orderly properly named Everest.  Each room in the penthouse has a name and the patient is only referred to by this name.  The current patients are:
Nice: A hitwoman who only goes after important people and has an interesting implant
Honolulu: A bank robber with multiple guns shot wounds and a stolen pen
Waikiki: A bank robber who tried to get out of life but kept paying his dues
Acapulco: An arms dealer with a big mouth and something to prove
But two patients will cause every rule in Hotel Artemis to be broken, leaving a bloodbath.
If you are a fan of John Wick, this is right up your alley.  This movie gives you enough back story on each character to see how they are all interconnected as friends, lovers, and enemies.  It's hard to understand how this Hotel has stood the test of time.  However, with the rules and security, everything stays in place.  Also, you will get the added bonus of learning the truth about Hotel Artemis's start by Nurse making a deal with the devil.  Be warned there are some violent moments, so younger children should not attend.  This is going to be a cult classic and it is possible for a part 2.
I give it 4.5 out of 5 stars
I may be a professional but she is the business – Waikiki
Don't cross my line – Nice
I am not fat – Everest
Get your hands off the Guc – Acapulco
Those things will kill you – Nurse
---
Adrift – Review
Adrift – Budget of $35 million – 1 hour and 36 minutes
Grifter Tami Ashcraft just drifted to Tahiti.  She has no job, direction, nor money.  Her plan is always the same.  Find a job, save money, and go to the next place.  While painting a boat, she sees Richard coming ashore.  Their connection is instant and strong.  After a few magical days together, Richard asks her to sail away with him.  She agrees.  But before they can get away, Richard is offered a job.  Sail a man's yacht to San Diego and earn $10,000 and 2 first class tickets back to Tahiti.  Tami doesn't want to head to San Diego because it's home.  She is not ready to go home just yet.  However, out of fear of holding Richard back, she agrees to go.  The first few days are lovely but when a hurricane hits, the loving couple will be tested in faith, strength, and love.
Based on the novel Red Sky in Mourning by Tami Ashcraft and Susea McGearhart, this is the harrowing survival of 41 days adrift supported by true love (FTC Affiliate Disclaimer).  After Richard is injured, he guides Tami into sailing them to safety.  However, when they realize that California is too dangerous, the sail to Hawaii.  For them, it will be like hitting a moving target.  And if they miss, the closes land is Japan.  So with little water, little food, no power, no radio, and injuries, they have to fight to live.
I give it 2.5 out of 5 stars
Did I just ask you to marry me using my dead mother's voice – Richard
Whatever job pays enough to get to the next place – Tami
---
Fahrenheit 451 – HBO – 1 hour and 40 minutes
Master Trooper Guy Montag is a star fireman for District 9.  With the guidance of his Captain Beatty, he makes a public spectacle of eels and erases them for their crimes.  The crime of reading or having books, listening to or playing music, or looking at art.  In District 9, the only allowable material is the Bible, Moby Dick, and the ministries (FTC Affiliate Disclaimer).  All other books, music, or art will be burned at 451 degrees Fahrenheit.  The leaders believe that books are graffiti that will pollute the mind causing the person to become insane.  While Beatty strongly enforces this practice, he still keeps a paper and pencil hidden at home.  He writes his thoughts and burns them.  Montag is starting to have flashes of his childhood but when Clarisse (a convicted eel) tells him that past firemen put out fires, he doesn't believe her.  During a bust with Clarisse information, Montag and Beatty find an old woman with hundreds of books.  Beatty tells Montag to read one.  Meanwhile, he tells Montag a 2nd civil war almost started because of too much information and not enough attention to detail.  Books were the enemy.  Montag quietly hides a book called Notes from Underground and arrest the old woman (FTC Affiliate Disclaimer).  Later she refuses to move and sets herself on fire with her last word being OMNIS.  Montag is compelled to find out the truth about OMNIS and why a woman would kill herself over books.
Based on the novel Fahrenheit 451 by Ray Bradbury, this movie serves as a warning to the future (FTC Affiliate Disclaimer).  With days of fake posting, headline-only reading, miscommunication, and book banning, it's easy to see how this world is possible.  And once the books were gone, history could be re-written to hide the truth. This is the type of movie that makes you want to read the book to learn what details were removed or changed.  With strong visuals and a dynamic cast, this is a great starting point for this production company.
I give it 3.5 out of 5 stars
You too pretty anyway – Captain Beatty
You dream about hiding from me, you better wake up and apologize – Montag
How come he always makes you wait outside like a little dog – Clarisse
Find, shop for, and watch HBO movies on Amazon (FTC Affiliate Disclaimer)

---
The Mummy – Review
The Mummy – Budget of $125 million – 1 hour and 47 minutes
Click on a vendor to purchase: Amazon, Best Buy (Exclusive Set), iTunes, Target (Exclusive Set), Vudu, and Walmart (Exclusive Set) (FTC Affiliate Disclaimer)


Click on a vendor to purchase: Amazon, Best Buy (Exclusive Set), iTunes, Target (Exclusive Set), Vudu, and Walmart (Exclusive Set) (FTC Affiliate Disclaimer)
Nick Morton and Chris Vail considers themselves "liberators of antiques" for profit.  In lamens terms, they rob ancient burial sites for money.  Nick uses a one-night stand to steal a map from Jenny.  This map contains the location of Princess Ahmanet.
Princess Ahmanet was the heir to the throne until her father had a son.  The princess knew the throne meant power and she wanted all for herself.  So Ahmanet made a deal with the God Set, the god of death.  She would sell her soul for power and bring God Set into the mortal world.  She kills her father and brother; then prepares to kill a mortal for Set to inhabit.  But she is stopped and mummified alive.
Nick and Chris unearth the burial site.  Jenny is pissed but looks around.  She notices the differences in this burial site.  The statues are facing the wrong direction and its covered in mercury.  Jenny realizes this site isn't a tomb, it's a prison.  But with one shot, Nick unearths the sarcophagus and starts to see visions.  Ahmanet thanks Nick for freeing her and calls him "My Chosen".  Nick shakes off these visions and proceeds to put the sarcophagus on a military plane with Chris and Jenny.  Once in the air, the plane starts to go down.  Nick saves Jenny but dies in the crash, well, for a moment.  In the morgue, Nick jumps off the table and shocks everyone.  He only has one thought in mind: find Ahmanet.  But finding her will only reveal that Nick is in a fight for his life and soul with Dr. Henry Jekyll and Edward Hyde at the helm.
Sometimes a good idea doesn't need to be remade.  This mash-up of The Mummy (1999) and The Mummy (1959), just a lot worse.  The graphics are basic for this series, the action is overdone, and the overall acting is a bore.  The zombies are half mummy and half Gollum, which doesn't make them scary.  Just comical.  The ending is predictable and disappointing.  The only saving grace is Crowe as Dr. Jekyll/Mr. Hyde.  His scenes saved this downfall of a movie.  Also, Johnson was a magnificent, albeit normal, comic relief.  Although this script didn't need it because there was no tension or anything frightening. This movie should be skipped at all cost.  Wait for basic cable to see this one.  By the way, there is nothing after the credits, thankfully.
I give it 1.5 out of 5 stars
You have freed me. My Chosen – Princess Ahmanet
I didn't know it was the last parachute – Nick
I'm still alive – Chris
You saved me – Jenny
Click on a vendor to purchase: Amazon, Best Buy (Exclusive Set), iTunes, Target (Exclusive Set), Vudu, and Walmart (Exclusive Set) (FTC Affiliate Disclaimer)

---
Megan Leavey – Review
Megan Leavey – Budget Unknown – 1 hour and 56 minutes
Click on a vendor to purchase: Amazon, Best Buy, iTunes, Target, Vudu, and Walmart (Exclusive Set) (FTC Affiliate Disclaimer)


Click on a vendor to purchase: Amazon, Best Buy, iTunes, Target, Vudu, and Walmart (Exclusive Set) (FTC Affiliate Disclaimer)
Megan is in a state of depression after losing her friend and her job. She decides to leave her past behind and join the Marines. While she is advancing in the Corp, she hasn't left her partying past behind. She is caught peeing next to the barracks of an officer after getting drunk. She is put on "crap" patrol literally by cleaning dog cages. Then she is asked to be the decoy while training the dogs to attack. When cleaning the cages, she meets Rex. And Rex snaps at her. Rex is the most untrainable dog in the unit and bites his handler, breaking 6 of the bones in his hand. With the handler out, Rex is assigned to Megan. With patience, Rex warms up to Megan and starts to follow orders and find explosives. With a few months of training, Megan and Rex are deployed. Rex and Megan are making great progress in the ranks but with 1 more month left in her tour, both are injured when an IED explodes. Megan is sent home but Rex stays behind. While in rehab, Megan worries about Rex until he comes home and they are reunited. Megan decides she wants out of the Marines but she learns she can't adopt Rex because he is too fragile for civilian life. And if he can't be adopted after his military life is over, he will be put down. But once a Marine, always a Marine. So, Megan will fight to not leave Rex behind and adopt him.
Based on a true story, this is not a tale about a woman and her dog. This is a tale about two soldiers that fight the after effects of war. This movie sends a quarter of the time endearing you to Megan, half the time ensuring you understand the connection between Megan and Rex, and the last part showing Megan fighting to get Rex back. You will get to see other dogs and their handlers but the tough seen is when a soldier doesn't return. But his dog does. Seeing the dog still look for its handler is rough. It proves they aren't just Marines, they are truly family. This is a good uplifting movie for the matinee price. And for dog lovers, be prepared to get misty eyed.
I give it 3 out of 5 stars
In the end, you don't leave because you have somewhere to go. You leave because there is nothing keeping you there – Corporal Megan Leavey
Sometimes we are in front of the front lines – Walters
If you're not confident, he's not confident – Andrew Dean
So fail again and keep failing until they throw dirt on your corpse – Bob
It brings out my Irish – Master Sargent
You got this? Think faster – Gunnery Sergeant Massey
I trained him to lick the enemy to death – Corporal Morales
Click on a vendor to purchase: Amazon, Best Buy, iTunes, Target, Vudu, and Walmart (Exclusive Set) (FTC Affiliate Disclaimer)

---
My Cousin Rachel – Review
My Cousin Rachel – Budget Unknown – 1 hour and 56 minutes
Click on a vendor to purchase: Amazon, Best Buy, iTunes, Target, and Walmart (FTC Affiliate Disclaimer)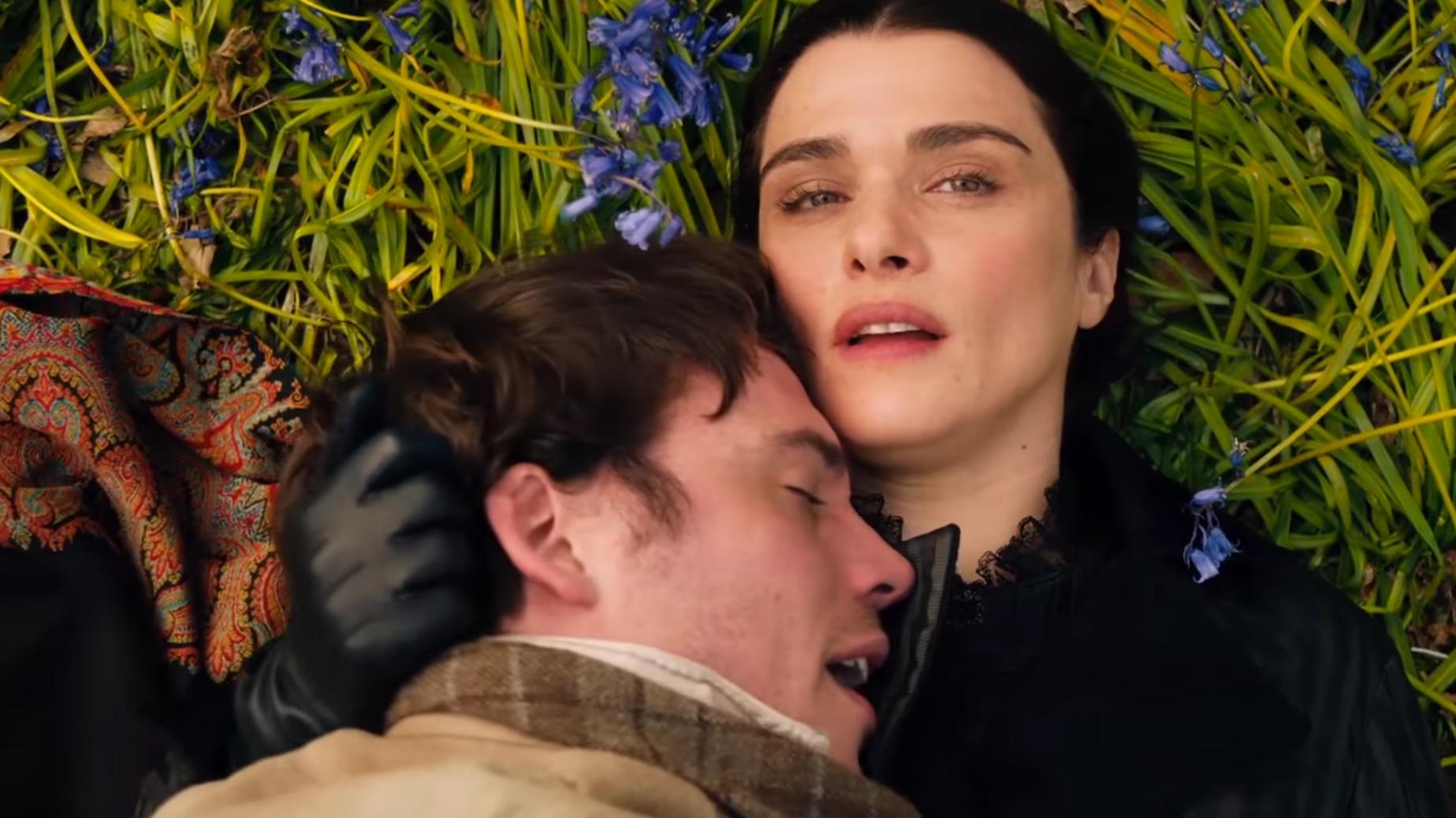 Click on a vendor to purchase: Amazon, Best Buy, iTunes, Target, and Walmart (FTC Affiliate Disclaimer)
Phillip was orphaned at a young age but raised by his cousin Ambrose. Years later, Phillip comes back from school but he only learned to dislike books, the city, and smart alecs. He decides to stay with Ambrose and help him run the town. However, Ambrose is sick and the doctor tells him to go to Italy to get better. As time moves on, Phillips gets several letters from Ambrose. The letters state he feels great has met a woman named Rachel and got married. Although later, his letter stated that he fears Rachel and believes she will kill him. Phillip goes to find Ambrose, only to find he has died and Rachel left. Heartbroken, Phillip returns but he is on a mission to find Rachel and confront her. He puts the word out that he is inviting Rachel to return to stay with him. He would because they are family. Soon Rachel comes to Phillips home and stays, but Phillip is enticed by the bewitching woman and wants to give her the world. And he does. But with everything he gives, she takes and he gets sick. Will Rachel be his demise?
Based on the book, My Cousin Rachel by Daphne du Maurier, as well as the 1952 remake, this movie is better suited for Lifetime (FTC Affiliate Disclaimer). While the cinematography and costume are deserving of an award, the story is slightly compelling but not original. Also, it ends with a question that will plague the watcher.  Wait for Redbox or read the book, unless you like period movies. Otherwise, this movie has nothing new to offer.
I give it 2 out of 5 stars
He had me – Phillip
Oh no. That's for Phillip – Rachel
And as for the doctors, I don't trust them – Ambrose
Click on a vendor to purchase: Amazon, Best Buy, iTunes, Target, and Walmart (FTC Affiliate Disclaimer)

---