AnnaFaris
---
Breaking In – Review
Breaking In – Budget of $6 million – 1 hour and 28 minutes
After her estranged father is killed in a hit and run, Shaun goes to his vacation home in Wisconson to settle his estate by selling his home.  She has not spoken to him in years but she knows he is not perfect.  Her two children, Jasmine and Glover travel with her but her husband will be joining the next day.  As the three walk around, they see a few things out of place.  A broken picture, cut wires, malfunctioning alarm system but ignore it because no one has been in the home for months.  Also, they notice the vacation home is now a fortress with a sophisticated alarm system, retractable window shades, and cameras everywhere.  While Glover is playing with a drone he is grabbed.  When Jasmine goes to find him, she is grabbed.  While Shaun attempts to order pizza in the driveway, she is attacked but fights back.  After the fight, she sees her children locked inside the fortress at the mercy of strangers.  She must find out what they want to save her children.
This movie shocks from beginning to end.  You will see Shaun risk life and limb, like most mothers, to save her children.  However, she doesn't make typical movie mistakes.  Like wearing heels in the forest or calling for her kids in the dark.  She is smart and uses her knowledge of the house to her advantage.  The irony is the house meant to keep them safe is the same house that becomes a prison.  So how far would you go for your children?
I give it 4 out of 5 stars
I am your mother. Is there a difference? – Shaun
So what does that make you, slightly paranoid – Glover
I'm your big sister. It's my job to worry about you. Not your job to worry about me – Jasmine
Fear, I can manage. Desperation is a whole other thing – Eddie
---
Life of the Party – Review
Life of the Party – Budget of $30 million – 1 hour and 45 minutes
Deanna has dropped her daughter Maddie off at the sorority house for Maddie's senior year.  The school would have been Deanna's alma mater but she left her last year. When she got pregnant, she and her husband Dan decided only one of them could afford to go, him.  While she regrets not finishing, she is proud to see her daughter go the distance.  As Deanna and Dan pull off, Dan says he wants a divorce, marrying a real estate agent, and selling the house.  In tears, Deanna goes to her parents' house and looks through old photos.  She sees a photo of her in the archaeology club and gets an idea.  Deanna goes to Maddie's sorority house to tell her about he divorce and enrolling in school.  At first a little nervous, Maddie sees this is a good thing for her mom and cheers her on.  Now Deanna has to navigate through the complicated world of college and divorce while maintaining a relationship with her daughter and getting her degree.
This is a love letter to mom's who wondered if they could finish.  You will get the answer to your question.  However, it's not without some well-earned bumps in the road.  While Deanna is trying to move forward, she is being dragged down by her ex and Mean Girls.  However, what makes this movie different is the relationship between Deanna and Maddie.  In most movies, Maddie would not accept her mom until the end.  But in this movie, Maddie takes a deep breath and accept her mother going to her school within 2 minutes.  This mature look at college women is a great contrast to the girls in Deanna's class.
I give it 2.5 out of 5 stars
You are like my sexual Dumbledore – Jack
Wow, that's a lot of text – Deanna
Mom, what are you doing – Maddie
---
Overboard – Review
Overboard – Budget of $12 million – 1 hours and 52 minutes
Widowed, mother of three Kate is working two jobs while in nursing school.  She tries to balance motherhood between studying, delivering pizzas, and cleaning carpets.  One day she is called to clean a yacht's carpeting after a hard night of partying.  When she starts to clean, she bumps into Leonardo.  Leonardo is a playboy and heir to a construction fortune.  When Kate refuses to get him some fruit, he fires her; then throws her and her equipment off the yacht.  Kate is fired from her carpet cleaning job and her mom can no longer watch her kids.  Kate feels her dream of nursing going down the drain.  Then she reads a news article saying that Leonardo washed ashore and has amnesia.  Kate's best friend Theresa comes up with a plan to trick Leonardo into thinking Kate is his wife so he can do all the heavy lifting while she studies.  Theresa sees it as payback for getting her fired.  With apprehension, Kate decides to do it.  Now Leonardo believes he is a married, sterile, recovering alcoholic, poor, construction worker.   However, his sister Magdalena wants Leonardo to stay gone.  She hopes to convince his father that Leonardo has died so she can inherit the company.  It's only a matter of time before Leonardo learns the truth about Kate, Magdalena, and himself.
With a nod to the remake, this version has a role reversal (FTC Affiliate Disclaimer).  Even with the reversal, it's still as funny and heartwarming as its predecessor.  Leonardo and Kate come off as convincing adversaries and a couple.  This movie had genuine laughs about everyday life.  And it was great to see that even with Leonardo loss of memory, he did not lose his taste in food, style, and music.  Now be warned, there are some subtitles.  But hearing the jokes in Spanish actually makes the comedic timing better.  So sit back and enjoy for an easy going, not vulgar laugh.
I give it 3.5 out of 5 stars
I am not being selfless.  I am thinking of myself less – Leonardo
---
---
The Dark Tower – Review
The Dark Tower – Budget of $60 million – 1 hour and 35 minutes
Click on a vendor to purchase: Amazon, Best Buy (Exclusive Set), iTunes, Target, Vudu, and Walmart (FTC Affiliate Disclaimer)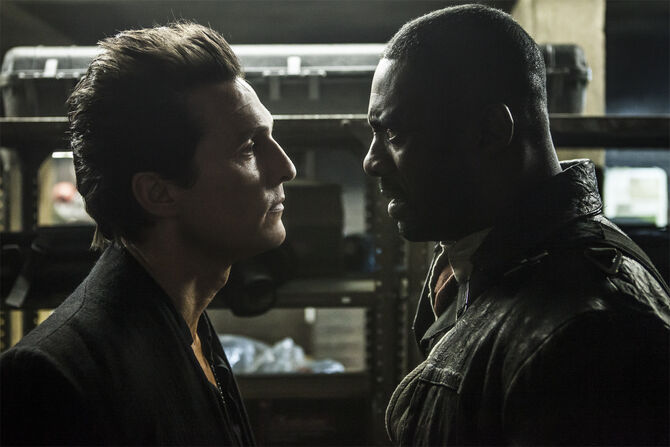 Click on a vendor to purchase: Amazon, Best Buy (Exclusive Set), iTunes, Target, Vudu, and Walmart (FTC Affiliate Disclaimer)
Jake has nightmares every night. They involve a man in black torturing children to destroy a tower. When Jake wakes up, he draws his dreams. His family, friends, and teachers all believe his grief from losing his father is causing his nightmares. Although, Jake swears the dreams are real. After one more altercation, Jake's school suggest he goes to a clinic. His stepfather says yes and his mother reluctantly agrees.  That night he has a dream about a gunslinger named Roland and his father battling the man in black.  The father succumbs to the suggestions of the man in black and Roland is heartbroken.  Then, the Roland heads to a house.  The next day, Jake looks for more information about the house in his dreams but is interrupted when Julie and a helper comes to take Jake to the clinic.  But Jake knows something is off with his escorts.  They have the same twitches and scars Jake has seen in his dreams.  In a split second decision, Jake runs away to the home in his dream.  He goes through a secret portal and ends up in Mid-World, the home of the Roland and Walter, the man in black.  Soon, Roland and Jake cross paths.  That's when Jake learns that his dreams are real.  Walter is using children to power a device to destroy the dark tower.  This tower protects all the worlds in the universe from evil.  If the tower falls, every world would have an apocalypse.  Roland believes that Jake's dreams are really visions; they hold to key to where Walter is hiding.  Roland is ready to seek vengeance for his father's death.  However, this vengeance could do more harm than good.   Roland and Jake must come together to end Walter, the man in black.
Based on The Dark Tower by Stephen King, this is a fun movie for the family (FTC Affiliate Disclaimer).  But be forewarned, all the previews are not all appropriate.  Once this story gets going, there is no lag.  It keeps a compelling storyline for the imagination to soar.  While Dolby is not necessary, the imagery and set designs deserve to be seen on the big screen.  Now some moments are obviously CGI, but most blend in seamlessly.  So for a sci-fi fantasy, this is the one to see.  And a part 2 will come.
I give it 3 out of 5 stars
Been there. Now burn – Walter
What if the tower was destroyed – Dr. Hotchkiss
It can't be just about that – Jake
He is just a healthy growing boy – Julie
That's the man in Jake's drawings – Laurie
Concentrate. Share your visions with me – Arra
You have forgotten the face of your father – Roland
Click on a vendor to purchase: Amazon, Best Buy (Exclusive Set), iTunes, Target, Vudu, and Walmart (FTC Affiliate Disclaimer)

---
Kidnap – Review
Kidnap – Budget of $20 million – 1 hour and 35 minutes
Click on a vendor to purchase: Amazon, Best Buy, iTunes, Target, Vudu, and Walmart (FTC Affiliate Disclaimer)


Click on a vendor to purchase: Amazon, Best Buy, iTunes, Target, Vudu, and Walmart (FTC Affiliate Disclaimer)
After working the morning shift at her waitress job, Karla finally can step away to take her son Frankie to the park. He carries a recording device that he likes to playback and loves to hide. She plays Marco Polo with him often to find him in a crowd of children. While listening to music, she gets a call from her divorce attorney. He tells Karla that her ex-husband wants primary custody. Just as she is about to give the lawyer a piece of her mind, her phone disconnects. She goes back to Frankie and can't find him. She calls out Marco but gets nothing back. Then she starts to panic. And for a brief second, she sees a woman pulling him into the back seat of the car. She runs to the car and holds on for dear life until she is forced off, which causes her to drop her phone. She jumps into her car as starts to chase them into busy traffic. She notices Frankie's recorder is still on and plays it back.  She hears the kidnapping taking place.  The kidnappers run into cars, threatens Frankie's life with a knife, and run over a police officer to make her stop.    Then, they pull over. She offers all her money in exchange for her son. The woman kidnapper Margo goes up to the passenger side window. She tells Karla if she lets her in her car and drives her to get $10,000, Frankie will be released. Begrudgingly Karla lets her in. Once in a tunnel, all hell breaks loose in the car. With police chasing the wrong car, her son at risk, and a gas tank close to empty, Karla will not stop for anything or anyone until her son is safe.
Go, Karla! Go! This is one to see. This movie will make you cringe (in a good way), make you cheer, yell at the screen, and laugh inappropriately. It is not a Lifetime movie, it is an action-packed thriller of a mother's determination and quick thinking. You don't say "why would you do that". Because she doesn't. You don't say "why don't you do this". Because she does. She doesn't make stupid mistakes. She just keeps running into WTF moments. Also, this movie starts with baby and childhood home movies of the child so you fall in love with him and become invested in his safety. This is one to see.
I give it 4 out of 5 stars
It's what he wants. It's what he wants me to do – Margo
You should have stop coming – Terrance
I promise I'm gonna come back. I'm gonna be right back – Karla
Mom! – Frankie
Click on a vendor to purchase: Amazon, Best Buy, iTunes, Target, Vudu, and Walmart (FTC Affiliate Disclaimer)

---
The Emoji Movie – Review
The Emoji Movie – Budget of $50 million – 1 hour and 26 minutes
Click on a vendor to purchase: Amazon, Best Buy, iTunes, Target (Exclusive Set), Vudu (Digital Exclusive), and Walmart (FTC Affiliate Disclaimer)


Click on a vendor to purchase: Amazon, Best Buy, iTunes, Target (Exclusive Set), Vudu (Digital Exclusive), and Walmart (FTC Affiliate Disclaimer)
It's Gene Meh's first day on the phone.  He will have his own cube and be scanned for the first time if his user Alex selects his emoji.  Gene is so excited.  There is just one problem, he expresses his excitement.  His parents, Mel and Mary Meh, are concerned that their son is not ready.  If he makes the wrong face, it could ruin his career on the phone.  Gene assures his parents he can do it.  He promises he will only be a Meh in Textopolis.  He relaxes into his cube and waits to be used by Alex.  Then he gets selected.  Gene freaks out and makes the wrong face, which displays on the screen.  Smiler, the first emoji ever and the supervisor, calls a board meeting to discuss his future.  She determines that he is a malfunction and should be erased.  Gene runs and she sends anti-virus robots after him.  While escaping, Gene runs into Hi-5 who helps him hide in the Loser Lounge.  The Loser Lounge is for apps that never get used.  Hi-5 tells Gene that he knows a hacker named Jailbreak who can help reprogram him.  It will allow him to only have one emotion, Meh.  At first, she wants nothing to do with Hi-5 or Gene until she sees what Gene can do.   She thinks Gene's ability to change emotions will allow her to go get through the facial recognition software on Alex's firewall.  If she can get through the firewall, she can get to the cloud and be free of the phone.  She promises to fix Gene's emotions if he gets her to the cloud.   But the more they do, the more Alex's phone malfunction.  He decides to go to the store and have it erased, ending Textopolis and all the emojis forever.
Well, it's cute.  With the use of well-known apps like YouTube, Dropbox, Twitter, Instagram, Candy Crush, Spotify, Just Dance, and Snapchat, this movie touches the vein of teens existence today (FTC Affiliate Disclaimer).  They even make the connection between Hyroglyphics using pictures as words and Emojis.    It uses computer terms like firewall, hacker, program, trojan horse, and spam to attract the computer crowd.  But all the jokes fall flat.  This movie is bordering on nostalgic more than funny.  It even jokes that emoticons are the elderly.  But this movie is just cute.  Cute enough to wait for TV.  This is not worth Netflix. The short Hotel Transylvania film "Puppy" was funnier than the movie (FTC Affiliate Disclaimer).
I give it 1 out of 5 stars
What's the point of being #1, if there are no other numbers – Gene
There's nothing like being scanned for the first time – Smiler
I am a malfunction – Mel
I seriously and unsarcastically want you to go away – Jailbreak
I am addict to sugar – Hi-5
Click on a vendor to purchase: Amazon, Best Buy, iTunes, Target (Exclusive Set), Vudu (Digital Exclusive), and Walmart (FTC Affiliate Disclaimer)

---